Endeavour Lands Safely, Stage Set For Atlantis Launch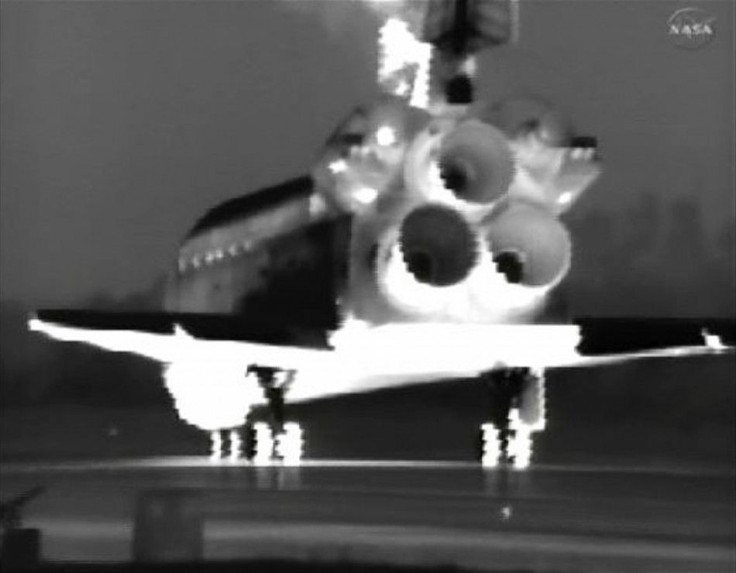 Space shuttle Endeavour landed for the final time at NASA's Kennedy Space Center after 248 orbits around Earth and a journey of 6,510,221 miles on STS-134, setting the stage for the launch of next space shuttle Atlantis.
The crew members for space shuttle Endeavour's STS-134 mission were Commander Mark Kelly, Pilot Gregory Johnson and Mission Specialists Michael Fincke, Greg Chamitoff, Andrew Feustel and European Space Agency astronaut Roberto Vittori.
STS-134 was the 134th shuttle flight and the 36th shuttle mission dedicated to station assembly and maintenance. STS-134 was the 25th and final flight for Endeavour, which spent 299 days in space, orbited Earth 4,671 times and traveled 122,883,151 miles.
During the 16-day mission, Endeavour and its crew delivered the Alpha Magnetic Spectrometer (AMS) and spare parts including two S-band communications antennas, a high-pressure gas tank and additional spare parts for Dextre.
What a great ending to this really wonderful mission, said Bill Gerstenmaier, associate administrator for Space Operation. In regard to the Alpha Magnetic Spectrometer delivered by the STS-134 crew, Gerstenmaier said, They're getting great data from their instrument on board the space station. It couldn't have gone any better for this mission.
We've had a lot going on here, said Mike Moses, space shuttle launch integration manager, Being able to send Atlantis out to the pad and then go out and land Endeavour was really a combination I never expected to have.
During 159 spacewalks for assembly and maintenance of the space station, astronauts and cosmonauts have spent a total of 1,002 hours and 37 minutes outside.
Meanwhile, Fincke set a new record for time a U.S. astronaut has spent in space when he reached his 377th day on May 27, surpassing previous record holder Peggy Whitson. With today's landing, Fincke's record now is at 382 days in space.
Endeavour was NASA's fifth and final space shuttle orbiter to join the fleet at Kennedy Space Center in Florida. Endeavour also is known inside the space agency by its designation Orbiter Vehicle-105, or OV-105.
Construction of Endeavour began on Sept. 28, 1987, and it rolled out of the assembly plant in Palmdale, Calif., in April 1991.
For the first time, a national competition involving students in elementary and secondary schools was held to name the new orbiter. After receiving 6,154 entries, representing more than 70,000 students, NASA chose Endeavour and it was announced by President George Bush in 1989.
The name comes from a ship chartered to traverse the South Pacific in 1768 and captained by 18th century British explorer James Cook, an experienced seaman, navigator and amateur astronomer.
Endeavour first launched May 7, 1992, on the STS-49 mission to capture the INTELSAT VI communications satellite and re-release it into a geosynchronous orbit.
In 1993, Endeavour embarked on STS-61, the first servicing mission to NASA's Hubble Space Telescope.
KEY ENDEAVOUR MISSIONS
STS-49 - Maiden Flight; Capture and redeploy Intelsat VI
STS-47 - Spacelab mission J
STS-54 - Deploy TDRS-F
STS-57 - Retrieve European Retrievable Carrier
STS-61 - First Hubble Space Telescope servicing mission
STS-72 - Retrieve Japanese Space Flyer Unit
STS-89 - Rendezvous with Mir space station
STS-88 - International Space Station assembly mission, which assembled the Unity module, the first U.S. component of the station
STS-100 - International Space Station assembly mission, which delivered the Canadarm2 robotic arm and hand
STS-123 - International Space Station assembly mission, which delivered the first element of Japan's Kibo module along with the Canadian Special Purpose Dexterous Manipulator robotic arm (Dextre)
Atlantis At Launch Pad
With Endeavour and its crew safely home, the stage is set for the launch of shuttle Atlantis on its STS-135 mission, targeted to begin July 8.
Space shuttle Atlantis just completed its 3.4-mile trek from the Vehicle Assembly Building to Launch Pad 39A and was secured to the launch pad at 3:29 a.m. The move began last night at 8:42 p.m. and took approximately 7 hours.
Atlantis will carry the Raffaello multipurpose logistics module to deliver supplies, logistics and spare parts to the International Space Station.
The mission also will fly a system to investigate the potential for robotically refueling existing spacecraft and return a failed ammonia pump module to help NASA better understand the failure mechanism and improve pump designs for future systems.
Four veteran astronauts will deliver supplies and spare parts to the space station. The 12-day mission also will install an experiment designed to demonstrate and test the tools, technologies and techniques needed to refuel satellites in space robotically -- even satellites not designed to be serviced.
Chris Ferguson, a veteran of two previous shuttle missions, will command the flight. Doug Hurley will be the pilot, a role he filled on the STS-127 mission in 2009. Sandy Magnus and Rex Walheim will be the mission specialists.
Magnus spent four-and-a-half months aboard the station beginning in November 2008. Walheim flew on the STS-110 mission in 2002 and the STS-122 mission in 2008.
STS-135 will be Atlantis' 33rd mission and the 37th shuttle flight dedicated to station assembly and maintenance. It will be the 135th and final mission of NASA's Space Shuttle Program.
© Copyright IBTimes 2023. All rights reserved.