Experts: Egypt's COP27 Summit App Could Be 'Weaponized' By Authorities To Track Activists
KEY POINTS
COP27 app is not the official UN application
One expert called the app a 'cyber weapon'
A human rights watchdog revealed that Egyptian authorities restricted protests ahead of the summit
Security experts are raising concerns about the Egypt-introduced COP27 Summit app's features that could potentially be "weaponized by the Egyptian authorities" to track the activities of delegates and activists. The Egyptian government has been promoting the app as a tool that can help delegates navigate events at the summit easier.
The COP27 app has been tagged as "a surveillance tool that could be weaponized by the Egyptian authorities to track activists, government delegates and anyone attending" the event that will be held in Sharm el-Sheikh, Marwa Fatafta, a digital rights lead for the Middle East and North Africa for digital rights organization Access Now, was quoted as saying by Politico.
Another security expert who spoke on condition of anonymity to protect colleagues attending the event called the app "a cyber weapon," the outlet reported.
The information provided for users on Google's Play Store states that the COP27 "will ensure you have a smooth and enjoyable experience during your stay in Egypt" and adds that the app "will be there for you from arrival to departure."
According to Play Store data, the app has been downloaded more than 10,000 times as of writing.
However, three experts revealed to Politico that in smartphones running on Android, COP27 has permission to potentially listen in on conversations through the app even if the device has been placed on sleep mode.
Cybersecurity experts previously raised concerns about the application's download requirements that include access to photos, emails and the user's location, The Guardian reported. The app also states in its Security Practices that the "developer doesn't provide a way for you to request that your data be deleted."
More than 25,000 heads of state, journalists, diplomats and activists from around the world are expected to attend the summit, which will run through Nov. 18.
Other human rights groups have also expressed their concerns about the app's capabilities in collecting data.
"It's not the official UN application that's the problem; it's the one developed by the Egyptian government that bothers us," Katharina Rall, a senior environment researcher at Human Rights Watch (HRW), was quoted as saying by French state-owned news outlet France24. The United Nations Climate Change Secretariat (UNFCCC) also has an application that provides information about events during the conference.
In a report published hours before the summit commenced on Nov. 6, the watchdog previously revealed that Egyptian authorities arrested dozens of protesters and also restricted the right to protest in the days leading to the conference.
The HRW also said that the Egyptian government has made it mandatory for taxis to install cameras.
"As participants are arriving for COP27, it is becoming clear that Egypt's government has no intention of easing its abusive security measures and allowing for free speech and assembly," said Adam Coogle, the deputy director for Middle East and North America at HRW.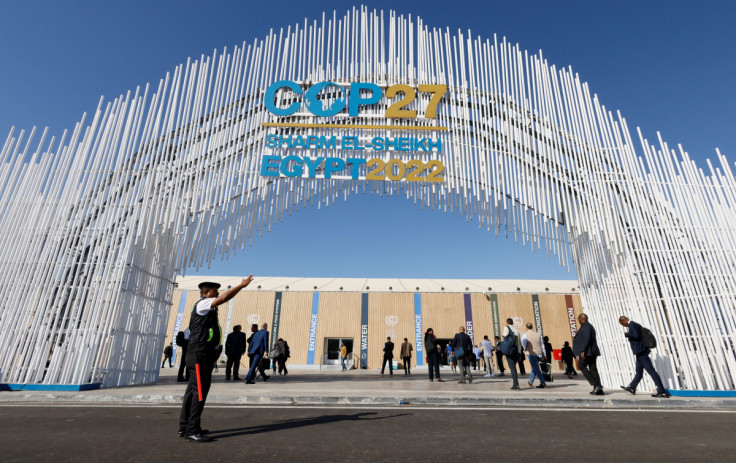 © Copyright IBTimes 2023. All rights reserved.