'Fantastic Four' Stars Miles Teller, Kate Mara Dish On Plans For Sequels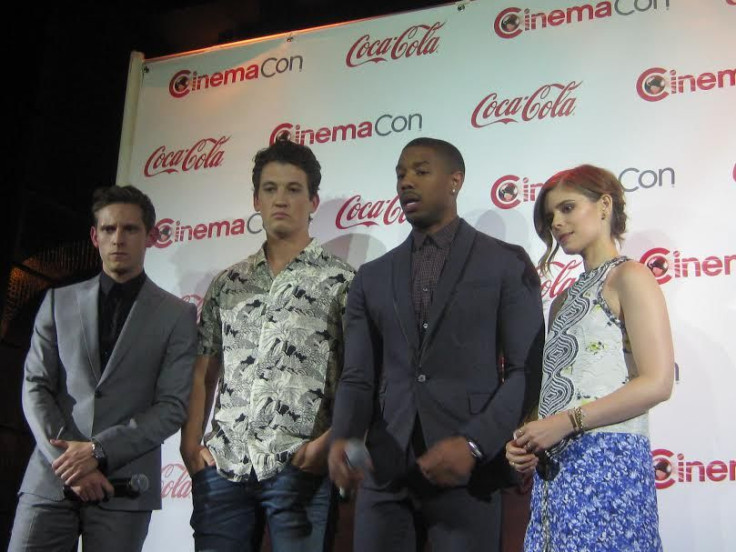 The "Fantastic Four" reboot has yet to reach theaters, but the stars of the sci-fi film already are banking on multiple sequels -- at least, 20th Century Fox appears to be. In a press conference at CinemaCon in Las Vegas Thursday, the four stars of the film, Miles Teller, Kate Mara, Michael B. Jordan and Jamie Bell, dished about the superhero feature, a couple even sharing details about the possibility of a "Fantastic Four" franchise.
When asked if there would be a sequel to this summer's "Fantastic Four" -- following news of a 2017 release date for "The Fantastic Four 2" -- Mara, who plays Sue Storm/the Invisible Woman, and Teller, who plays Reed Richards/Mr. Fantastic, dished about the possibility.
"More than one," Mara revealed when asked how many films the cast had signed on to do.
"Usually when you sign on to something like this, it's like three [or] four. Honestly, that's usually what the contract is," Teller added.
While the co-stars didn't elaborate on what a potential "Fantastic Four" sequel would bring to the table, they did share what fans can expect from the first film, premiering in theaters Aug. 7.
"Ours, I think, is a little different," Teller, who revealed his character will have the power to "stretch," said of the similarities between this film and other recent superhero features. "We actually take the physics and the science fiction aspects of it very seriously. It's kind of grounding, a little more serious than the other ones."
Jordan, who plays Johnny Storm/the Human Torch, expanded on Teller's comments, saying the Josh Trank film is "pretty grounded in reality" and will be more an "origins story."
"Fantastic Four" fans can rest easy knowing the actors take the characters' unofficial title of Marvel's first family to heart. "We bought a house in Malibu," Teller joked about their off-screen chemistry.
"We can't stand each other," Bell, who plays Ben Grimm/the Thing, quipped with a smile.
The cast of "Fantastic Four" won the CinemaCon Best Ensemble award at the convention's Big Screen Achievement Awards.
© Copyright IBTimes 2023. All rights reserved.