Fantasy Football 2013 Sleepers At RB; 5 Underrated Rushers To Consider Before Your Draft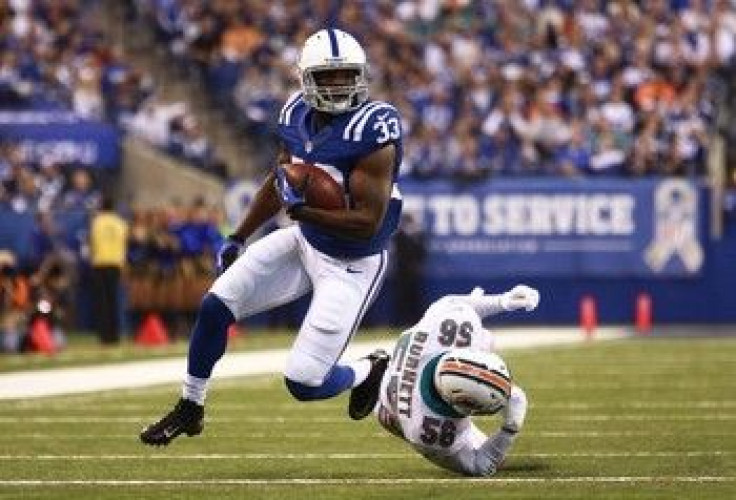 Running back is arguably the most brutal, pounding position in the NFL. It might be the only position that is hit by every defensive player on the field play after play.
As a result of the bruising punishment, productivity and longevity is an extremely rare combination. See Priest Holmes. It's said a running back's career is typically over at 30, as the wear and tear on the body make it difficult to be productive after about seven or eight seasons. Check out this list from FFTools of running backs 29 and older, and very few names jump out as surefire picks in the first three rounds.
For fantasy owners, we have to keep an eye on key reserves -- looking for youth, talent, and production. Below are five sleepers that find themselves in unique situations before the season begins in two weeks.
LaMichael James, San Francisco 49ers
Frank Gore has the most yards and rushing touchdowns in San Francisco history, but he's 30, and may start to show signs of decline despite a strong 2012 season. James has a year under his belt, and is now No. 2 on the depth chart. He pulls double-duty by returning kick-offs and punts, and while he might be a one-cut back, James will absolutely get touches to preserve Gore throughout the year. He might be a fifth or sixth-round pick, where he would be worth the risk.
Vick Ballard, Indianapolis Colts
Yes Ballard's a starter, but that doesn't mean he's ruled out of the "sleeper" designation. There's very little depth behind him, other than Ahmad Bradshaw, who depending on his health, could be a sleeper by himself. Thus, Ballard should get most of the snaps.
And that's not mentioning the revamped offensive line that Indy splurged on during the offseason to protect quarterback Andrew Luck. The increased depth of Gosder Cherilus, Donald Thomas, and rookies Hugh Thornton and Khaled Holmes, could produce the added benefit of opening up holes for Ballard.
Stepfan Taylor, Arizona Cardinals
Terrific size (5-foot-9, 216 pounds) and he's been getting plenty of touches. Taylor leads Arizona with 26 carries and 84 yards in the preseason, and while his 3.2 yards per carry are a concern, the Cardinals face middling rush defenses in four of their first five games of the season. Veteran Rashard Mendenhall and the returning-from-injury Ryan Williams are ahead of him, but don't be surprised if Taylor is used more as a redzone back who can pound it or sweep outside for quick scores.
Kenjon Barner, Carolina Panthers
Ninth in total rushing last year, Carolina's two-back system clearly works, but DeAngelo Williams and Jonathan Stewart have frustrated fantasy owners for years. Stewart could begin the season on the PUP list, which would knock him out of the first six games of the season. Williams is 30, but is healthy. That opens up a tag-team spot for Barner, who rushed for 1,767 yards and 21 touchdowns for Chip Kelly at Oregon.
Knile Davis, Kansas City Chiefs
Jamaal Charles is incredible -- when on the field. He had a scary preseason injury to his right foot that made Kansas City and fantasy owners hiccup, and its unclear if he'll play in Saturday's game against Pittsburgh. Andy Reid won't take risks with Charles's health very early in the season, which means Davis is in line for some early carries.
His final season at Arkansas was limited to 377 yards and two scores, but Davis was returning from a severe ankle injury which cost him the entire 2011 season, and lowered his stock in the draft. The Chiefs snagged him in the third round this past spring, remembering the SEC-leading 1,282 yards and 13 touchdowns he posted in 2010.
© Copyright IBTimes 2023. All rights reserved.