Fantasy Football 2014 Defense Rankings: Week 4, Sleepers, Top Picks, Who To Start, Sit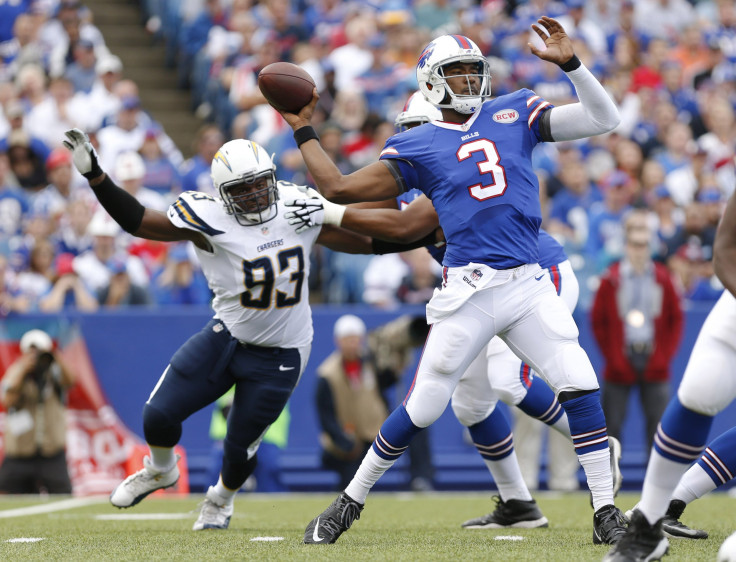 Every season there's one team whose offense is so dreadful that fantasy owners drop and add every week to start whichever defense (DST) lucked into the easy matchup. So far in 2014, that dreadful offense resides in Jacksonville, and the lucky DST in Week 4 is the San Diego Chargers.
Winless after falling to Indianapolis 44-17 in Week 3, the Jaguars offense is struggling with nearly every facet of the game. They're No. 3 in points per game (14.7), No. 31 in total offense yards (798), No. 25 in passing (201.3) and No. 30 in rushing (64.7).
And while promising rookie quarterback Blake Bortles is capable of turning things around, he'll be short of weapons and time in the pocket. Jacksonville's poor offensive line has let up a league-worst 17 sacks, and more than likely Bortles won't have rookie receiver Marqise Lee due to a hamstring injury. Not to mention running back Toby Gerhart's overall ineffectiveness (82 yards on 34 carries) and a questionable patchwork group of receivers in Cecil Shorts III (injury prone), Allen Herns (first-half, Week 1 wonder?) and rookie Allen Robinson (unproven).
The Chargers are now favored by two touchdowns at home, and should feast on Bortles. They're 14 th against the pass (226.3), No. 9 versus the run (101.3), and have totaled 7.0 sacks. There might be some cause for concern given that the Chargers have only forced three turnovers (all fumble recoveries), and that opposing quarterbacks are averaging a 99.9 passer rating against them, but consider that they played Carson Palmer in Week 1 and Russell Wilson in Week 2. In Week 3 against Buffalo they played a more mediocre QB in Buffalo's E.J. Manuel, and held him to one touchdown and the Bills to 10 total points and 292 total yards.
Going forward the Chargers might actually have some significant value. After the Jags they'll host the New York Jets, then head to Oakland, and then enter Week 7 against division rival Kansas City. There's a good chance San Diego's DST can score owners 8 to 10 points over the next four weeks. Unless of course you opt to continue following the Jags.
Other than San Diego, let's breakdown each of the best DSTs to start in Week 4, and who else to start/sit. Owners will also be looking for a DST to fill in for the likes of Seattle, Arizona or Cincinnati, three of the six teams on a bye in Week 4.
Miami Dolphins
The Dolphins face another team that fantasy owners are likely trolling, the Oakland Raiders. The Raiders may actually be worse than the Jags. They're last in points scored per game (12.3), second to last in rushing (64.3) and have committed five turnovers. Miami has lost two in row, giving up 29 points at Buffalo and 34 points at home to Kansas City in consecutive weeks. But both of those squads had far more offensive weapons than Oakland. The Dolphins are a surefire start in Week 4.
Pittsburgh Steelers
The Steelers are fresh off a 37-19 blasting of Carolina in Week 3, recovering two fumbles and picking up three sacks. They'll take on a Tampa Bay offense that committed four turnovers, including three lost fumbles, and an o-line that surrendered three sacks in Week 3's 56-14 debacle. There might be some fair concerns with Pittsburgh missing linebackers Jarvis Jones and Ryan Shazier, as well as cornerback Ike Taylor. But the Bucs No. 30 ranked offense could also miss receivers Vincent Jackson and Louis Murphy, and running back Doug Martin might not be 100 percent.
Atlanta Falcons
The Falcons defensive stats might be a bit inflated after their 56-14 drubbing of a very weak Tampa Bay. But in Week 4 they're at Minnesota, facing rookie quarterback Teddy Bridgewater in his first career start. Bridgewater looked fairly sharp in Week 3, going 12-for-20 for 150 yards, and rushed for another 27 yards on six attempts. But with the Vikings running game in shambles, it's likely the Falcons sit back and make Bridgewater pass. He can be a very accurate passer, and Minnesota still has dangerous receivers in Greg Jennings and Cordarrelle Patterson. If you are short on options, then tentatively start Atlanta.
Detroit Lions
The Lions are now the top rated defensive team in the league. They're first in total yards allowed (733), and are second only to their Week 4 opponent, the Jets, in stopping the run. The Jets are No. 2 in the league in rushing offense as well, and whether it's Geno Smith or Michael Vick under center in Week 4, Rex Ryan's team is likely to test Detroit's frontline early and often. But the Lions are too strong up front, and should severely limit the Jets for a big win for fantasy owners.
Week 4's Starts/Sits
Sit: N.Y. Giants, San Francisco, New Orleans, N.Y. Jets, Washington, Green Bay, Chicago, Indianapolis, Tennessee, Carolina, Minnesota, Buffalo
Start: Miami, Pittsburgh, San Diego, Atlanta, Detroit, New England, Baltimore, Houston
Byes: Cincinnati, Cleveland, Denver, St. Louis, Arizona, Seattle
© Copyright IBTimes 2023. All rights reserved.