'Fear The Walking Dead' Sneak Peek: Morgan Effortlessly Takes Nick Down
Nick is caught off guard by Morgan's fighting chops in this week's Season 4, episode 3 of "Fear the Walking Dead."
Last episode of the AMC series ended with Morgan (Lennie James), Althea (Maggie Grace), and John (Garret Dillahunt) being held captive by Nick (Frank Dillane), Alicia (Alycia Debnam-Carey), Strand (Colman Domingo), and Luciana (Danay Garcia). But in a sneak peek from the next episode, it seems like things have turned upside down, as Morgan now has the upper hand on Nick, who is seen cuffed to the opening of Althea's S.W.A.T. vehicle.
"What are you reading?" Nick asks Morgan. When the staff-wielding survivor doesn't respond, Madison's (Kim Dickens) son courteously asks if his captor could get him something to eat from his pack.
Much to Nick's surprise, Morgan pulls a knife out of his bag and cut the cable tie restricting Nick's hands. "Now you can get it yourself," Morgan says, before putting the knife within Nick's easy reach.
When Nick tries to get the knife, Morgan quickly hits his hand, preventing him from getting the weapon. Nick then attempts to take Morgan down with his bare hands but fails miserably. When Nick tries to run away, Morgan strikes the former's leg with his stick, bringing him to the ground.
In another sneak peek from the episode, Morgan rushes back to the S.W.A.T. vehicle after seeing a fast-approaching car. When he reaches the Althea's mobile, Morgan immediately closes the door and tells Nick to get down. Unsure of what's coming, Nick peeks through the vehicle's window hoping to get some answers.
While the video doesn't reveal the identity of the driver, the driver could be a member of the Vultures, who are the show's main antagonists this season.
"The Vultures is unlike a lot of the other adversaries that we've seen our characters come up against on 'Fear the Walking Dead,' or even 'The Walking Dead,' their threat is not one of violence," "Fear the Walking Dead" co-showrunner Ian Goldberg told Entertainment Weekly. "It's more of kind of an existential, philosophical threat, which is they move around from place to place. They don't set down roots. We see the Vultures as sort of like doctors delivering bad news."
"Fear the Walking Dead" Season 4, episode 3, titled "Good Out Here," airs on Sunday, April 29 at 9 p.m. EDT on AMC.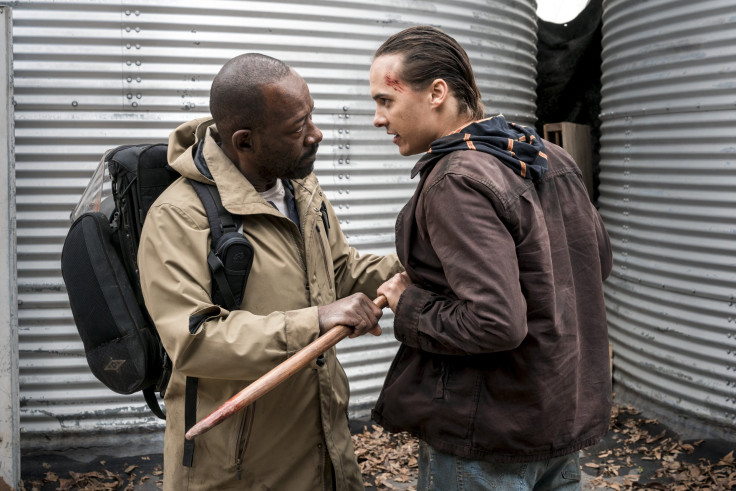 © Copyright IBTimes 2023. All rights reserved.
FOLLOW MORE IBT NEWS ON THE BELOW CHANNELS