Ferguson On Facebook And Twitter: Ice Bucket Challenge Versus National Guard And Starkly Different Realities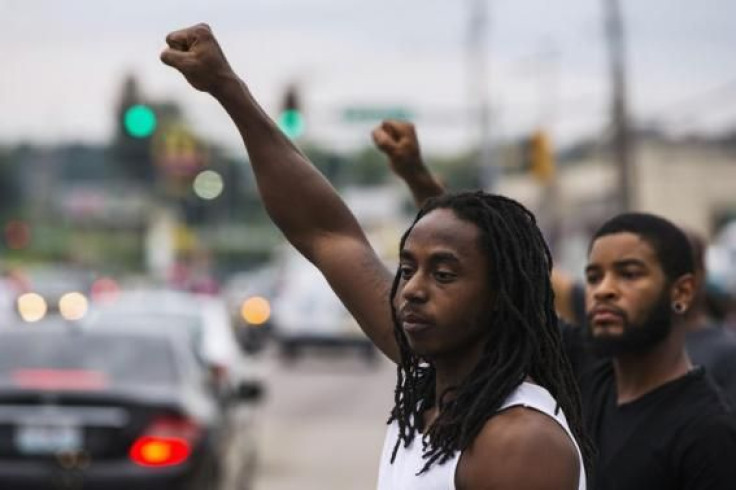 The continuing unrest in Ferguson, Missouri, is quickly becoming a tale of two Internets.
For the last 72 hours, newswatchers have been glued to social media for updates on the latest developments in suburban St. Louis, where fierce protests over the shooting death of Mike Brown continued for the second weekend in a row, but what users saw on Twitter Inc. (NYSE:TWTR) was vastly different from what they found on Facebook Inc. (NASDAQ:FB). In fact, while Twitter users could barely keep up with the Ferguson updates, many on Facebook saw very few at all.
The contrast between Twitter streams and Facebook newsfeeds has once again called attention to the latter's notoriously cryptic algorithm, which filters out a large percentage of posts to make room for those Facebook believes users will find most interesting. Over the last year, many media professionals have complained that the aggressive filtering has diminished Facebook's usefulness as a place for sharing critical real-time news updates.
But that doesn't seem to be the case this week for St. Louis news outlets, some of which say they have seen a significant increase in Facebook reach since the Ferguson crisis began.
"We have had no problems with Facebook 'throttling,'" Joe Millitzer, executive producer of interactive content for KTVI/KPLR in St. Louis, told International Business Times. "In fact, we have gained fans and our reach has increased."
"We don't seem to be seeing that aggressive filtering here," added Bob Rose, deputy managing editor for the St. Louis Post-Dispatch. "In fact, our Facebook referral traffic is up 84 percent during the Ferguson coverage."
But the boost for news outlets is not translating to more Ferguson-related posts for many users. As no shortage of social media users pointed out on Monday, Twitter streams have been dominated by updates and photos of the chaotic scene in Ferguson, which prompted Missouri Gov. Jay Nixon to call in the National Guard after protesters allegedly hurled Molotov cocktails at police on Sunday night. The term "National Guard" trended on Twitter for several hours on Monday morning, as real-time updates -- many from Twitter users on the ground in Ferguson -- continued to pour in.
On Facebook, however, it was a very different picture. The weekend's trending topics were dominated by the ALS Ice Bucket Challenge, a viral charity stunt aimed at raising awareness for amyotrophic lateral sclerosis, also known as Lou Gehrig's disease. The challenge, in which participants pour buckets of ice over their heads, was taken by numerous high-profile celebrities over the weekend, including Facebook's Mark Zuckerberg himself.
Scouring Ferguson-related news on both Twitter and Facebook this weekend, many users pointed to the dichotomy between what they were seeing on the two platforms.
Some media commentators have pointed to the Twitter/Facebook divide as a way of calling attention to the dangers of algorithmic filtering. Zeynep Tufekci, a University of North Carolina professor who writes about society and technology, noted in a blog post that Ferguson-related posts showed up much later on Facebook than they did on Twitter. Facebook often shows posts in users' newsfeeds only after other users have engaged with them through likes and comments. This phenomenon, sometimes called a "filter bubble," has been cited as a danger to civil discourse. "[W]hat if Ferguson had started to bubble, but there was no Twitter to catch on nationally?" Tufekci wrote. "Would it ever make it through the algorithmic filtering on Facebook?"
And some say things could get worse before they get better. Writing for Pando Daily on Thursday, David Holmes noted that Twitter, too, was exploring the possibility of implementing a Facebook-style algorithm, a feature that could have devastating effects on users' ability to access real-time news information. "If Twitter implements a Facebook-style algorithm, you may not hear about the next Ferguson," Holmes wrote.
Demographic differences may also account for some of the disparity. As a Pew Research study revealed earlier this year, Twitter is "especially popular" with younger African-Americans, with 40 percent of online blacks between the ages of 18 and 29 using the service, versus 28 percent of online whites in the same age group. Conversely, as another study by Edison Research showed, African-Americans are underrepresented on Facebook, comprising just 12 percent of users. It's a reflection not just of a tale of two Internets but a tale of two realities.
Got a news tip? Email me. Follow me on Twitter @christopherzara.
© Copyright IBTimes 2022. All rights reserved.
FOLLOW MORE IBT NEWS ON THE BELOW CHANNELS