Fighting to Stay Relevant: How Celebrities Feud For Fame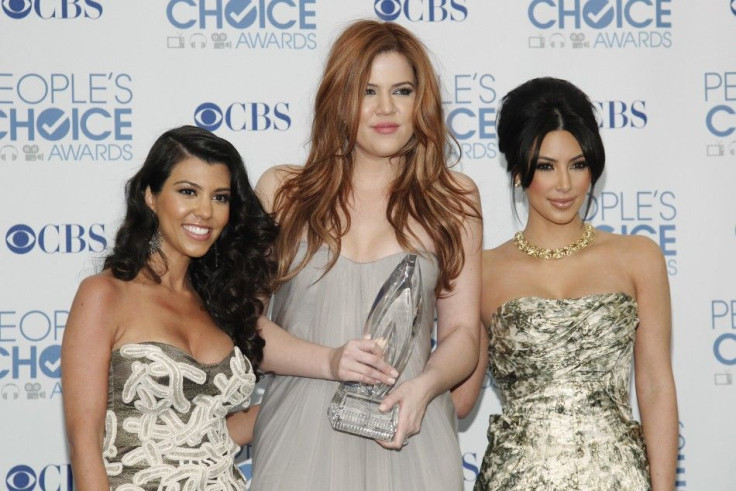 There was a time when you could spot a Hollywood climber by their puckered lips and firm grip on the coattails of actual celebrities they desperately wanted to please: A--kissing was the method of choice for C- and D-list stars looking to improve their ranking.
But these days, targeted acrimony will land a name in a headline faster than dutiful servitude: With the help of social media, a casually dropped insult or a well-timed tweet can be publicity gold.
The Twitter feud between Teen Mom star Farrah Abraham and Kourtney Kardashian/Scott Disick is the latest example of a less famous person clawing at scraps of a bigger star's spotlight.
After Kourtney (who is 32) and Scott announced they were expecting their second child, Abraham bizarrely scolded them via Twitter.
Im [sic] Shocked Kourtney Kardashian is pregnant again, Did she not learn anything from TEEN MOM? Maybe its a fake pregnancy like kims wedding SAD [sic], Abraham tweeted.
Kourtney ignored the dig about Kim's sham brief marriage and tweeted her criticism of Abraham's logic: Why would I have anything to do with Teen Mom? I'm 32 years old! I may look young, honey, but don't get it twisted.
Disick hit back at Abraham too, tweeting: Were not teenagers ya f--king moron.
Unlike Kourtney, Scott retweeted Farrah's original message.
But that wasn't enough for her. Khloe asked Scott how he even knew who Farrah was, and he tweeted I just thought she was some s--t stain on twitter, no? in reponse.
To that, Abraham accused Disick of being a racist. What?
Caught wind of these dramatic articles, w/ loser scott disick or some boyfriend of kourtneys , is S--t Stain< racist 4 black? Great dad! NOT, she tweeted.
(For the record, Abraham's parents and the (late) father of her baby do not appear to be ethnic minorities. She appears to be white as well, though we have not been able to confirm her ethnicity. Also, she's probably not winning any Parent of the Year awards herself, after she reportedly left her young daughter to live with her mother -- who has been arrested for domestic abuse -- while she went to college in Florida.)
However inane her Twitter rampage was, it's gotten her a lot more attention than she would have otherwise. We're guessing it's no accident that Farrah chose to go after reliable headline-makers with millions of Twitter followers.
Both of Kourtney's sisters have also been targeted by far less visible fame-seekers. A man claiming to be Kim Kardashian's former publicist got his 15 minutes of fame when he claimed to have inside knowledge that her marriage to Humphries was fake, and a transgender woman is suing Khloe Kardashian for allegedly assualting her -- in 2009.
Drive-by bashing allows wannabes the profile-boosting benefits of an association, but does not require the approval (or in some cases, even the participation) of the bigger star.
While some celebrities enjoy a temporary career boost from a gossip rag-friendly feud, others have built entire careers on insulting more famous people. Take Kelly Osbourne: While she does have an actual job as a commentator on E!'s Fashion Police (where she makes fun of stars on the red carpet), she has routinely forced her way into the spotlight by eviscerating such celebrities as Christina Aguilera and Kate Middleton.
Osbourne and Aguilera have a longstanding feud, which reportedly began when Aguilera mocked Osbourne at the 2003 MTV Europe Music Awards.
During the last year, Osbourne has slammed Aguilera's weight gain, saying this summer, Maybe she is just becoming the fat b--ch she was born to be.
In October, she explained that Christina had it coming for teasing Osbourne about her weight when the reality star was a bit chubbier.
She called me fat for years, Osbourne said on Fashion Police. I was never that fat.
Osbourne even dared to attack the unimpeachable Kate Middleton this summer -- when the Duchess of Cambridge craze was at its peak -- criticizing her habit of recycling outfits.
In England they are like 'look how thrifty she's being,' showing the British public that the Royals are in a recession as well,' Osbourne told Jay Leno. Only in this country they call it a faux pas.
Osbourne is equally skilled at befriending bigger stars at the right time. She embraced the role of Amy Winehouse's BFF after the singer died in July, speaking to the press and calling attention to herself at Winehouse's memorial service.
More recently, she headline-bombed another BFF, Miley Cyrus: Her comments at Miley's 19th Birthday Party helped get the pop star accused of being a pothead (again) -- but Osbourne was more than happy to tweet to Miley's defense, getting more eyes on her Twitter feed and proving to the world what a great friend she is in the process.
As we mentioned earlier, a wannabe can bring attention to themselves even if their stated nemesis doesn't care about them at all. This fall, Colin Quinn made headlines when he attacked Will Ferrell on Twitter, accusing the fellow Saturday Night Live alum of stealing the idea for Anchorman from him.
Anybody see Will Ferrell at Mark Twain awards last night? Great for him I guess, @iamcolinquinn tweeted, and quickly followed up with a series of increasingly critical tweets:
Not bitter but just....whatever, dude. Good for him.
No, I'm happy for Will....we never really got along at SNL because he took so many of my ideas, but.
Will was into a lot of bad drug stuff and I don't know if he still is. Actually, not true I happen to know he still is very much so.
Quinn later confessed that he wasn't actually accusing Ferrell of having a drug problem, but not before his Twitter rant got national media attention.
In a subsequent interview with New York Magazine, Colin insisted that his tweets were meant to be sarcastic, blamed the media for (perhaps intentionally) misconstruing their sincerity.
You know, I think the problem is that they're like, We gotta get something. Everyone is tweeting such boring stuff; we gotta pretend this is real just to create a thing, he told NYMag.
Some spotlight-seeking celebrities have gotten in on the feuding frenzy even without the help of Twitter. Carrie Fisher and William Shatner have recently made YouTube missives arguing the relative merit of Star Wars vs. Star Trek.
Fisher, of course, believes that Star Wars is far superior to Star Trek, claiming that Star Trek is not in the same league as the franchise that made her famous.
Shatner responded to Fisher's challenge to face-off in their old costumes - her in that famous metal bikini - by digging at Fisher's age and weight (she recently dropped several dress sizes).
My costume was made of a stretch material so there wouldn't be any difficulty in giving it a push here and a pull there, Shatner said in the video message.
But you in a bikini now that needs a little more than a push and pull. It needs a lot of uplift...I don't know whether we're ready for you in a bikini.
We're guessing Shatner and Fisher aren't really at odds with one another, and are just having a little bit of fun. But just because the established actors are more mature and sophisticated than some feuding reality stars doesn't mean they are ignorant to the benefits of a well-publicized battle: Fisher's latest book, Shockaholic, was published earlier this month, and she has been busy promoting it.
Coincidence? We think not.
FOR FREE to continue reading
✔️ Unlock the full content of International Business Times UK for free
offer available for a limited time only
✔️ Easily manage your Newsletters subscriptions and save your favourite articles
✔️ No payment method required
Already have an account? Log in
© Copyright IBTimes 2023. All rights reserved.