Fourth Of July: Here Are Some Important Space Events That Coincided With Independence Day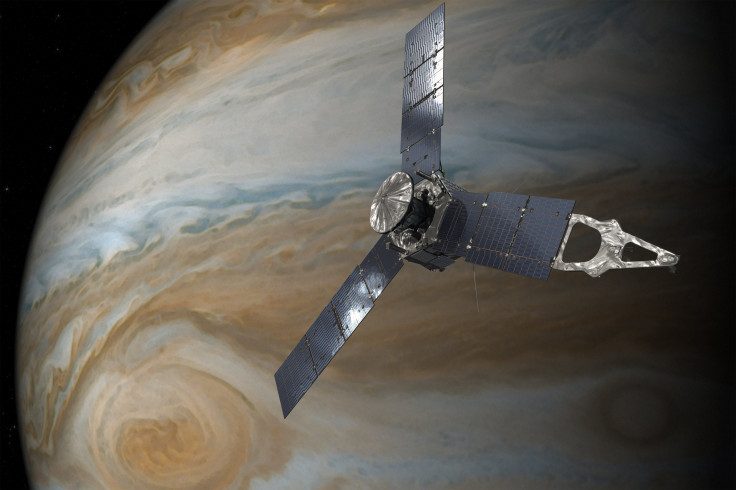 KEY POINTS
Some important events in NASA missions also happened on July 4
The astronauts on space shuttle Columbia was greeted by a massive Fourth of July celebration
The first-ever rover landed on the surface of Mars on July 4, 1997
The Fourth of July marks the U.S. Independence Day, but it's also an important date for some significant events in space history.
For many, July 4 means summer barbecues and fun get-togethers as people across the country celebrate Independence Day. It was on this day in 1776 when the Continental Congress passed the Declaration of Independence from Great Britain.
But as we moved along the space age, the fourth of July also became the date on which some important NASA milestones took place. Today, as we observe Independence Day, let's also celebrate some of these significant events that made a mark in space history.
STS-4 mission landing
On June 27, 1982, the space shuttle Columbia went on its fourth trip to space for its final orbital flight test. Carrying astronauts Thomas "TK" Mattingly and Henry "Hank" Hartsfield, the spacecraft was launched from pad 39A at the Kennedy Space Center in Florida.
The astronauts performed various tests during the seven-day mission, the last day of which was the fourth of July. This made the pair the first Americans to spend Independence Day in space. The same day, they also made the first shuttle landing on a concrete runway.
The pair came home to a rather special Fourth of July celebration with a crowd of more than 500,000 and it included none other than then-President Ronald Raegan and First Lady Nancy Raegan.
While introducing President Raegan about an hour after landing, then-NASA Administrator James M. Beggs told Mattingly and Hartsfield that they gave "the American people a Fourth of July present to remember."
First-ever rover arrives on Mars
Mars is now home to several rovers, but it wasn't always that way.
In December of 1996, as part of a technology demonstration, the Mars Pathfinder mission launched aboard a Delta II rocket and took a months-long journey to Mars. On July 4, 1997, the Sojourner rover became the first-ever rover to land on the surface of Mars.
Although the mission was a technology demonstration to show a new way to send a lander and rover to Mars, the Mars Pathfinder mission delivered so much more, as it sent 2.3 billion bits of data in just a few months until the final data transmission on Sept. 27 of the same year.
Although the mission was short-lived compared to others, that first rover landing on Mars on Independence Day paved the way for the others in the years that followed. To date, NASA has sent five rovers to Mars: Sojourner, Spirit and Opportunity, Curiosity and Perseverance.
Deep impact on the Fourth Of July
NASA's Deep Impact mission was meant to explore beneath the surface of a comet, specifically comet Tempel 1. Launched in January 2005, it was the eighth mission in NASA's Discovery program and it comprised of a flyby spacecraft and an 820-pound impactor.
It rendezvoused with the comet months later, and on July 3, it released the impactor probe to move toward the path of the comet. On July 4, the probe successfully impacted Tempel 1, generating an explosion that's said to be equivalent to 4.7 tons of TNT. It left a massive crater some 490 feet in diameter.
An image of Tempel 1 taken by the flyby spacecraft some 67 seconds after the impact showed the bright light radiating away from the impact site.
The flyby vehicle remained at work in an extended mission long after that Independence Day impact. But communications with Deep Impact were lost in August 2013. Later that year, NASA announced it had abandoned efforts to contact it.
Juno spacecraft arrives on Jupiter
The Juno spacecraft's mission is no easy feat: it was sent to Jupiter, the largest planet in our solar system, to probe beneath its surface and answer some questions about its origins and evolution.
Launched in August 2011, the Juno spacecraft took a grueling five years to reach the gas giant. On July 4, 2016, Juno finally arrived after a 1.7-billion-mile journey.
"Independence Day always is something to celebrate, but today we can add to America's birthday another reason to cheer — Juno is at Jupiter," then-NASA administrator Charlie Bolden said. "And what is more American than a NASA mission going boldly where no spacecraft has gone before?"
Juno has been providing incredible data and imagery since then that have helped broaden our understanding of Jupiter, its moons and even the formation of our solar system. Even today, Juno continues to provide valuable data and is expected to do so until September 2025 or until it reaches the end of its life.
With the space age only ramping up our efforts to understand and explore the universe around us, having such momentous events on a day that's special to American history makes them somewhat more special.
But Fourth of July or not, the journey to space will likely push through and go further where no spacecraft, or perhaps with the ambitious new plans under the Artemis missions, no man (or woman) "has gone before."
© Copyright IBTimes 2023. All rights reserved.