Free Father's Day Cards 2015: 5 Best Sites To Send E-Card Greetings To Your Dad, Husband This June 21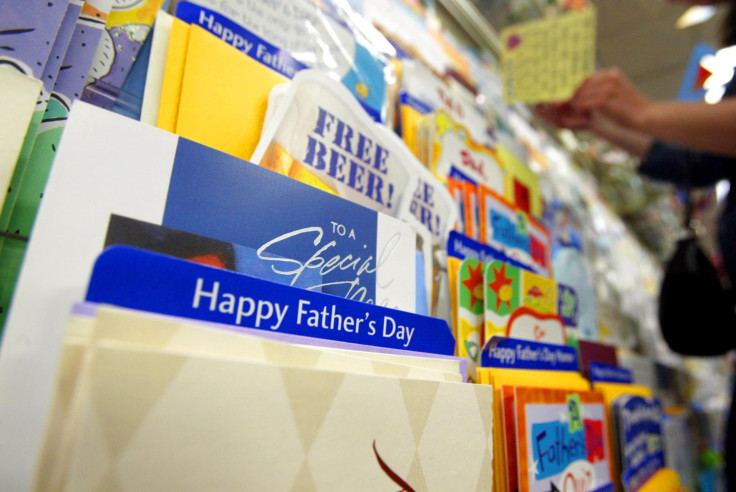 Father's Day 2015 is almost upon us, and if you're among those still looking for an online solution to your dad problem, we have you covered. Anybody unwilling to fork over the cash to buy a certain dad, husband, brother or friend a Father's Day greeting this year may wish to consider using one of the following free electronic-card sites. But don't dally: Father's Day is this Sunday.
Here are the five best free e-card sites for Father's Day 2015:
JibJab
Give your dad a good laugh this Father's Day by putting his face on a customizable e-card produced by JibJab. The site is offering specialized messages for the holiday. Some of the most popular greetings available employ hit songs such as "Soul Man" and "I'm Too Sexy" and the site's original "Dad Rap."
123Greetings.com
Whether you're in need of a Father's Day card for your dad, husband, brother, uncle or friend, 123Greetings.com will have just what you're looking for. The site offers more than 300 animated and two-dimensional e-cards free of charge.
Someecards
If your dad appreciates sarcasm, someecards is probably your best bet. The popular meme-sharing site has hundreds of Father's Day-inspired cards ready to use free of charge. One of their latest additions includes the saying, "Only a few days left to left to buy dad something he won't like." For wives looking for the perfect e-cards for their husbands, there's always the comical, "There's nobody I'd rather quietly resent our kids with than you."
Punchbowl
If you're looking for a well-crafted Father's Day card, but are not willing to fork over the expensive cost of a tangible card, consider testing Punchbowl. While the site does charge small fees for some of its e-cards, a large amount of them are freely available. Users can customize cards and envelopes, and they can even include gift cards should they feel so inclined.
Gotfreecards.com
If you're interested in giving your dad more than an e-card this Father's Day, print out a free greeting from gotfreecards.com. In addition to e-cards, the site offers dozens of colorful cards you can customize by inserting photographs, stickers and text before you print them. The only other thing you need is a printer!
© Copyright IBTimes 2023. All rights reserved.