Gavin Newsom Suggests 'Kidnapping' Charges Against DeSantis, Gets Branded 'Idiot'
KEY POINTS
Newsom says DeSantis must be investigated for "kidnapping" migrants
DeSantis put 50 migrants who arrived in Florida on a plane to Martha's Vineyard
Social media users have lambasted the California Gov. for the letter
California Gov. Gavin Newsom has pointed fingers at Florida Gov. Ron DeSantis for taking credit for flying about 50 migrants to Martha's Vineyard, Massachusetts
In a letter to the Department of Justice (DOJ), Newsom has called for an investigation into the interstate transportation of migrants. In the letter, addressed to Attorney General Merrick Garland, the California Gov. said he was "horrified at the images of migrants being shipped on buses and planes across the country to be used as political props."
He urged the U.S. DOJ to open an investigation into possible criminal or civil violations, suggesting that it could be done under Racketeer Influenced and Corrupt Organization (RICO) provisions of the Organized Crime Control Act of 1970.
"I urge US DOJ to investigate whether the alleged fraudulent inducement would support charges of kidnapping under relevant state laws," he said. "Clearly, transporting families, including children, across state lines under false pretenses is morally reprehensible, but it may also be illegal."
His letter further made mention of several migrants alleging that they were lured on the plane, saying they'd be flown to Boston where they'd received expedited access to work authorization.
Meanwhile, a section of social media users lambasted Gov. Newsom for the move, saying he must be charged instead for "kidnapping Californians with excessive hypocrisy."
Speaking at a press briefing after sending off the migrants on planes, DeSantis said, "We are not a sanctuary state and it's better to be able to go to a sanctuary jurisdiction and yes we will help facilitate that transport for you to be able to go to greener pastures."
It was reported that two planes, originating in Texas's San Antonio, made pit stops in Florida, South Carolina, and North Carolina, before arriving at Martha's Vineyard.
Some migrants said a woman had approached them at a shelter, gave them food, and tried to get them on the plane by giving them hopes of a bright future, reported NPR.
Gov. Newsom's letter mirrored the remarks made by social media users who called DeSantis a "human trafficker" for his actions.
"It a FEDERAL CRIME to transport or attempt to transport a noncitizen within the U.S. Immigration and Nationality Act (I.N.A.), at Section 274(a)(1)(A)(ii). Florida Governor DeSantis thinks he was cute sending immigrants to Mass. The FBI should be on this," one of the tweets said.
The letter also incensed DeSantis's supporters who, in turn, harshly criticized Newsom.
"Newsome (sic) wants to charge Republicans with Kidnapping Migrants to send them to his State. Charge Newsome with Kidnapping Californians with excessive Hypocrisy," a tweet read.
"Now Gov Newsome wants kidnapping charges against Ron Desantis And the Greg Abbot of Texas for shipping migrants to various locations! That is Opening the door for himself as he has not been any kind of angel I can see!" remarked another.
"Newsome has no problem with killing babies. But he thinks taking immigrants and dispersing them to different locations is kidnapping," a pro-lifer tweeted. For the uninitiated, Newsom launched a billboard campaign in several red states, inviting people to California for abortion access.
"To any woman seeking an abortion in these anti-freedom states: CA will defend your right to make decisions about your own health," he tweeted.
The hatred against the California Gov. continued with another tweet, saying, "The transported illegals signed waivers. That kind of nixes Newsome's 'kidnapping' fantasy."
"Gavin Newsome is trying to convince the doj to press kidnapping charges against Ron DeSantis; for flying illegal aliens to Martha's Vineyard. What a damn idiot--he should be removed from office. DeSantis, Abbott send many plane loads of illegal aliens to Napa Valley," tweeted another.
"Oh brother! Its not kidnapping if the migrants are willing! Besides, you can bet your ass they want to go to Martha's Vineyard. Why wouldn't they want to?
it's the American dream! Newsome is full of shit! Hypocrite ba---rd!" read another profane tweet.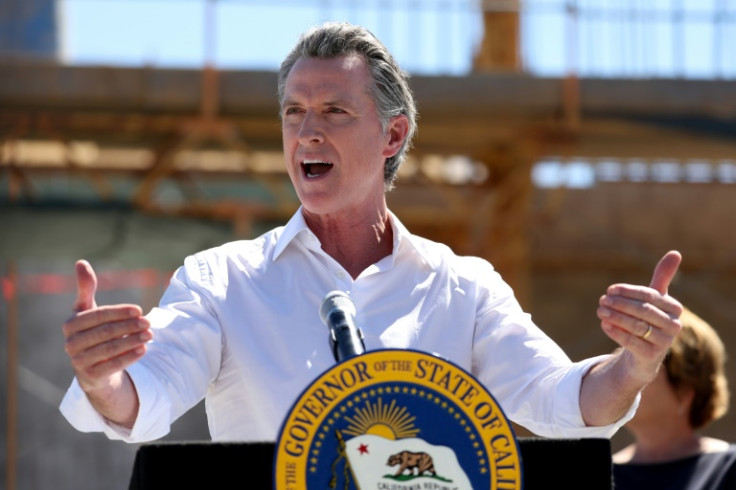 © Copyright IBTimes 2022. All rights reserved.
FOLLOW MORE IBT NEWS ON THE BELOW CHANNELS