Gay Marriage Trial Tapes to Be Public, Judge Rules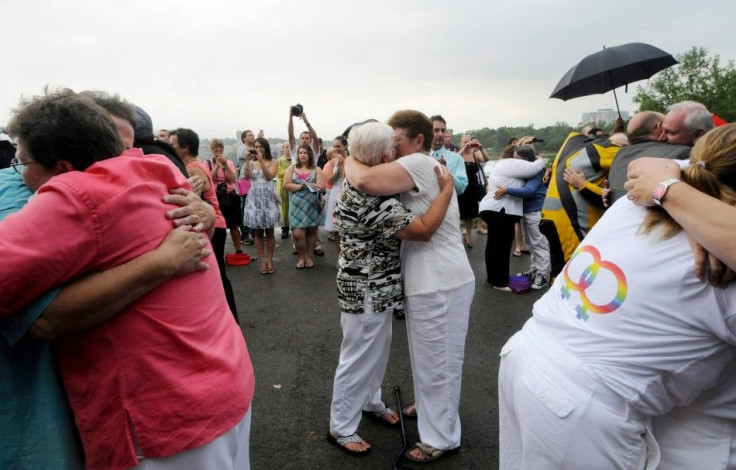 Video recordings of the trial over California's gay marriage ban should be unsealed, a federal judge ruled on Monday.
District Judge James Ware in San Francisco said in a court order that there was no compelling reason to keep the digital files under seal.
Video coverage of the landmark trial was a key issue in the case, in which former U.S. District Judge Judge Vaughn Walker ultimately struck down California's Proposition 8 as unconstitutional.
Before the trial proponents of gay marriage, who had challenged the law, wanted the trial broadcast under a new rule by the appeals court in California allowing the broadcast of some civil cases. Nonetheless as the trial opened in January 2010, the U.S. Supreme Court ruled the proceedings could not be broadcast.
Judge Walker, who has since stepped down, made a videotape of the trial to use for his own purposes in deciding the case. Those recordings were filed under seal.
After his retirement Walker played a short segment of a trial recording during a presentation to law school students in Arizona, which was broadcast on C-Span. Defenders of the gay marriage ban demanded Walker return his recordings. Gay marriage proponents meanwhile asked a judge to lift the seal of the recording.
On Monday, Judge Ware sided with the gay marriage proponents, but also made clear that he was not tackling the broader issue of cameras in the courts.
Foremost among the aspects of the federal judicial system that foster public confidence in the fairness and integrity of the process are public access to trials and public access to the record of judicial proceedings, Ware wrote.
Theodore Boutrous, an attorney at Gibson, Dunn & Crutcher who argued the issue for supporters of gay marriage, hailed the order.
This is a powerful vindication of the public's right of access to judicial records in proceedings, said Boutrous. It will allow the American people to see exactly what happened during this historic trial.
Andy Pugno, a lawyer for a group supporting the ban, called the ruling bizarre, and said the group will appeal immediately.
The judge's order is slated go into effect on September 30, unless the opponents receive a stay from the appeals court.
Walker's ruling striking down the marriage ban is on appeal to the Ninth Circuit Court of Appeals.
The case is Perry v. Schwarzenegger et al, U.S. District Court, Northern District of California, No. 09-02292.
© Copyright Thomson Reuters 2023. All rights reserved.