Generics Take Toll on Pfizer, Lilly Profits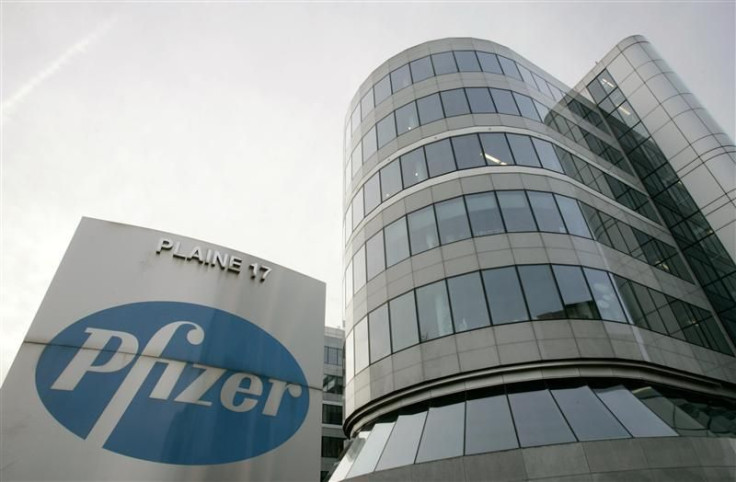 (REUTERS) -- Competition from low-cost generic drugs squeezed quarterly profits at Pfizer Inc and Eli Lilly & Co but the drugmakers were able to somewhat weather those declines with help from other medicines.
Both Pfizer, the world's biggest drugmaker, and Lilly topped Wall Street's dim profit expectations. Lilly also said its closely watched experimental Alzheimer's treatment was given a green light for further study.
Pfizer's quarterly results were helped by its animal health and nutrition units -- businesses the company is considering selling or spinning off. The company said on Tuesday that any separation of those businesses would occur between July 2012 and July 2013.
For both Pfizer and Lilly, the fourth-quarter results marked the first period since they lost U.S. patent protection on their biggest-selling medicines.
Pfizer saw sales of its Lipitor cholesterol treatment, long the world's top-selling drug, drop 24 percent to about $2 billion. In the United States, where Lipitor lost patent protection in late November, sales fell 42 percent.
Sales of Lilly's Zyprexa anti-psychotic, for years the company's biggest product, fell 44 percent to $750 million. Sales in the United States, where the pill lost patent protection in October, plunged 56 percent.
Richard Purkiss, analyst with Atlantic Equities, said Pfizer's profit margins significantly improved during the quarter, an unexpected trend given the onslaught of Lipitor generics.
He noted that Pfizer expects similarly strong margins for the full year, most likely because of cost savings from the company's purchase of U.S. rival Wyeth in late 2009.
The Wyeth takeout is benefitting the company as Lipitor declines, Purkiss said. The decline was the rationale for the $67 billion acquisition.
Last year, Pfizer vowed to slash billions of dollars in costs, largely through layoffs of thousands of researchers.
HELP FROM OTHER DRUGS
Pfizer's fourth-quarter net income fell 50 percent to $1.44 billion, or 19 cents per share, from $2.89 billion, or 36 cents per share, a year earlier. Pfizer said results in the latest quarter appeared unfavorable in part because of a big tax benefit in the year-earlier period.
Excluding special items, earnings of 50 cents per share topped Wall Street's target by 3 cents, according to Thomson Reuters I/B/E/S.
Revenue fell 4 percent to $16.75 billion but was a bit higher than Wall Street expectations of $16.61 billion.
Softening the Lipitor declines, some of Pfizer's other important drugs scored moderate sales gains, helped by price increases. Sales of arthritis treatment Enbrel and the Celebrex painkiller each rose 7 percent, to $865 million and $622 million, respectively. Sales of impotence treatment Viagra rose 5 percent to $523 million.
As in the third quarter, Pfizer's strongest gains came from its nutritional products and animal health units. Sales of animal health brands rose 13 percent in the quarter to $1.1 billion, while sales of nutritional products -- including baby formula and maternity supplements -- jumped 22 percent to $598 million.
Pfizer trimmed its 2012 financial forecasts, largely due to the negative impact of the stronger dollar. It projected 2012 earnings of $2.20 to $2.30 per share, excluding items. That range was down from its prior outlook of $2.25 to $2.35.
Lilly's fourth-quarter net income fell 27 percent to $858.2 million, or 77 cents per share, from $1.17 billion, or $1.05 per share, a year ago.
Excluding one-time items, earnings were 87 cents per share, 6 cents ahead of analyst estimates.
Global revenue fell 2 percent to $6.05 billion but topped Wall Street expectations of $5.9 billion.
Sales growth of other top drugs helped counter Zyprexa's declines, thanks in large part to price increases.
Anti-depressant Cymbalta, which itself goes generic next year -- deepening Lilly's patent woes -- saw sales jump 20 percent to $1.18 billion. Sales of lung cancer treatment Alimta rose 12 percent to $638 million while the company's Humalog insulin vaulted 21 percent to $662 million.
An independent data-monitoring committee overseeing two Phase III trials of Lilly's solanezumab Alzheimer's treatment recommended that the trials continue without changes, the company said. Trial data is expected in the second half of the year.
Many analysts believe solanezumab has little chance of success, but say the stock will soar if it works.
Purkiss said Lilly's quarterly results were reasonably strong but shares rose instead on the monitoring panel's continued green light for testing of solanezumab.
People are concerned about being underweight Lilly if the data come in positively, said Purkiss.
Shares of Pfizer were down 3 cents at $21.55 while Lilly shares were up 35 cents at $39.60.
(Reporting By Lewis Krauskopf; editing by Mark Porter)
© Copyright Thomson Reuters 2023. All rights reserved.