Girl Swept Away in 2004 Tsunami Found 7 Years Later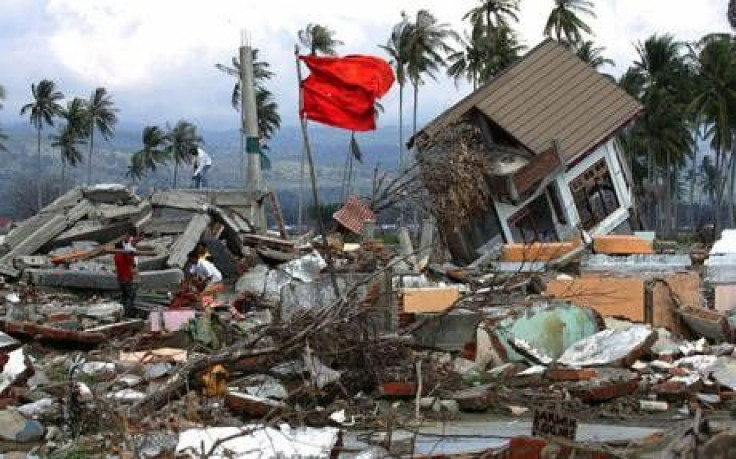 A girl who was swept away during the 2004 Indonesian tsunami has been found.
The girl, identified by state news as Wati but whose birth name is Meri Yuranda, was just 8-years-old when the tsunami hit her hometown village of Ujong Baroh. She was swept away from her mother's arms in the storm and miraculously has turned up alive, reports CNN.
Her mother, Yusniar, was trying to take her and her two siblings to a safe place, but somehow she lost her grip on her mother's arm and was carried away by the rushing waters, leaving her mother powerless to help her, reported the Indonesian state news agency, Antara.
Yusniar was able to save her two other children, but she and the rest of the family eventually had to resign themselves to the notion that Wati was lost as she never returned nor had anybody in the neighborhood seen her again dead or alive.
Meri, who is now 15-years-old, was spotted in a coffee shop, alone, near her home in West Aceh, Indonesia. Shortly after the wave hit, the girl was adopted by a woman who named her Wati and forced her to beg. This woman sometimes beat her and kept her in the streets until 1 a.m., reports The Washington Post.
When she stopped bringing in money, the woman wanted her gone. Go ahead, leave ... go find your parents then, they're in Meulaboh, she told the young girl. And so she left.
She said that she had come [there] by bus from Banda Aceh and was trying to find her way back home but did not know how. She also could not remember any of her parents' or relatives' names except Ibrahim, according to Antara.
Later on that day, Meri and an individual she had met showed up at a man's house. This man was Ibrahim.
After listening to the acquaintances account, Ibrahim immediately sensed the girl could be his long-lost grandchild and, after a closer look at the dark-skinned girl, was indeed convinced she was Wati who went missing in the tsunami seven years ago, the news agency reported.
Meri called her parents to come meet her and, once arrived, they immediately confirmed it was their daughter because of a small mole and a scar she had as a child.
Yusniar binti Ibrahim Nur, the girl's mother, told The Associated Press she knew it was her daughter. She has her father's face, the 35-year-old woman via telephone. And when I saw the scar over her eye and mole on her hip, I was even more sure.
An earthquake estimated between magnitude-9.1 to magnitude-9.3 hit the coast of Sumatra, Indonesia, in 2004, triggering the deadly tsunami that killed more than 230,000 people according to the U.S. Geological Survey.
Meri's father said that he had placed his daughters on a roof, hoping they would be safe in the flood. Maybe she fell into the boat, maybe someone helped her. I just don't know, said Yusniar. I just thank God my prayers have been answered. For years, I searched everywhere. I'd really given up.
© Copyright IBTimes 2023. All rights reserved.