Gold Demand in India Sluggish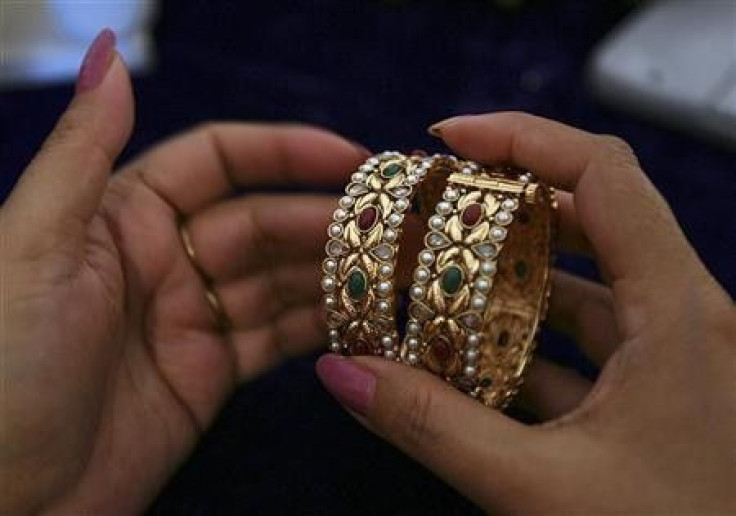 Gold prices in India, the world's top buyer, eased tailing soft overseas prices, but not enough to attract buyers in a traditionally lean demand period, dealers said.
* The most-active February gold contract on the Multi Commodity Exchange was 0.13 percent lower at 27,774 rupees per 10 grams by 3:36 p.m.
* Jewellery demand is very weak due to Khar Mass. Investment demand was also weak. Only a few people were showing interest in coins and bars, said an official at Ahmedabad based Zaveri and Co, a retail jeweller. Khar Mass is a month in the Hindu calendar, observed from December 16 to January 14, considered inauspicious for gold buying and starting new ventures.
* International spot gold prices inched down in thin trade on Thursday as investors remained sceptical of the euro zone's ability to tackle its debt crisis after the European Central Bank's latest moves to keep credit flowing in the region.
* The rupee plays an important role in determining the landed cost of the dollar-quoted yellow metal. The rupee fell on Thursday as doubts about solving the euro zone debt crisis heightened the prospect of foreign funds outflows from riskier assets.
* A Reuters poll of 20 hedge fund managers, economists and traders showed international spot gold prices are expected to fall below $1,500 an ounce over the next three months and they are unlikely to retest September's all-time highs until later 2012 at the earliest.
© Copyright Thomson Reuters 2023. All rights reserved.