GOP Infighting: Current, Former Republican Legislators Say Party Purists Engaging In Liberal Tactics
There have been visible signs of division among Republicans since Donald Trump first announced his candidacy for president in 2015. With Trump no longer in the White House, those divisions are still readily apparent as the party tries to chart its path for the 2022 mid-term elections and beyond.
On Thursday, the Senate's No. 2 Republican lashed out at activists and party leaders within the GOP for engaging in the very same behavior for which they criticize Democrats.
Sen. John Thune of South Dakota says the rush by state GOP bodies to censure lawmakers who supported Trump's impeachment are engaging in the same "cancel culture" they claim to loathe.
"There was a strong case made," Thune said of Trump's trial in the Senate. "People could come to different conclusions. If we're going to criticize the media and the left for cancel culture, we can't be doing that ourselves."
Thune voted to acquit the former president on constitutional grounds, claiming that while Trump's conduct in the wake of the election was "inexcusable," he couldn't reconcile that with "punishing a private citizen with the sole intent of disqualifying him from holding future office."
Since his acquittal by the Senate on Saturday, Trump blasted Senate Minority Leader Mitch McConnell – who voted to acquit before excoriating Trump in a post-trial speech – and has repeated false claims he won the election.
Former New York GOP Rep. Peter King struck a similar tone in an opinion piece published Friday at The Hill.
"I certainly understand and respect why thoughtful Republicans with as Reps. Liz Cheney (R-Wyo.) and Adam Kinzinger (R-Ill.) voted to impeach and Sen. Bill Cassidy (R-La.) voted to convict," King wrote. "Their decisions could not have been easy. I know each of them to be thoughtful, conscientious and patriotic."
Cheney has been censured by the Wyoming Republican Party and had to fend off a bid to remove her from the House GOP leadership, where she is the third-ranking Republican. At least one Republican has already launched a campaign to oppose Cheney in the 2022 primary election for Wyoming's lone Congressional seat.
Kinzinger has not only faced censure from Illinois Republicans but he also was criticized by his family in a public social media post. Louisiana Republicans censured Cassidy as well amid reports of division within the state GOP mechanism.
Thune said the future of the party will ultimately be decided at the ballot box.
"At the grassroots level, there's a lot of people who want to see Trump-like candidates," Thune said. "But I think we're going to be looking for candidates that are electable."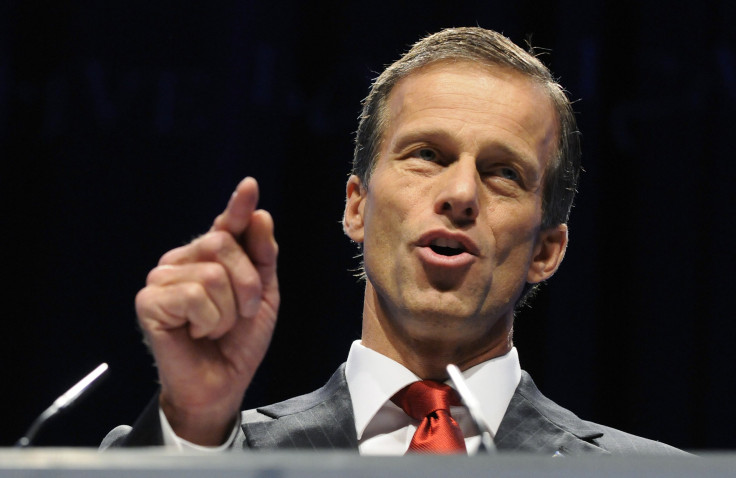 © Copyright IBTimes 2023. All rights reserved.