Wyoming Censures Cheney, State Threatens Secession In Wake of Impeachment Vote
Wyoming Republicans are revolting in the wake of Rep. Liz Cheney's vote to impeach President Trump. The state party's central committee is considering a motion to censure the congresswoman while the party's chair is "paying attention" to the idea of seceding from the U.S.
"Rep. Cheney has violated the trust of her voters, failed to faithfully represent a very large majority of motivated Wyoming voters, and neglected her duty to represent the party and the will of the people who elected her to represent them," stated the Carbon County Republican Party.
The unanimous county-level resolution was sent to the statewide party, which had already called on Cheney to explain her vote, as she had already done in public statements.
"Rep. Cheney denied President Trump due process, she judged the 'evidence' before it was presented and refused to listen to the arguments made," the party said last week in a written statement.
The highest-ranking Republican to back impeachment has been among the most vocal House members since the violent insurrection occurred on Jan. 6.
"The president of the United States summoned this mob, assembled the mob, and lit the flame of this attack," Cheney said in her original announcement. "Everything that followed was his doing. None of this would have happened without the president. The president could have immediately and forcefully intervened to stop the violence. He did not. There has never been a greater betrayal by a president of the United States of his office and his oath to the Constitution."
An online petition for Wyoming voters to recall Cheney has collected more than 33,000 signatures. She is the state's only representative in the House.
State Republican Chair Frank Eathorne has taken the pro-Trump rebellion a step further, saying some in Wyoming were increasingly open to the idea of secession.
"Many of these Western states have the ability to be self-reliant, and we're keeping eyes on Texas too, and their consideration of possible secession," Eathorne told former Trump advisor Steve Bannon in a far-right podcast. "[Texas has] a different state constitution than we do as far as wording, but it's something we're all paying attention to."
Secessionist efforts have been viewed as unconstitutional by the U.S. Supreme Court. Eathorne's comments came after a Texas Republican announced he would sponsor a bill to put a secessionist question on his state's ballot.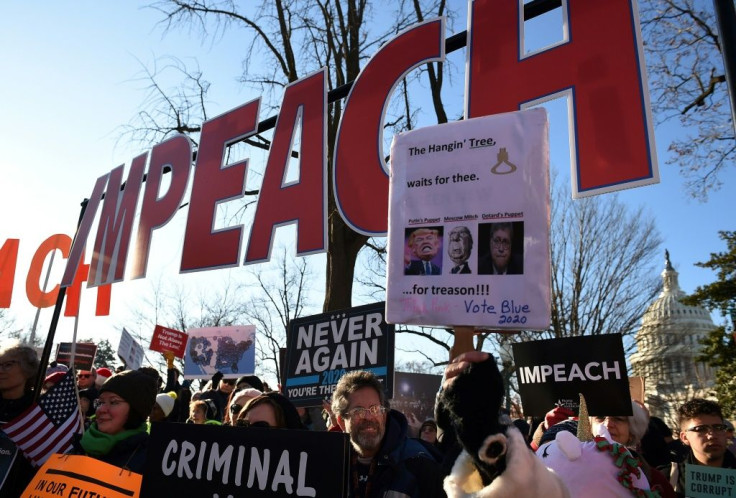 © Copyright IBTimes 2023. All rights reserved.
FOLLOW MORE IBT NEWS ON THE BELOW CHANNELS