GOPers Resist Lindsey Graham's Abortion Ban Bill; Here's What They'd Rather Focus On
KEY POINTS
Several Republicans said they would let the states handle abortion restrictions
A near-total federal ban doesn't feature on their agenda lists
Democrats attacked Lindsey Graham's near-total abortion ban proposal alike
Sen. Lindsey Graham (R-S.C.) introduced a near-total abortion ban bill Tuesday, two months before the midterm elections.
In the past, the South Carolina politico tried many times to garner support for the act titled "Protecting Pain-Capable Unborn Children from Late-Term Abortions Act."
Despite repeated arguments from Graham and other anti-abortion leaders in favor of the bill, Republican leaders appeared deeply divided over the federal approval for an abortion ban.
Democrats are projected to win the Senate in November. However, if the tide turned in favor of the GOP, several GOPers said they have their priorities set. Significantly, abortion restrictions did not make the list.
Senate Minority Leader, Sen. Mitch McConnell, R-KY., had previously acknowledged that a national abortion ban was "possible" if Roe v. Wade, which protected abortion rights across America, was overturned.
In a 180-degree turn, the top Senator recently said, "I think most of the members of my conference prefer this be dealt with at the state level."
The U.S. Bureau of Labor Statistics issued the Consumer Price Index (CPI) report Tuesday morning, which highlighted a 0.1% spike in inflation last month. As inflation resulted in a steep decline in the stock market, Sen. Thom Tillis, R-NC., said he would rather focus on the rising prices.
"I, for one, want to focus on the inflation numbers that came out today, the imminent potential strike with [freight] railway workers. That's what people are talking about," he said.
Sen. Ron Johnson, R-WI., also opined that he would let the states deal with issues pertaining to abortion. "At this point in time, nothing is going to pass Congress. It's got to be decided in the states. I think that is the appropriate place for this to be decided," he told ABC News.
Sen. John Cornyn, R-TX., withdrew his support for Graham's bill, saying, "My preference is to have each state handle those issues." Graham had Cornyn's support when he pushed for a ban on most abortions in 2020.
Meanwhile, Democrats are attacking the bill alike. In a statement, White House press secretary Karine Jean-Pierre said, "Today, Senator Graham introduced a national ban on abortion which would strip away women's rights in all 50 states. This bill is wildly out of step with what Americans believe."
House Speaker Nancy Pelosi also weighed in, saying, "The nationwide abortion ban proposal put forth today is the latest, clearest signal of extreme MAGA Republicans' intent to criminalize women's health freedom in all 50 states and arrest doctors for providing basic care," as reported by The Guardian.
She further said, "Make no mistake: if Republicans get the chance, they will work to pass laws even more draconian than this bill – just like the bans they have enacted in states like Texas, Mississippi and Oklahoma."
Shortly after the proposal, #Roevember and #RoevemberIsComing started trending on Twitter with outraged social media users affirming to remember this attempt to strip away bodily autonomy when they make their polling decision.
"Lindsey Graham really wants November to be about abortion. He thinks his national abortion ban will galvanize voters. He's right. It will. I say, "Challenge accepted." What do you think, friends? So say you all?"
"Lindsey Graham just made it clear: If they regain the House and the Senate, they WILL impose a nationwide ban on abortion. Remember in Roevember," one user wrote.
"Now that most red states have banned abortions, Lindsey Graham wants to make sure abortions are banned in blue states too. And it's not just Graham, it's the whole GOP! Attempting to control women will not fair well for the GOP! Roevember is coming! #FreshResists #wtpBLUE" read another tweet.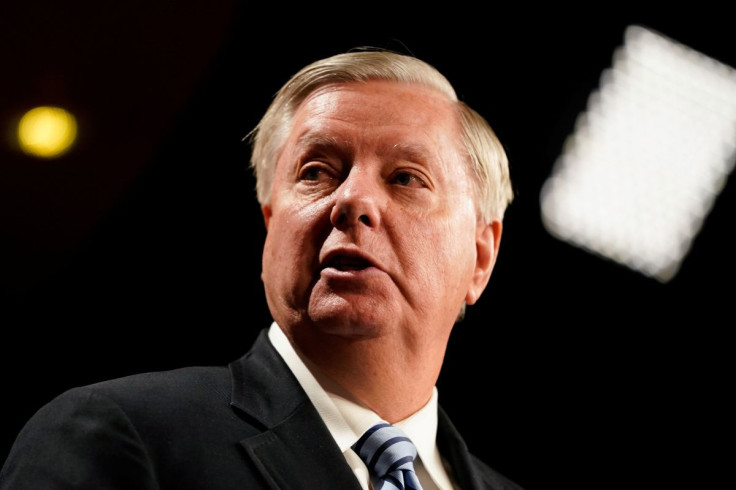 © Copyright IBTimes 2023. All rights reserved.
FOLLOW MORE IBT NEWS ON THE BELOW CHANNELS