'Gotham' Season 2 Spoilers: Episode 15 Synopsis Released; What Will Happen In 'Mad Grey Dawn'? [VIDEO]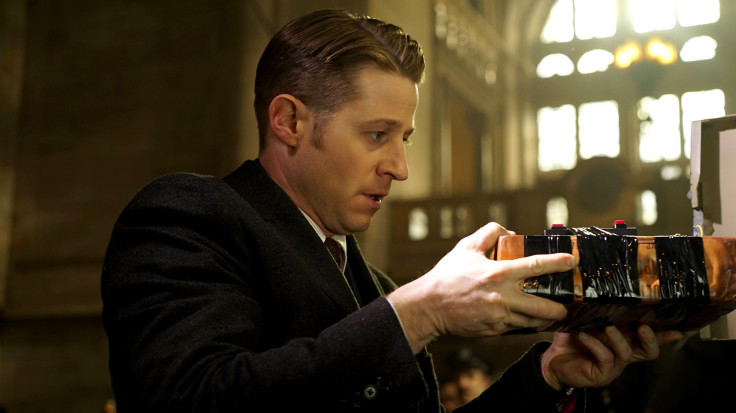 While Bruce Wayne (David Mazouz) was getting closure by dealing with the murderer of his parents on "Gotham" Season 2, episode 14, Gordon (Ben McKenzie) may have unintentionally created a new enemy in Edward Nygma (Cory Michael Smith). Nygma believes Gordon is on to him after he murdered Kristen Kringle (Chelsea Spack). To save himself, Nygma might pull some skeletons out of Gordon's closet on episode 15, titled "Mad Grey Dawn."
According to the synopsis, Gordon and Bullock (Donal Logue) will investigate a robbery at a museum, while his part in the murder of Theo Galavan (James Frain) could be revealed. In the promo video for episode 15, Bullock tells Gordon that Theo's case has been reopened and he's now the top suspect.
Nygma promised himself he'd get back at Gordon and it looks like he's the one that's caused evidence to resurface. An intense argument between Gordon and Capt. Barnes (Michael Chiklis) is also shown in the promo video while Gordon is being interrogated. Barnes has known from the start that something was off about Theo's murder and that Gordon wasn't telling him everything.
As for the other person involved in the murder of Theo, Penguin (Robin Lord Taylor) is now back to being a free man and he'll be reunited with two people in episode 15. "Pee-wee Herman" star Paul Reubens will make his "Gotham" debut as Penguin's estranged father Elijah Van Dahl. The two were shown coming together in the promo video, where Elijah tells Penguin that he's finally home. He will also get to see his friend Nygma, who is using information from Penguin against Gordon.
After Bruce heard Matches Malone (Michael Bowen) take his own life at the end of episode 14, he decided that he's going to live on the streets with Selina Kyle (Camren Bicondova) for a little while. Bruce wants to learn about people in all different parts of the city so he can one day help them. Selina will begin Bruce's street education in episode 15.
Watch a promo video for episode 15 below:
"Gotham" Season 2, episode 15 airs Monday, March 21 on Fox at 8 p.m. EDT.
© Copyright IBTimes 2023. All rights reserved.