'GTA 5' Online: 'Grand Theft Auto 5' Online Update For Xbox 360 And PS3 Released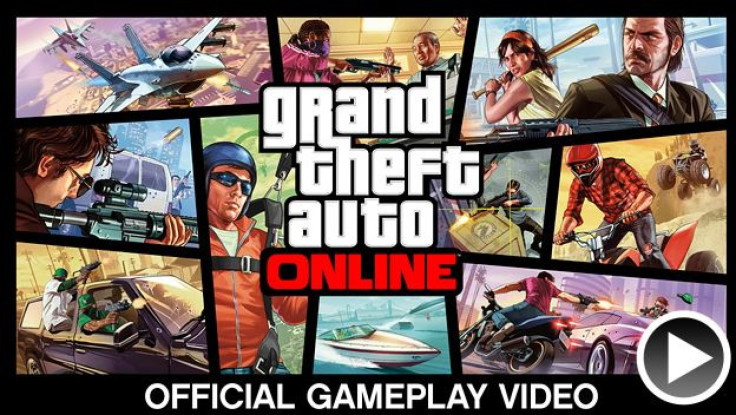 UPDATE 10/5/13 10:31 a.m. ET: Rockstar says that the "GTA 5" Online update is now live for both PS3 and Xbox 360. Below are the issues that the update addresses.
Fix to address the issue where players were stuck launching a session before the Mall or Nothing race in the online tutorial.
Fix to address an issue where bank & cash were deleted incorrectly in some cases.
Fix to address incorrect amounts of cash being dropped when the player dies in Missions and Last Team Standing.
Fixes an issue where the Character Switch Wheel would disappear after a failed load.
Fixes an issue where attempting to enter GTA Online via the Character Switch Wheel caused a black screen.
Fixes an issue where temporary characters were overwriting main characters.
Fixes an issue where players were losing apartments and the money they spent on them.
Fixes an issue that caused Story Mode missions to be missed in some instances.
Removes the autosave that occurred when transitioning into GTA Online from within GTAV Story Mode to prevent the chance of Story Mode saves becoming corrupted.
Several tweaks to GTA Online including improving overall stability.
UPDATE 10/4/13 8:59 a.m. ET: Rockstar says that the "GTA 5" Online update for PS3 is now available for download. They are still developing an update for the Xbox 360 version of the game.
UPDATE 10/3/13 6:43 p.m. ET: Rockstar has just given another update, providing the information below.
"Update: We're currently working on a title update for both PlayStation 3 and Xbox 360 to address commonly reported issues with GTA Online. We hope to have it out for download as soon as tomorrow."
Original story begins below
Rockstar Games has released more updates on its progress fixing the troubled "Grand Theft Auto 5" Online launch, which to this point has ranged from buggy to largely unplayable.
Here are the newest "GTA 5" Online status updates from Rockstar, courtesy of the developer's official support page.
Question: I'm having problems getting into GTA Online! Is there a list of issues Rockstar is looking into, so I can stay informed about the status of fixes for known launch issues?
Answer: We will be updating this page as often as possible with the status of issues we are aware of and looking into.
General network/cloud server issues
"Rockstar Cloud Servers Unavailable" error message
"Failed to Host a GTA Online Session" error messages
Errors saying "Timed out when matchmaking for a compatible GTA Online Session to join"
Errors about jobs failing to start or load
Misc. network and server-related error messages, disconnections, or cloud server errors
Errors saying "Mission Failed" as soon as the mission begins during a session
Long matchmaking load screens, eventually timing out after 10-15 minutes
Offline (disc-based) and online content mixing on the Jobs list
Ending up in a free-roam session with no jobs/markers on the map while playing as a temporary character during a cloud outage
Issues getting past the first Tutorial Race
10/2/13 Note: Some players have reported being able to get into the Tutorial race by re-downloading the Title Update, which can be deleted from Xbox Home or the PS3 XMB (Game Data Utility, NOT save data). Others reported having luck by selecting "Swap Character" from the Online tab within the pause menu, deleting the character that was unable to get into the tutorial, and then creating a new character. Going into GTAO in Solo mode may also help to allow completion of the tutorial. Some who were experiencing this issue have been able to get in just by trying again later.
Freezing while loading into first race in GTAO with "waiting for other players" on the screen
Seeing the same cut-scene twice in a row and then getting stuck on a load screen
Getting stuck transitioning into the lobby or race while other players are joining/leaving
Race Corona (start area, marker) not showing up for first race
Social Club Issues
General issues with the Social Club site and Social Club features (slow loading, failed logins, emails not arriving, etc). For more information on Social Club status, please see: http://support.rockstargames.com/hc/en-us/articles/200357093
We apologize for any inconvenience and thank you for your patience while we work to resolve this. If you would like to receive an automatic email notification whenever major updates are posted, please log into the Support Site and click Subscribe at the top of this page.
Rockstar has also advised gamers to stay tuned to Facebook and Twitter for updates. Your best bet is to stick to the "GTA 5" single player mode, exercise patience and just know that launch issues like these shouldn't come as a surprise when it comes to online play, especially considering the launches of online-only games like "Diablo 3."
What sorts of issues have you been experiencing with "GTA 5" Online? What do you think? Sound off in the comments below.
© Copyright IBTimes 2022. All rights reserved.
FOLLOW MORE IBT NEWS ON THE BELOW CHANNELS