Guinness Won't Recognize 100-Year-Old Marathon Runner Fauja Singh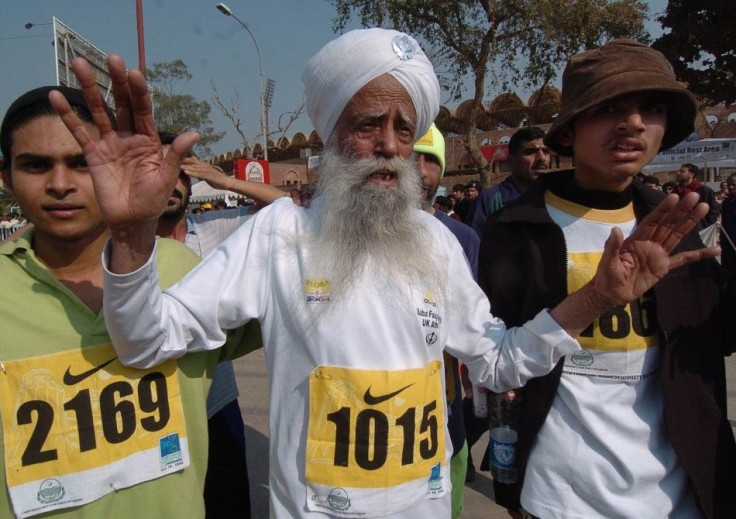 The Guinness World Book of Records might not allot 100-year-old marathon runner Fauja Singh a spot in the book, according to The Associated Press.
Singh became known nationally and globally after he finished the Scotiabank Toronto Waterfront Marathon on Oct. 16, in the speedy time of 8 hours, 11 minutes and 5.9 seconds. In doing so, he became the first centenarian and oldest person to complete a marathon.
But Guinness World Records will not confirm Singh as the oldest man to complete a marathon, because he cannot produce a birth certificate from 1911.
According to The AP, Singh has a British passport that says his date of birth is April 1, 1911. Not good enough for Guinness. A letter from the Indian government stated that birth records were not kept in 1911, therefore making Singh too old to be too old.
Thankfully, some of Singh's athletic feats will be recognized by World Masters Athletics. Three days prior to the Toronto Marathon, Singh set eight records for centenarians in various distances - from 100-meter sprints to 5,000-meter runs. Three days. Before a marathon.
Singh only speaks Punjabi, but his coach and translator, Harmander Singh, said that finishing a marathon at 100 and getting a spot in the Guinness Book was his life-long wish after he completed the marathon.
The Scotiabank Toronto Waterfront Marathon even partnered with the Guinness World Book of Records for the event, with other records up for grabs -- fastest mascot, fastest vegetable, fastest parent and child, and fastest television character.
Singh's triumph came soon after Amber Miller, 38 weeks and five days pregnant, finished the Chicago Marathon. Then, no big deal, she gave birth to her daughter June, who weighed 7 pounds and 13 ounces.
© Copyright IBTimes 2023. All rights reserved.