Gunman Being Evicted Starts Fire To Lure Tenants Out, Kills 3 And Injures 2
KEY POINTS
The shooter had colon cancer and was behind on rent
He opened fire on tenants as they rushed out of the burning building
An officer fatally shot the gunman in a parking lot across the street
A man who was being evicted from a Texas rental complex started a fire to lure tenants out and killed three out of the five people he shot.
The suspect was later shot to death by an officer that arrived at the scene.
The shooting unfolded Sunday morning at a multi-unit rental complex in a southwest Houston neighborhood. Multiple 911 calls were made around 1:07 a.m., one reporting "a person down" and another reporting a fire. Another call reported a shooting taking place.
Houston police believe the gunman set the building ablaze and then opened fire on the residents as they fled from their homes, according to AP News.
"This suspect, unfortunately, and very sadly, and very evilly, set fire to several residents," Houston Police chief Troy Finner told reporters.
The suspect then "laid in wait for those residents to come out and fired upon them," he added.
When firefighters arrived at the scene, they were met with gunfire from the shooter and had to retreat.
"The suspect began to fire. I don't know if he was firing in their direction, but they had to take cover," Finner said.
A Houston police officer later spotted the suspect in a parking lot across the street from the rental complex, where he was fatally shot, Finner said.
"Our officer arrived and took action, and for that, I'm very proud of him. He's a seven-year veteran out of the south Gessner division. And again, as usual, per policy, he'll be put on administrative leave," Finner said at the news conference.
All the victims were between the ages of 40 and 60. Two of them were killed at the scene while one succumbed to his injuries at the hospital. The two other wounded victims are expected to survive, CNN reported.
"I've seen things I have not seen before in 32 years, and it has happened time and time again," Finner added. "We just ask that the community come together."
"It's shocking. I just thought it was a house fire ... " neighbor Troy Lamb told ABC13 Houston. "I couldn't believe all this shooting and bodies laying around. I just thought the bodies were laying around out here from smoke inhalation. I was trying to drag this guy over and the other guy over."
The shooter was recently told that he was getting evicted from the building. He also had colon cancer, did not have a job, and was behind on his rent, HPD Chief Troy Finner said.
The rental complex's landlord revealed that the accused had been staying in the building since 2013, and turned in his keys Saturday after being notified of his eviction.
The landlord believes around 10 units in the complex are currently unfit to be occupied.
"It's really crazy. It's brutal murder. I mean, the guy lost his head. I don't know. We'll work through it one way or another. Little by little. Each individual. Some of the guys that live over here, they're going to have to find another place to live," Lamb added.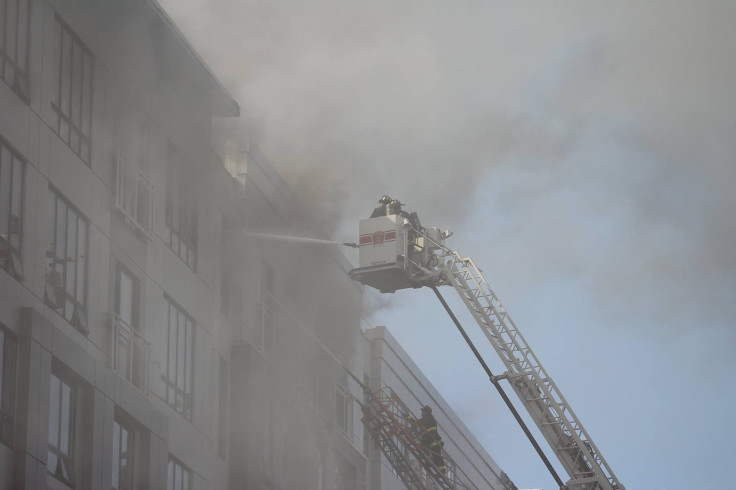 © Copyright IBTimes 2023. All rights reserved.