'Hemlock Grove' Season 2 Spoilers: 11 Things We Learned From The ATX Television Festival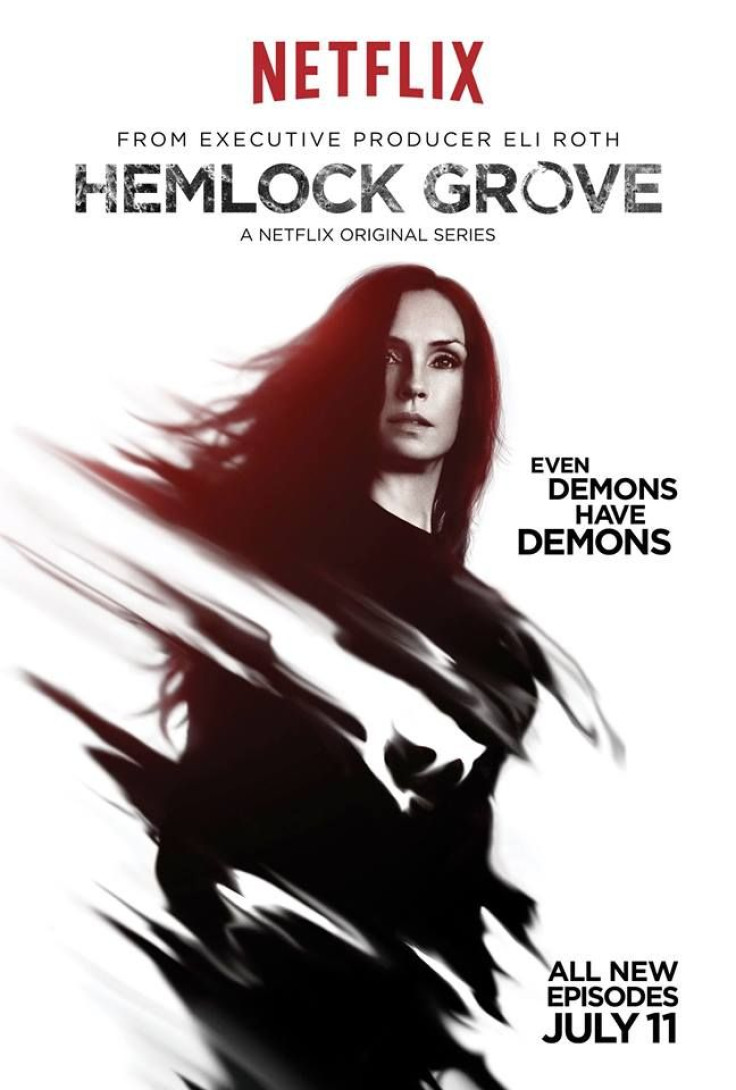 Have you binge-watched "Hemlock Grove" yet? If not, you'd better hurry up, because Season 2 of Netflix's original series will premiere on July 11. To celebrate the coming season, new showrunner Charles "Chic" Eglee and cast members Famke Janssen, Landon Liboiron and Madeline Brewer headed to Austin, Texas, for the 2014 ATX Television Festival. The four teased some pretty juicy spoilers, and what fans can expect after the shocking Season 1 finale.
Couldn't make it? Don't worry! We've got a list of 11 things we learned from the "Hemlock Grove" panel:
1. Despite being "very dead and tongueless," Janssen will be reprising her role as Olivia Godfrey in Season 2. Pictures show the actress holding a cane, which Eglee joked could be a "pimp stick."
2. Eglee told fans they approached this season with a lot of respect for what was done previously. But this season is focusing more on mythology and character development.
3. Olivia's relationship with Norman didn't end on great terms in Season 1. Janssen teased fans that her character "tries to have forgiveness for a very ruthless act," but the power struggle between the mother and son will continue.
4. Norman and Peter aren't in a great place either when Season 2 picks up. Both are said to be battling their own inner demons, and Liboiron explained that their estranged relationship is kind of like when a couple breaks up.
5. Janssen revealed that she's squeamish when it comes to blood, which is why her character steers clear of the gore … for the most part.
6. Brewer, who previously appeared on Netflix's "Orange Is the New Black," told fans a little bit about her new character, Miranda. The addition to the "Hemlock Grove" is covered in tattoos, and looks like a "tough cookie on the outside." But Brewer added that her character changes through the season.
7. Eglee told fans that they used 10 gallons of red sugar syrup for blood in Season 2. Brewer interrupted and said that it was actually 75 gallons, something that Eglee joked he didn't want to give away.
8. The human-to-werewolf transformation was one of the most talked-about scenes in Season 1, and the show plans on expanding on that in a new way come Season 2: a werewolf-to-human transformation. The exciting twist is reportedly the "context in which the transformation takes place." (Expect things to get a "little more messy.")
9. There is an all new Shelley Godfrey for Season 2. Eglee told ATX Festival attendees that viewers couldn't help but fall in love with the character of Shelley, and that she's the "one pure unsullied thing." Shelley was previously played by a couple of actors, but the show decided to cast Madeleine Martin as Shelley in Season 2 when fans became obsessed with the character.
10. Everyone will interact with the "White Tower" in Season 2.
11. Each episode in Season 2 took nine days to shoot.
The entire second season of "Hemlock Grove" will be available on Netflix starting July 11.What do you think will happen in Season 2? Let us know your thoughts and theories in the comments section or send a tweet to @AmandaTVScoop.
© Copyright IBTimes 2023. All rights reserved.