Here's How Biden Reacted When Asked About Audio Tapes Alleging He Received Bribe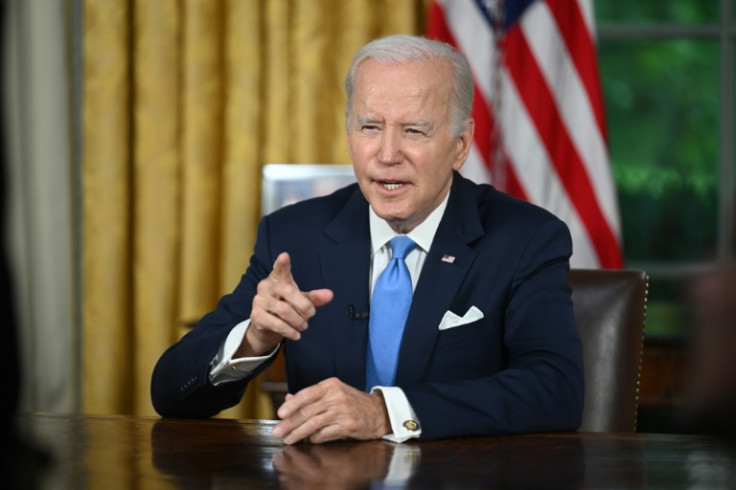 KEY POINTS
Biden chuckled after he was asked if audio recordings of himself and a businessman who allegedly bribed him existed
The alleged existence of the audio tapes was first brought up by Republican Sen. Chuck Grassley
Grassley accused the FBI of redacting information about the tapes from an informant file lawmakers read
President Joe Biden appeared to laugh off a reporter's question about the alleged existence of audio recordings of himself and a Ukrainian businessman who allegedly bribed him when he was vice president.
"Are there tapes that you accepted bribes, President Biden? Is that true?" a New York Post reporter asked Biden Tuesday evening as he left an event with U.S. diplomats in the East Room of the White House.
The 80-year-old president stopped mid-stride and turned to look at the reporter who posed the question with a smile. Biden then seemed to chuckle to himself before walking away without answering the question.
The alleged existence of the audio tapes was first brought up by Iowa Republican Sen. Chuck Grassley.
In a speech on the Senate floor Monday, Grassley said that a paid FBI source said that a Ukrainian businessman who allegedly paid Biden and his son Hunter $5 million each in bribes in 2015 and 2016 claimed that he had audio recordings of his alleged dealings with the father and son.
The businessman allegedly claimed that he had 15 audio recordings of Hunter and two of Biden that he kept as "insurance," according to the unnamed FBI source.
Grassley accused the FBI of redacting information about the tapes from an informant file that it allowed members of the House Oversight Committee to read last week.
It is unclear if the FBI has possession of any of the alleged audio tapes.
The informant file accusing Biden of bribery was created in June 2020 after the bureau discovered information provided by the same longtime FBI informant in 2017. The document resurfaced this year after a whistleblower contacted Grassley, who then told House Oversight Committee Chair Rep. James Comer.
The lawmakers who read the file said it alleged that the Bidens were paid bribes to aid the interests of Mykola Zlochevsky, owner of Ukraine-based energy company Burisma, after then-Vice President Biden took over the Ukraine portfolio in the Obama administration.
Mike McCormick, a former White House stenographer, said that Biden pushed for U.S. support for Kyiv's natural gas industry days after Hunter joined Burisma as a board member.
Meanwhile, Biden also laughed off the bribery allegations Thursday when The Post asked about South Carolina Rep. Nancy Mace's claim that the FBI file contained "damning evidence" that the president "sold out his country."
"Where's the money?" Biden replied. "I'm joking, it's a bunch of malarkey."
Hunter is under investigation by the U.S. attorney's office in Delaware for allegations of tax fraud, illegal foreign lobbying, money laundering and lying about his drug use on a gun-purchase form.
© Copyright IBTimes 2023. All rights reserved.