High Times At Rusty Shovel Ranch
Marijuana farmers in California's fabled Emerald Triangle are ready to go legit. Will it be enough for them to survive?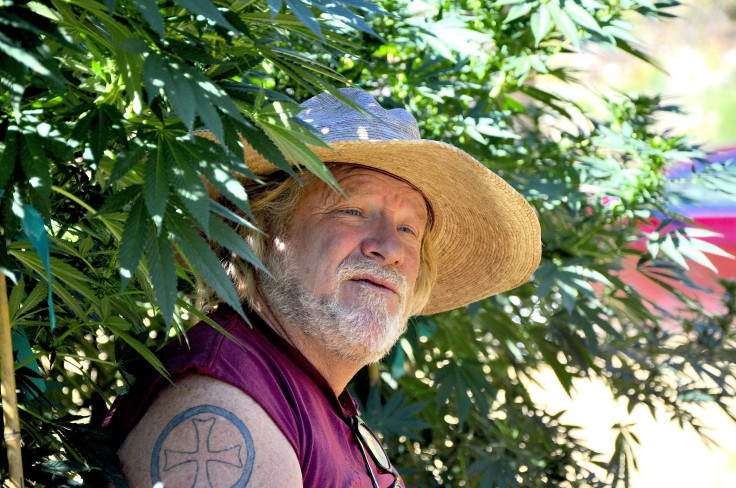 LAYTONVILLE, California — Standing in a clearing high in the hills of California's Mendocino County and surrounded by oak and fir trees, Kevin Porter gazes with pride at his plot of marijuana plants. The 25 bushes in this part of Porter's 150-acre Rusty Shovel Ranch lend a light aroma of high-grade cannabis to the mid-morning breeze.
"Hi, girls!" Porter says, squinting under the wide brim of his floppy straw hat, which, along with his beard and shaggy gray hair, make the perennially easygoing 51-year-old resemble a well-fed Don Quixote. "They're all looking good," he says, smiling.
"Legalization makes sense for me because I am trying to build something for the future of my kids and grandkids. There is no future in staying illegal."
The clumps of dark green look more like trees than mere plants, soaring high over Porter's 5-foot-7-inch frame. Untying the rope latch on the chicken wire enclosure surrounding the plot, Porter grabs a red rubber hose from the bed of his dusty truck and uses it to douse the plants' roots with their weekly dose of 2.5 gallons of compost tea. While many of his neighbors opt to water their marijuana plants with more convenient soaker hoses or emitter lines, Porter prefers to feed and water by hand, slowly moving from plant to plant, each one featuring strain names like Cherry Pie and Girl Scout Cookie, Headband and Blue Cheese.
"When you are hand watering, you are looking at the plant for an extended period of time," he explains. That way, he's more likely to spot problems: mold, bugs, mildew, signs of herming, the shift of plant from female to male, an unwanted development since male plants don't yield usable product and can pollinate the rest of a crop, limiting the plants' production of useful products like psychoactive THC.
Plus, Porter likes to be close to his ladies: "Even if it didn't pay, I would still grow it."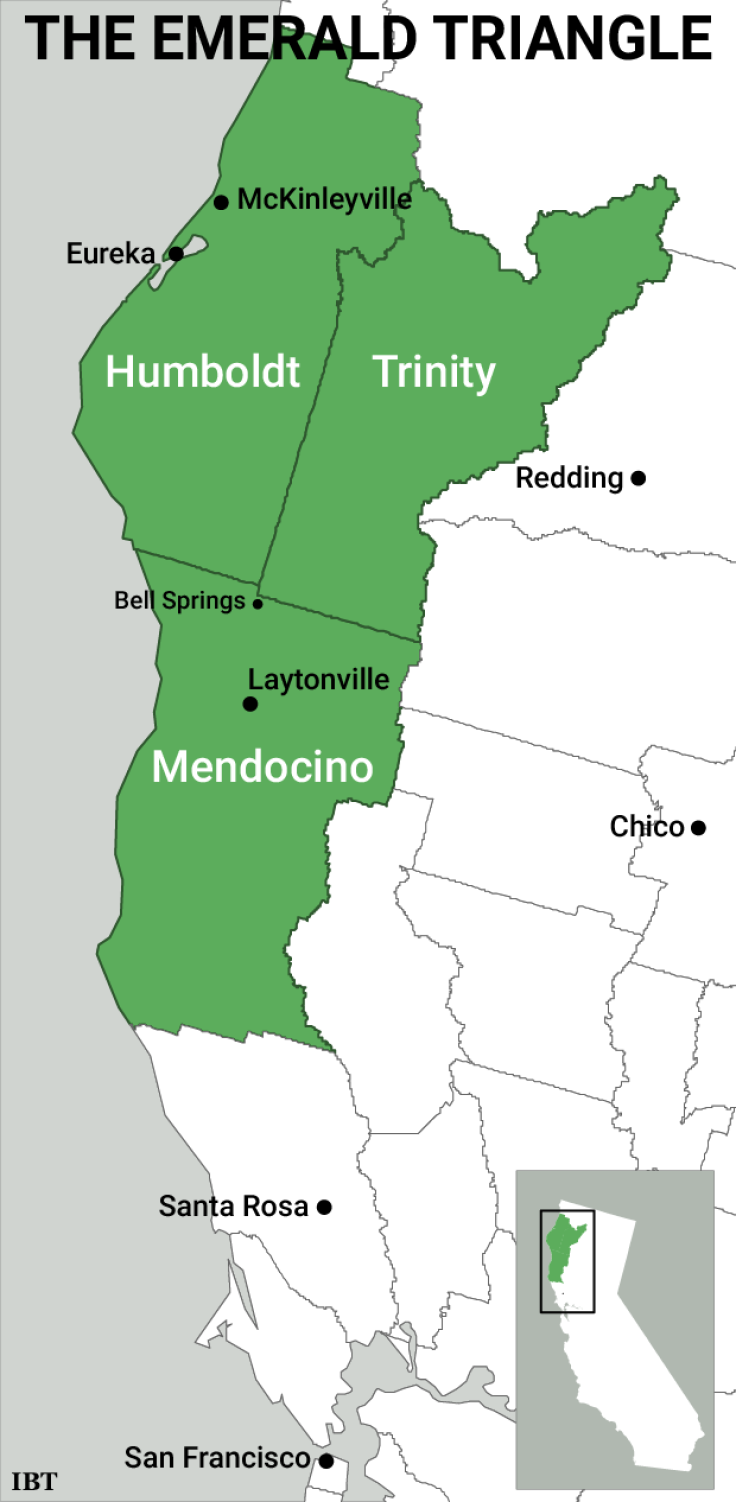 But those plants do pay, thanks to black-market demand. As one of the many small-scale marijuana farmers in the Emerald Triangle, the Northern California region composed of Mendocino, Humboldt and Trinity counties that has long served as the heart of the U.S. marijuana industry, Porter is part of a local industry that produces billions of dollars in illegal cannabis annually, more than anywhere else in the country. While California's legalization of medical marijuana in 1996 caused the high-risk, high-reward business to explode to meet growing demand (industry groups estimate that 53,000 small-scale cannabis cultivators now operate in California, the majority in the Emerald Triangle), most of the marijuana produced by Porter and his fellow growers still ends up outside of the state-sanctioned dispensary system.
That's because the black market -- despite the risks of criminal prosecution -- is convenient and consistent. While Rusty Shovel Ranch provides part of its harvest at cost to eight patients, Porter admits that in the past, the majority of his crops were sold to buyers who'd show up at his farm and buy in large quantities, no questions asked. That way, Porter didn't have to bother transporting his harvest all over the state, offering it in small quantities to dispensaries that might or might not be interested -- depending on whether he had all the right permits and approvals.
But this harvest, everything is changing. This year, for the first time, Porter aims to sell all his crops to the state's medical marijuana businesses, completely avoiding the black market.
Desire For Legitimacy
Porter's moves are emblematic of a shift taking hold across the region, a growing desire for legitimacy inspired by California passing its first-ever statewide medical marijuana regulations in October and statewide legalization efforts gearing up for next year that, if successful, would launch a legal cannabis industry in what is the world's eighth-largest economy. The transformation being led by farmers like Porter isn't just about moving beyond decades of clandestine lifestyles and police raids; it's about making more money by marketing their plants as a niche product, the same way small-batch craft beer demands a premium.
Last year, Porter earned roughly $1,300 a pound wholesale for his harvest on the black market, down from a going rate of $3,000 to $4,000 a pound 10 years ago. "The people who have been buying on the black market for so long have forced prices down," says Porter's 23-year-old son Will, who helps manage the farm. "The black market doesn't recognize quality."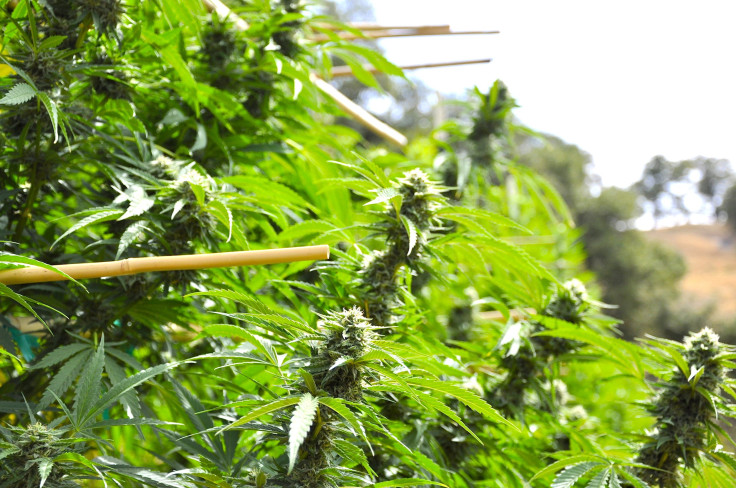 But this year, with his Clean Green-certified buds packaged in slick glass jars for displaying on dispensary shelves in San Francisco and Los Angeles, and his trim (leftover leaves from the harvest process) turned into cannabis oil for Rusty Shovel-branded vape pen cartridges, Porter's aiming to make upwards of $2,000 a pound for his crops. If all goes as planned, after accounting for expenses such as soil costs, fertilizer, wages for trimmers and property taxes, Porter hopes to clear upwards of $300,000 for the 200 or so pounds of cannabis he expects to cull from this lot and another 25-plant grow he maintains on a second parcel of land on the ranch.
Going legal might be enough to guarantee success for Rusty Shovel Ranch -- but it might not. As marijuana shifts to a legal big business, increased supply and streamlined production processes will drive cannabis prices ever lower. In such a market, it's uncertain whether enough consumers will be willing to pay extra for the sort of high-end "craft marijuana" grown by folks like Porter, or whether there would be enough niche demand to keep Rusty Shovel Ranch and thousands of other small-scale California farms afloat. If it isn't, farmers like Porter, despite their best efforts, could be looking at the last of their fabled harvests.
"It's such a unique moment in time," says Porter, never one to avoid an adventure. "No matter what happens, it's awesome to be here right now, at the changing of history."
The Hippie Mafia
Until recently, Porter spent his life at sea: Living with his parents in a houseboat community when he was a teenager in San Diego. Captaining a 70-foot schooner off the Baja California Peninsula in Mexico. Running boat deliveries and charter excursions all over the Pacific and the Caribbean. While his nautical days are now behind him, he plots the tending of his crops like he's charting an expedition from port to port. "I approach this whole thing like this is a ship," he says, "a sailing voyage that has a beginning, middle and an end."
At Rusty Shovel Ranch -- named after the broken spades and shovels decorating its property fence -- that voyage begins on the first new moon in February, the date that Porter traditionally plants his seeds for season in a small plastic-roofed greenhouse. The resulting plants are moved to his two outdoor lots in early May. By late September, the first of the buds are ready to be harvested; they're hung up to dry for several days and then pruned of unnecessary leaves and stems by a small crew of trimmers Porter hires each fall. But since he usually has only enough money to pay trimmers to tackle about a quarter of his crop, he and several others who live and work on the farm for a share of the profits spend their winter holed up at the ranch, sitting around the woodstove and trimming away at the remaining product. (Likely with a haze of marijuana smoke lingering above the trimmers' heads; while Porter says he doesn't smoke too much cannabis because "I don't like being out of control," the perennially relaxed former ship captain still regularly enjoys a joint or two.)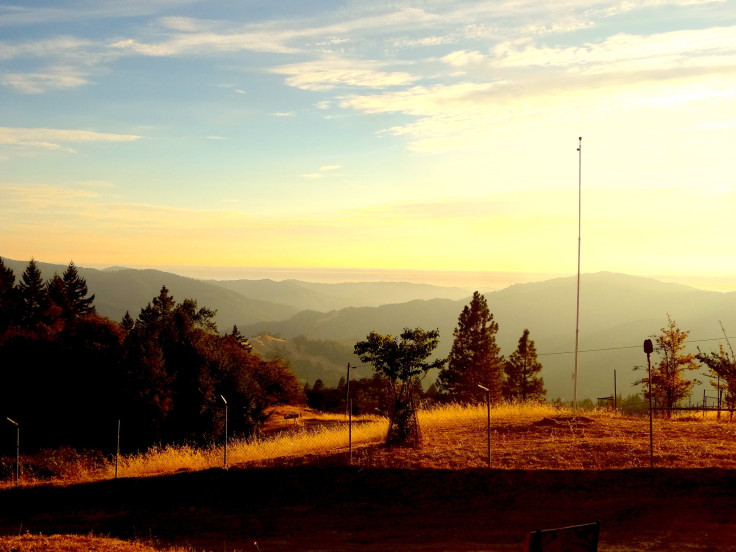 Meanwhile, Porter would hear through the local "coconut telegraph" when a big buyer was coming through. Without asking too many questions about where the buyers were coming from, he'd put 20 pounds of his best product in turkey-size oven bags and drop them off at the home of the local farmer who's the designated middleman. After the deal, Porter and his fellow cultivators would head back to the farmer's house for a barbeque, where each would get back the cannabis the buyer didn't want, and stacks of $20 bills for that which he did. In the meantime, if he was running low on funds, he'd head down the road to meet with neighbors he calls "the hippie mafia," and over tequila shots he'd arrange a cash loan he'd repay with 20 percent interest. ("If I could go to Bank of America, I would get 6 percent," he says. "But it doesn't work that way.")
Porter's rugged self-reliance, his dependence on his own wits and abilities rather than the rules and regulations of nameless authorities, is par for the course here along Bell Springs Road, the partially paved road that switchbacks for dozens of miles through the rolling forested hills, connecting Porter's ranch to numerous other backcountry marijuana farms. The area operates like a miniature sovereign nation, the sort of place where, as Porter puts it, you can pop off your seatbelt and crack open a beer as soon as your tires hit Bell Springs' gravelly blacktop. Many Bell Springs residents gather every Wednesday afternoon for an ad-hoc farmers market at a gravel pit just down the road from Porter's farm. There, under cloth awnings, neighbors trade farm-fresh eggs and gossip, children and dogs run about in the dust, and lighting up a joint is no more scandalous than sipping some of the homegrown raspberry juice and vodka that's selling for $4 a cup.
Roots In The 1960s
Communities like this first took root in the 1960s, when many in the counterculture movement began escaping from the encroaching suburbs to the backwoods of Northern California, where the heavily logged land was cheap and the authorities few and far between. To make ends meet, many turned to growing cannabis either in greenhouses or well-hidden outdoor grows. These operations became increasingly big business, thanks to developments like California's legalization of medical marijuana in 1996 and law enforcement efforts over the years to crack down on marijuana coming over the border from Mexico.
As the local logging and fishing industries have waned, this largely black-market industry has become a cornerstone of the area's economy. Collapsible water tanks that hold 20,000 gallons, designed for major agricultural operations, are offered for sale alongside remote highways in the area, and billboards advertise planting soil and the "Golden Tarp" awards, an annual competition to crown the best local cannabis grown using light-deprivation techniques.
While a genial old seadog like Porter fits in well among this scene, the transition wasn't easy when he first arrived in 2011. By that point, Porter and the mother of his three children had split up. More pressingly, Porter's hearing had been damaged by a bout of mumps as a kid, and it had worsened over the years to the point that he no longer could pass the test to renew his captain's license. It's why his close friend Slade Ogletree, another boat captain, suggested that Porter come with him to Mendocino County, where, like a lot of seafaring ex-pats, Ogletree spent his summers growing cannabis. No stranger to marijuana, Porter agreed. But he found that, here in the hills, he was initially greeted with caution.
"I was the new guy," he says. "People are always suspicious of the new guy."
That caution wasn't simply marijuana-fueled paranoia. In the Emerald Triangle, locals have learned to be careful of what they say and who they talk to, since with prosperity has come with legal scrutiny. Between 2002 and 2010, the annual number of marijuana plants eradicated by the authorities in California skyrocketed from 1.3 million to 7.4 million, the latter accounting for more than 70 percent of all U.S. cannabis destroyed that year. While the number has dropped since then, major marijuana busts are still common in the region every summer, since authorities say the booming marijuana market has led to increased crime and environmental damage.
Growers were also grappling with another challenge: falling cannabis prices. It's why in 2010, 55 percent of voters in the Emerald Triangle voted against Proposition 19, the 2010 California ballot measure that would have legalized recreational marijuana, because the initiative didn't provide protections for existing marijuana farmers and likely would have further eroded cannabis prices.
When Porter began working in the local marijuana industry in 2011, he soon had other things to worry about besides law enforcement busts and falling crop prices. After spending a season working together on a leased plot of land, he and Ogletree decided to go in together on some property, purchasing a one-time cattle ranch-turned-cannabis farm. But that winter on his boat in Mexico, Ogletree died from a stroke. In his will, Ogletree had left his share of the farm to Porter's kids -- meaning for the time being, Porter was the sole manager of a 150-acre marijuana operation.
Suddenly, the sea captain was landlocked.
Down On The Farm
As the California sun begins to dip below the hills west of Rusty Shovel Ranch, the rough-hewn farmhouse at the highest point of the property is hopping. In the small kitchen, vegetarian pizzas are being prepared by Anastasia Sitnikova and Marcus von Polheim, a couple from Switzerland. Years ago, Sitnikova crewed on one of Porter's ships, and now she and von Polheim are spending several weeks on the ranch. As the stereo plays Rolling Stones and Simon & Garfunkel tunes, Porter steps outside to barbecue a few chicken breasts under the light of the moon.
Once the food is ready, it's as if a silent call goes out across the hills. Folks from other farms stop by, grab a bite to eat, and stay for a chat. Before the rumbling generator powering the electricity turns off for the night, the farmhouse functions as a community gathering place. A seemingly endless stock of Pacifico beers flows from the fridge, chess games are waged under the light of LED strings hung about the living room and plentiful amounts of marijuana are scattered about, free for the taking. Passing around joints here isn't too common; there's so much cannabis around that it's more like everyone helps themselves to an open bar.
"Even if it didn't pay, I would still grow it."
Even if Porter wasn't interested in having guests, he likely couldn't keep them away. He long ago lost the key to lock his front door. He's not the sort to worry much about armed robberies of his crop; his dog Dani, a Kelpie-Labrador mix, is too friendly to be much of a guard dog, and the long-barreled rifle positioned among the maritime-themed miscellanea cluttering his living room walls is an antique flintlock from the War of 1812. When his plants are nearly ready to be harvested, he'll have someone live in the cabin next to the growing plot further from the farmhouse, but that's as far as he wants to go to deter theft. "If someone is more interested than that, they can have what they want," he says. "Nobody needs to get hurt."
Still, Porter is fiercely proud of what he's building here. It started with cleaning the mess left by the farm's previous owners: scrubbing the mold off the walls of the farmhouse, removing from the property gutted tractors and old cars leaking motor oil and turning one of several abandoned recreational vehicles on the land into a drying house, with black shade cloth covering the windows and rows of plastic coat hangers on which to hang freshly harvested marijuana branches. He has big plans for the future, including making the first floor handicapped accessible for the benefit of his wheelchair-bound patients.
And, as part of his farm-building efforts, Porter is ready to stop living off the grid. The guy who's always been afraid of paperwork and regulations is now trying to follow all the rules. Porter recently filed papers to make Rusty Shovel Ranch an official nonprofit, a requirement under the state's existing medical marijuana laws that is not always followed, and over the summer he paid Clean Green Certifications, a third-party marijuana inspection program, to examine his crops and certify that he's using environmentally friendly growing methods. He's having to consider things like shareholder distributions and workers' compensation insurance, sustainable watering practices and protection of nearby riparian areas. The efforts could put him in a prime business position going forward: Under the state's new medical marijuana laws, operations that are compliant with all local and state regulations by the start of 2016 will receive priority licensing when the regulations take effect in 2018. "Since I got my own place, now I have something to lose," he says. "The goal is to be regulated by agriculture, not law enforcement."
Fight For Recognition
He's far from the only grower in the region fighting to be recognized as a responsible farmer. For several years beginning in 2010, the Mendocino County Sheriff's Office ran a groundbreaking program in which it would inspect and license marijuana grows under 100 plants. While threats from the U.S. Justice Department led the county to all but shutter the program in 2012, the sheriff's office still makes $40,000 a year from farmers -- including, recently, Porter -- who pay $25 a plant to be part of a voluntary version of the permitting process, even though it no longer comes with any legal protections.
And when the North Coast Regional Water Quality Control Board, which protects water quality in the region, adopted the state's first water-use regulations for cannabis cultivators this summer, many marijuana farmers applauded the move, even though this means those who are noncompliant will eventually face fines.
"I was pleasantly surprised," says Shin-Roei Lee, assistant executive officer for the water board. "A lot of the people who came out to the meetings were actually supporting the order, so they know how to cultivate and comply with regulations."
It's why Porter recently invited state water and wildlife officials to visit his operation; Rusty Shovel Ranch was the second farm to begin the compliance process.
Like Porter, marijuana farmers are realizing that they stand to lose everything if they're not ready to go legit, says Hezekiah Allen, executive director of the California Growers Association, a local trade group that played a vocal role in shaping California's first statewide medical marijuana regulations, signed by the governor in October. "There is a huge anti-regulation crowd out there; outlaws want to be outlaws" Allen says. "But half of my board is third-generation farmers, people who grew up in the drug war, lying about what their parents did and wishing they were normal. And we are in charge now."
The fact that Emerald Triangle farmers are finally speaking up for themselves is likely why, in contrast to the ill-fated Proposition 19, political insiders say state legalization efforts next year are likely to take into account existing marijuana growers. "I think it is very much on the front of everyone's mind, and almost everyone agrees they should be brought into the legal market, if possible," says Tamar Todd, director of marijuana law and policy for the Drug Policy Alliance. "If we don't provide opportunities and incentives for folks to enter the legal market, it's going to be difficult to rid ourselves of the illicit market."
If such opportunities and incentives are built into California's legalization initiative, Porter, for one, will vote for it. (It's why Porter has also established a limited liability company into which he'll transfer the farm if the operation is eventually allowed to turn a profit.) "Legalization makes sense for me because I am trying to build something for the future of my kids and grandkids," he says. "There is no future in staying illegal."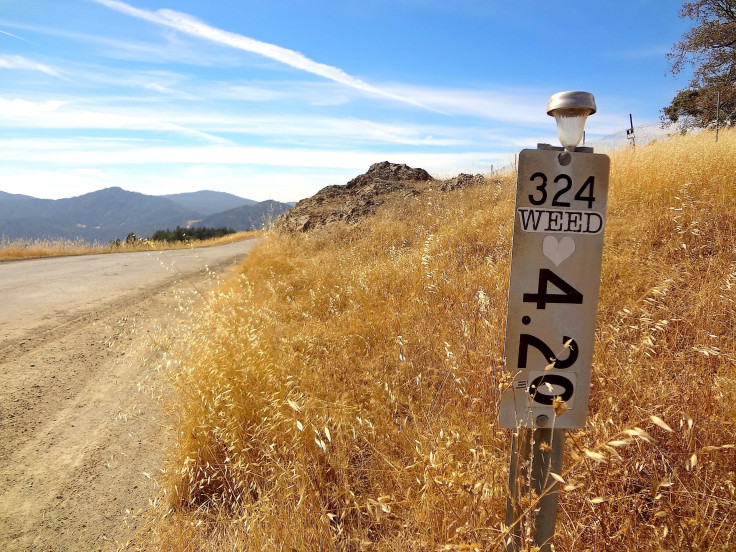 The Journey Ahead
It's Sunday and Porter, his dusty work clothes exchanged for a smart red button-down shirt and felt cowboy hat, is perusing the offerings at the Healing Harvest Farms medical marijuana farmers market, an annual event for California medical marijuana patients at Area 101, an open-air events center not far from Bell Springs Road.
Stopping at the sales booth for Dying Breed Seeds, a local marijuana seed company, Porter holds a small glass jar labeled Four Way under his nose and inhales the aroma of dried marijuana buds. "How many generations has it been inbred?" he asks of the young man staffing the booth. Porter likes the man's answer -- two generations -- plus the smell of the product, so he purchases a packet of 10 seeds for $100. Next year, maybe two of his mature marijuana plants could end up being Four Way.
"This is a trip," says Porter, who renewed his medical marijuana license with a doctor who's on site for the day. "This blows apart my stereotype of things like this."
The farmers market captures a marijuana scene poised between the old and the new, between communal traditions and big business. In the forested clearing, barebones stalls manned by folks in tie-dyed shirts selling jars of cannabis and spirituality books stand alongside slick business-expo booths marketing high-potency marijuana extracts. As an acoustic guitar duo on a wooden stage croon, "I don't Twitter, I don't tweet, I'm just looking for a place to sleep," a representative of O.penVape, a major Colorado marijuana vape pen company, makes his way through the crowd.
Porter hopes to have a booth himself here next year. It is part of his plan to actively market Rusty Shovel Ranch, which includes entering samples of this year's crop to the local Emerald Cup marijuana competition this month, developing an "Emerald-grown" marketing cooperative and eventually opening the farmhouse to eco-tourists.
People are adopting formal business practices like this all over the Emerald Triangle. The city of Arcata in Humboldt County is moving toward launching a "medical marijuana innovation zone" in an industrial part of town that will incentivize cannabis-related business. Farmers are forming branding organizations like True Humboldt, a network of local growers that collectively markets their products. And Porter's 32-year-old neighbor Casey O'Neill, owner of HappyDay Farms, may wear a shabby straw hat and talk about things like sharing energetic interchanges with his plants, but the third-generation marijuana farmer is also the board chairman of the Emerald Growers Association and thinks about things like how barcode tags and handheld scanners could help farmers track their plants from seed to harvest and how a portion of each year's crop could be vacuum-sealed and stored for years to achieve vintages like wine.
"Half of my board is third-generation farmers, people who grew up in the drug war, lying about what their parents did and wishing they were normal. And we are in charge now."
The idea is to use the region's marijuana history and heritage to create a niche product that's not tied to shifting commodity prices or big-business machinations, similar to the way craft breweries flourish alongside Budweiser and Coors. "If our farmers try to compete in the commodity marketplace, where you have to provide more and more product for cheaper and cheaper prices, we lose," O'Neill says. "But what others don't have is our reality, our story. Our unique story is like our sword and shield."
That sword and shield might not be enough. Even with savvy marketing efforts and business strategies, local marijuana farmers might not be able to stop their crop values from dropping once California legalizes marijuana, stripping away the artificial price inflation they've enjoyed by operating on the black market or in the state's limited medical marijuana industry. "Right now, these farmers have a unique advantage in that they are operating in a place where there is light enforcement and a lot of local knowledge," says Keith Humphreys, a Stanford University health policy professor and co-chairman of California's Blue Ribbon Commission on Marijuana Policy. "In a completely unhindered market, those special advantages will go away, and there are easier and cheaper ways to grow pot. A big corporate farm in California's Central Valley could underprice them pretty substantially."
While Porter insists it's his love for the plant that keeps him growing at Rusty Shovel Ranch, he admits that if marijuana prices dip into the $1,200 range, his plans for the future could fall apart. "Anything less than that isn't worth it," he says. "At that price, I am barely feeding myself." He could expand his crop once the county's 25-plant-per-parcel restriction goes away, but he thinks that would come with significantly more overhead and diminished quality.
But Porter doesn't like to think about such dispiriting outcomes in his quest for legitimacy. "I rarely see the roadblocks in the middle, I see the goal at the end," he says.
It's like he's back on the water, determined to face this bold excursion, no matter the rough seas ahead. "I see life as a voyage from one thing to another," he says. "You are always a little nervous, always have some butterflies. But it's always an adventure, always a journey."
Whatever happens, he concludes with a smile, "It's all just another trip."
© Copyright IBTimes 2023. All rights reserved.
FOLLOW MORE IBT NEWS ON THE BELOW CHANNELS