Highly Venomous Snake Swimming In Home Pool Shocks Family [Video]
A highly venomous snake was spotted swimming in the pool of a house in Queensland, Australia.
The video of the snake slithering in the water was posted Tuesday by Sunshine Coast Snake Catchers 24/7 on their Facebook page.
In the video, the reptile – an eastern brown snake – is seen swimming in the pool while trying to evade capture by snake catcher Stu McKenzie. He wrote on his Facebook page he suspected the snake fell inside the pool while "cruising through the yard." However, after several attempts, McKenzie was able to remove the snake from the water.
"A family in Palmwoods got a surprise when as they hopped into the pool they noticed that something had already beaten them in there. It was a stunning orange colored Eastern Brown Snake. It had most likely been cruising through the yard and accidentally fallen into the pool and couldn't get out," he wrote.
McKenzie also said while inspecting the snake, he saw the reptile had been injured. However, it remains unclear how the snake got hurt.
"I also noticed that he had a lump down near his tail end and on a closer inspection it seemed that he had sustained an injury and possible broken vertebrae. We met up with the Australia Zoo Rescue team and they took it back to the Australia Zoo Wildlife Hospital for assessment," he added.
Eastern brown snakes are one of the most venomous snakes in the world.
"A bite from this can and will cause death if not treated correctly. Bites from this species have caused human fatalities. The Eastern Brown Snake accounts for more fatalities than any other Australian Snake," a description of the snake of the Sunshine Coast Snake Catchers 24/7 website read.
"Commonly seen cruising through backyards with a strong rodent presence and will commonly hang around bird aviaries, chicken coups, feed sheds and under concrete slabs," it added.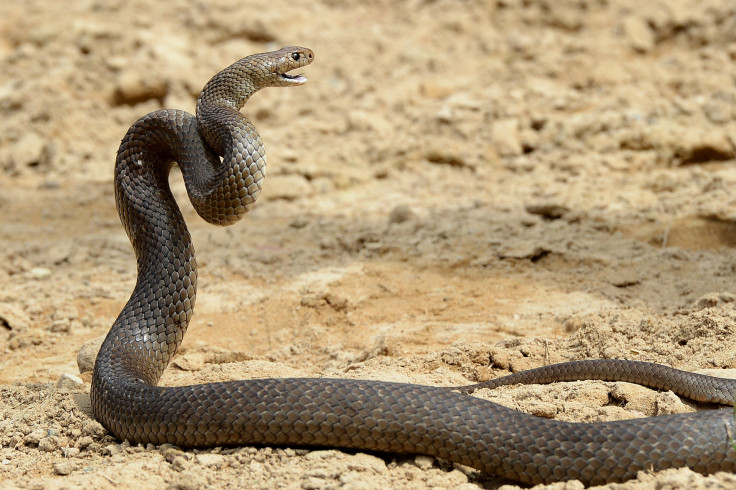 Last month, a woman had the shock of her life when she found a venomous snake coiled up inside her nightgown. Cheryl Gilchrist was getting ready for bed when she put her hand into her pajama drawer and felt something weird. "It didn't feel quite right so I've looked and touched it again and I thought 'oh my god, that's a snake," she told 7News at the time. After discovering the snake, she called reptile catcher Tom Dunning to relocate it.