Holly Frazier Slams Abby Lee Miller On Twitter After Explosive 'Dance Moms' Fight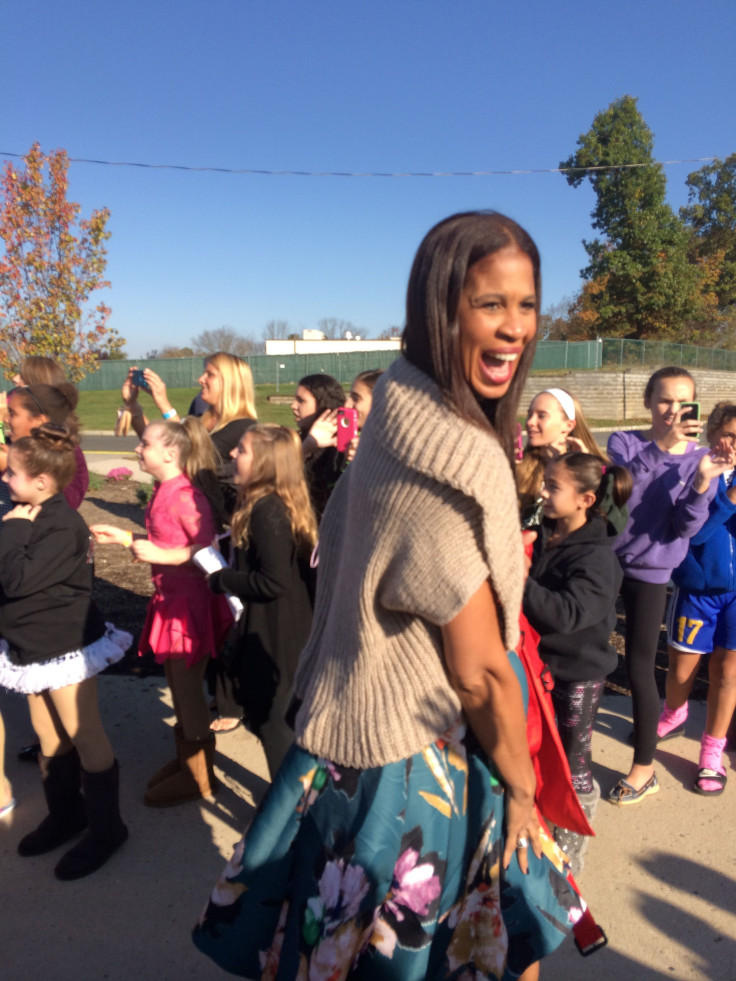 Holly Frazier's relationship with Abby Lee Miller came to a head on Tuesday night's episode of "Dance Moms." After years of Abby pulling her daughter Nia Frazier's competition routines and utilizing what many consider to be questionable teaching tactics, the dance mom vocalized her frustrations with the ALDC coach in Season 5, episode 6 of the Lifetime reality series.
During the weekly pyramid, Holly accused Abby of having sabotaged Nia's acting audition in episode 5. "Others may not hold Abby accountable for her behavior, but I do, and I am not going to let Abby off the hook," Holly said.
The dance mom told Abby she felt her comments about Nia's audition – Abby claimed the 14-year-old didn't perform her audition monologue as instructed – were mean-spirited. "You gave her an opportunity and you took it away," Holly said. While several other members of Abby's elite junior team attended the same casting call, none of the other girls were critiqued on-camera by Abby.
"She is the only girl on this team that you ever take something away from. The only one, and let it not go unnoticed," Holly added.
Abby, who was equally upset with Holly for her decision to use her connections in Hollywood – Aubrey O'Day of Danity Kane – to benefit Nia's singing career, retaliated, calling Holly's comments a "bold-faced lie." "I've done nothing," she said.
When Abby declined to take responsibility for what Holly felt was inappropriate behavior, she refused to remain in her presence. "I am not going to have this woman stand here and lie about what she said!" Holly yelled. "I refuse to be in a room with this woman who is lying. My integrity is worth more. You're a shallow, nasty woman! … You get your act together and you stop telling lies! You are a liar, an absolute liar!"
Later on, Holly cried in front of the cameras, saying she was "sick and tired" of dealing with Abby. "I cannot take this anymore. Not only do I deserve better, that little girl deserves better. She is a vicious and nasty, vile woman … That woman is insane! She's crazy!"
After their on-screen fight, Holly and Nia took a day off from dance class. Nia used her time off to collaborate with O'Day and record her debut single, "Star in Your Own Life."
Following the debut of the dramatic episode, Holly continued to share her thoughts on Abby over social media, calling Abby's actions towards Nia a "disgrace."
Despite Lifetime's synopsis for episode 6 teasing the idea that Nia might be booted from the ALDC, Holly confirmed that her daughter will not be leaving Abby's team.
This isn't the first time Holly has spoken out about her tumultuous relationship with Abby. In Season 4 Abby pulled Nia's routine in retaliation for an argument she had with Holly. Backstage at the competition, the duo went head-to-head, Abby telling Holly to take Nia's "big, flat feet somewhere else" and that without her guidance, "nobody would know" her daughter's name.
"You're a grown woman taking it out on a little kid," Holly told Abby in Season 4, episode 27.
"I'm not taking anything out a little kid and Nia is 12!" Abby said. "She could have kids! She could get married in some countries."
In response to Abby's comments, which Holly classified as "ugly," she shared her thoughts on Abby's behavior on Twitter. "I was horrified by Abby's comments," Holly posted in Sept. 2014. "She crossed the line!! She's mad … Who cares- I am livid!!!"
"Dance Moms" airs Tuesdays at 9 p.m. EST on Lifetime.
© Copyright IBTimes 2023. All rights reserved.