Honduran Prison Under International Scrutiny After Riot Kills 46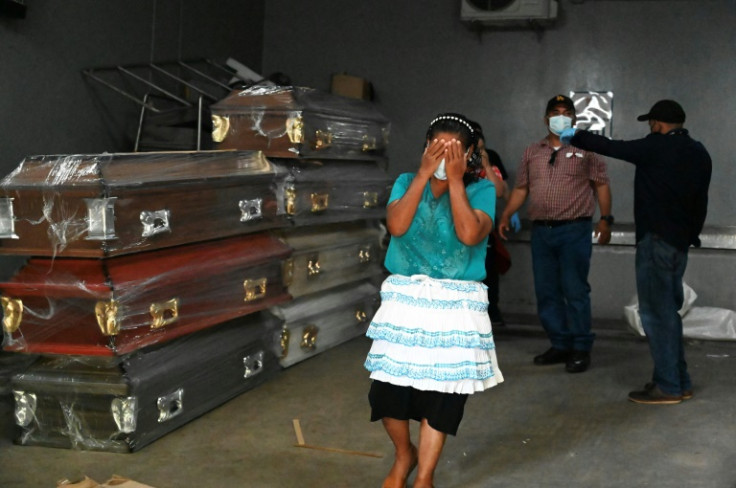 KEY POINTS
Prison riot between rival gangs in Honduras women's prison killed 46 people
Honduran military police take control of the the prison system by direction of the president
Human rights groups worried over similarity to El Salvador's prison reforms
Military Police officials in Honduras began to seize control of the countries prisons Monday after a gang dispute in a women's detention center turned into a prison riot, leaving 46 dead last week.
The women were being held at Centro Femenino de Adaptacion Social, a female penitentiary 12 miles (20 kilometers) outside of Tegucigalpa. Many are still being identified as most of the bodies were burned and shot.
The Minister of Security Ramón Sabillón was removed after the incident, according to the state owned Channel 8 news, to "retake control of the prison system in Honduras." The position is now filled by Gustavo Sanchez, who was the director of the Honduras National Police.
With this riot, there is a push to control and eliminate the organized crime within the prisons. Leftist Honduran President Xiomara Castro announced she is giving the military police control of the prison system, saying "I am going to take drastic measures!" on social media. This is a departure from her previous stance of demilitarization of Honduras' prisons.
The goal, Castro's office said, is to "combat organized crime and dismantle the boycott against security fostered from inside prisons."
Honduran Defense Minister Jose Manuel Zelaya also spoke out on social media.
"Our mission is to defeat organized crime inside the prisons and we are (also) going after the intellectual authors operating from outside," Zelaya said on Twitter. He added that the governments plan to address the violence and organized crime within the prisons.
Photos and videos of the inmates at Tamara, a Honduran men's prison, share a likeness with neighboring El Salvador. Similar photos of shirtless inmates with shaved heads sitting on the ground surrounded by guards in 2020 were released, causing an outcry from human rights groups claiming there was ongoing abuse and torture in Salvadorian prisons.
Human Rights Watch, at the time, called on the Organization of American States to invoke the Inter-American Democratic Charter. The charter is used when countries in the Americas are determined to be straying from democracy.
More videos emerged earlier this year as the government also began a crackdown on gangs, leading to the arrest of over 62,000 people.
While some concerns about potential human rights violations arose since the military police took over, there has been progress as well. Military police recovered pistols, machine guns, ammunition, magazines and grenades from an area of the Tamara prison occupied by the Barrio 18 gang, according to Honduran Col. Fernando Munoz.
Further seizures continued to take place. Honduran Defense Minister Zelaya is continuing to share the results of the seizures on Twitter.
© Copyright IBTimes 2023. All rights reserved.