Houston Texans Vs. Minnesota Vikings: Where To Watch Live Online, TV Channel, Players to Watch, Preview, Prediction, Betting Odds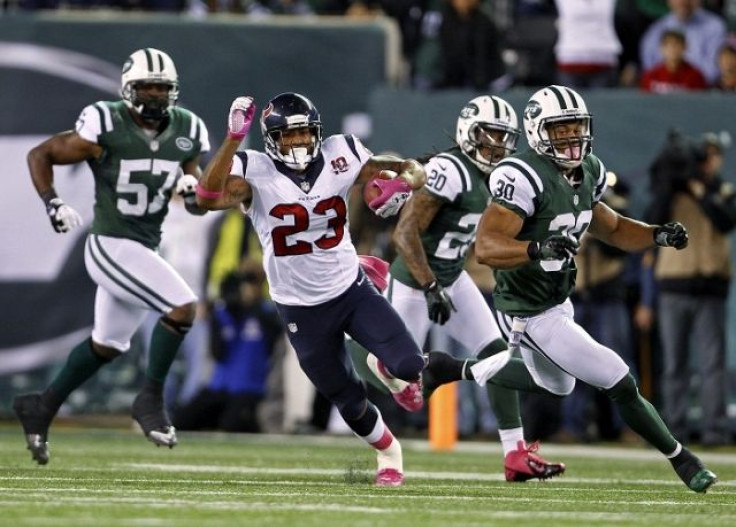 In a game that would normally be heralded as a matchup between the top two running backs in the NFL, the Minnesota Vikings and Houston Texans will probably limit their star players in Friday night's preseason debut at Mall of America Field.
This will be the fourth preseason meeting between the two clubs, with the Vikings holding a 2-1 mark.
Reigning NFL MVP Adrian Petersen and top Minnesota pass rusher Jared Allen will probably have the night off, while Minnesota head coach Leslie Frasier is looking for a big improvement from incumbent quarterback Christian Ponder, as reported by the Star Tribune.
Proven starter Matt Cassel is right behind Ponder, and should get the majority of the snaps against Houston. Minnesota will also try to whittle down a number of receivers battling for a spot in Joe Webb and Stephen Burton, along with Chris Summers and Adam Thielen, according to the Tribune.
Like Minnesota, the Texans will play most of their younger players, with upwards of 20 players being held out, including running back Arian Foster, top receiver Andre Johnson, and former Rookie of the Year Brian Cushing.
That means Houston fans will get a good look at first round receiver Deandre Hopkins, as well second round safety D.J. Swearinger, who could make a play to replace Glover Quin as the Texans top player in the secondary.
The game kicks-off at 8 p.m. ET and a live online stream is available by subscription on the NFL's official site here.
TV Channel
Minnesota's KARE will have coverage, and Texans fans can find their team on KTRK.
Betting Odds: Minnesota is favored by 1 point.
Over/Under: 35.5 points
Prediction: Houston 27 , Minnesota 18
© Copyright IBTimes 2023. All rights reserved.