How Disney Plans To Get Streaming Profitable In 2024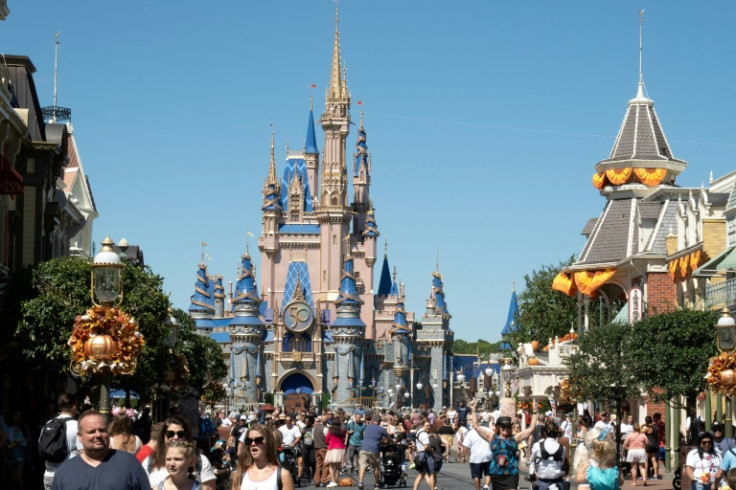 KEY POINTS
Disney lost $460 million in its third quarter but reported a profit of $2.7 billion through nine months of its fiscal 2023
ESPN is going fully direct-to-consumer in the near future
Analysts believe Disney is making the right moves by raising streaming prices and halting password sharing
The Walt Disney Co. is looking to get its streaming kingdom in order by hiking prices and stopping password sharing. The company wants to get its overall direct-to-consumer business profitable in 2024 and is willing to use ESPN to make it happen.
On Wednesday afternoon, Disney (NYSE: DIS) released the third quarter earnings report for its fiscal 2023, which revealed the Burbank, California, entertainment giant recorded a net loss of $460 million during the quarter, a massive drop from the $1.4 billion in net income it reported during the same period the prior year.
On the other hand, according to Disney's third quarter of its fiscal 2023 filing with the Securities and Exchange Commission, the company reported a net income of $2.696 billion through the first nine months of its 2023. That, however, is a drop from its tally of $3.299 billion through the same time last year.
Investors were buoyed by the earnings, sending the stock upward on Thursday. As of 2 p.m. Eastern Daylight Time, the price increased to $91.33 a share from Wednesday's closing price of $87.53. However, the share price remains far off from the more than $120 a share Disney stock traded at in August 2022, according to historic New York Stock Exchange figures.
In Wednesday's quarterly earnings call, CEO Bob Iger said Disney was "completely restructured" during his current, eight month tenure as the chief executive. Additionally, the company is pursuing a goal of saving more than $5.5 billion via "aggressive cost reductions."
Going forward, Iger said on the call, Disney will focus on studios, theme parks and its streaming service Disney+. The company is reportedly looking to sell some, or all, of its so-called linear television assets.
A significant portion of the quarterly loss could be tied to streaming, however. Analysts previously told International Business Times the company is simply spending more money than it is making on its service and it needs to raise prices or cut spending on streaming-exclusive content to get it into the black.
According to its current earnings filing with the SEC, Disney lost $512 million on its DTC services, Disney+, ESPN+ and a portion of Hulu, during its third quarter. Nevertheless, that is a vast improvement over the $1.061 billion loss it reported in the same sector for the same portion of last year.
In the conference call, Iger said the company wants to get its DTC services into profitability by the end of next year. He said Disney will be hiking prices and cracking down on password sharing. Streaming leader Netflix Inc. (NASDAQ: NFLX) recently cut subscription sharing at the cost of some subscribers in a move that improved its own balance sheet.
Iger also said Disney is moving its ESPN properties further into the DTC fold. He said "taking our ESPN flagship channels direct to consumer is not a matter of if, but when."
ESPN also made waves on Tuesday by announcing Disney inked a $2 billion, 10-year deal with Penn Entertainment Inc. to rebrand Penn's sports betting services using the ESPN brand. Penn (NASDAQ: PENN) dumped sports, culture and entertainment media company Barstool Sports Inc. in favor of the Disney property.
The Wyomissing, Pennsylvania, entertainment company anticipates the move to create ESPN Bet will grant it between $500 million to $1 billion of annual earnings potential by using ESPN to promote the service.
Disney and Iger said little about the ongoing writers and actors strikes halting Hollywood.
The current SEC filing said work stoppages "impacted our productions and the pipeline for programming and theatrical releases."
"If either is prolonged, (it) would further undermine our ability to produce, distribute or license programming and theatrical releases, which could result in reduced revenue and have an adverse effect on our profitability," Disney said in the filing. "Resolution of disputes or negotiation of new agreements, including rate increases and other changes to employee benefits, has in the past increased our costs and may increase our costs in the future."
Generally, stock analysts were pleased with the report and said investors will likely keep a close eye on Disney's scheduled investor event in September.
A team of analysts at Wells Fargo & Co. (NYSE: WFC) led by Steven Cahall, an equity analyst with Wells Fargo Securities LLC, said in a Wednesday note provided to IBT that they expect Disney will focus on: Explaining how its going to improve its overall content; sharing more about how it will bring DTC to a break even point; discussing its potential sale of linear television assets and a further explaining its plan to take ESPN fully DTC.
A team of analysts at Deutsche Bank Aktiengesellschaft (NYSE: DB) led by Bryan Kraft, a research analyst at Deutsche Bank Research, said in a Thursday research note provided to IBT that the ad-supported streaming platforms launched in December 2022 are boosting DTC revenue. Raising prices starting in September and halting password sharing will help Disney achieve its goals.
"While we've long thought tightening controls around unpaid password sharing would be part of the natural evolution of streaming services, this is the first time Disney has talked about it being a focus," the Deutsche Bank note said. "We believe that this will be another lever to improve monetization, grow subscribers, and increase DTC profit margin."
In a Thursday research note provided to IBT, a team of analysts at Truist Financial Corp. (NYSE: TFC) led by Matthew Thornton of Truist Securities said Disney's third quarter performance was better than expected. Truist's analysts expect Disney's stock price to get a boost after more details of its DTC plan are unveiled in September, too.
A team of Morgan Stanley (NYSE: MS) analysts led by Benjamin Swinburne, an equity analyst at Morgan Stanley & Co. LLC, said in a Thursday note provided to IBT that the activity of the theme parks in the U.S. and abroad shouldn't be ignored as they are carrying the company and will "for years to come."
"(Disney's) parks and experiences segment, which drives the majority of its earnings today and in the future, is a high return-on-capital growth business," the Morgan Stanley note said.
Furthermore, Morgan Stanley analysts believe Disney's media and intellectual property assets are both "under-earning and under-valued" and they predict the stock will rise as Disney cuts its spending. Offloading under-performing linear television assets will help it save money as well.
Morgan Stanley, Truist, Deutsche Bank and Wells Fargo all currently rate Disney stock as a buy.
A Wednesday note from KeyBanc Capital Markets Inc. provided to IBT argued for a more tempered outlook. The team of analysts led by Brandon Nispel of KeyBanc Capital Markets said the DTC price hike "will provide a meaningful headwind."
"We expect DTC (earnings) to continue to improve, but any rebound in (subscription) growth is likely to be short-lived, as the rapid increases in prices are unlikely to be met with the value needed to keep consumers," the KeyBanc note said.
Further, rating the stock as a hold, KeyBanc said Disney's DTC subscriber growth is actually stalling and isn not too much different from its competitors. The analysts also worry consumers won't pay up for a fully DTC ESPN, either.
"Structural changes in content distribution have resulted in (Disney) content sales segment business that is unlikely to make money for the foreseeable future," the KeyBanc note said. "Our worries in 2023 continue into the 2024 financial setup."
© Copyright IBTimes 2023. All rights reserved.