How To Make Stuffing For Thanksgiving 2019: 6 Easy Steps, Recipe And Tips
Although turkey is often the star of Thanksgiving dinner, classic side dishes are necessary to complete the perfect meal. One of the most popular side dishes at a holiday table is stuffing. While it is easy to go out and buy a box of stuffing, making it at home is just as easy.
Luckily, AllRecipes has created a simple yet easy stuffing recipe that will be the perfect addition to any Thanksgiving dinner table.
To make sure all of your guests are impressed with this year's stuffing, follow these seven easy steps for Thanksgiving stuffing.
Ingredients:
30 slices white bread, lightly toasted
2 tablespoons butter
1 large onion, finely chopped
2 stalks celery, finely chopped
2 eggs, lightly beaten
2 cups chicken broth
2 teaspoons rubbed sage
1 teaspoon garlic powder
Salt and pepper to taste
Directions:
1. After toasting the bread, allow it to sit for at least 24 hours until hard.
2. Preheat the oven to 325 degrees Fahrenheit and lightly grease a 9x13 inch baking dish.
3. Crush the hard bread into crumbs with a rolling pin. Place those crumbs in a large bowl.
4. Melt the butter in a medium saucepan over medium heat. Stir in the celery and onion, and cook slowly until soft. Remove the mixture from heat and drain.
5. Mix the eggs and chicken broth into the bread crumbs. The resulting mixture should be moist, not mushy. If necessary, use water to attain desired consistency. Mix in the garlic powder, celery, onion, rubbed sage, salt and pepper.
6. Press the mixture into the baking dish. Bake the stuffing for one hour in the preheated oven, or until the top is brown and crisp.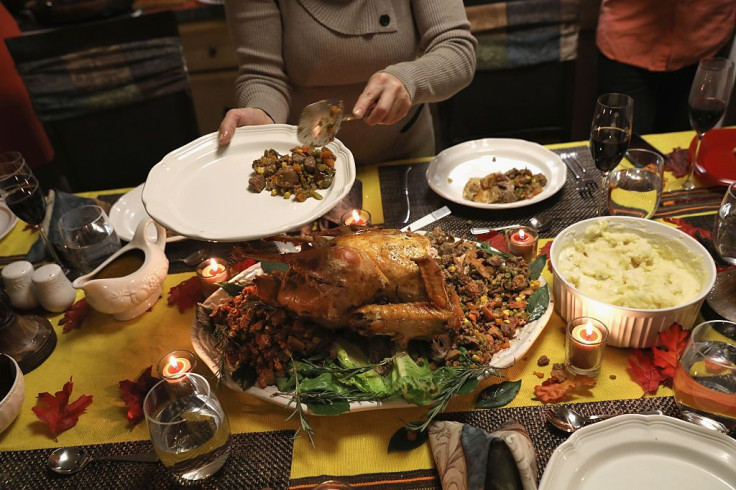 © Copyright IBTimes 2022. All rights reserved.
FOLLOW MORE IBT NEWS ON THE BELOW CHANNELS