How Popular Is Trump? Republican Support Drops After Health Care Bill Collapses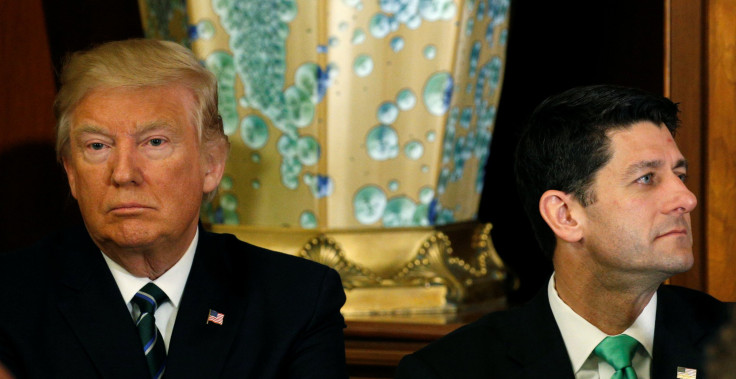 After days of infighting and growing concerns from constituents, Republican walked away from a bill that would overhaul the country's health care system last week. It was not only a defeat for House Speaker Paul Ryan (R-Wis.), who was the architect behind the bill, but for President Donald Trump, who tweeted about the Republicans' "wonderful new Healthcare Bill" meant to replace what he called "imploding" Obamacare.
For Trump, that failure has resulted in a loss of approval from Americans, according to a POLITICO/Morning Consult poll released Wednesday morning. His approval rating dropped to 46 percent, down from 50 percent last week. An increasing number of people were not happy with his job performance, as his disapproval rating jumped from 44 percent to 50 percent — the highest since he was inaugurated in January.
Read: Will Trump Be Impeached Or Resign? Poll Says He's The Least Popular New POTUS In American History
Much of that loss of support came from conservatives. About 81 percent of Republicans polled supported Trump's job performance — a 7 percent drop from two weeks ago. In addition, 92 percent of respondents who voted for Trump said they approved of his job performance two weeks ago. But that's since dropped to 84 percent.
Still, Trump's approval ratings were higher than Republican legislators in Congress. About 64 percent had a favorable view of Ryan, and 40 percent thought well of Senate Majority Leader Mitch McConnell (R-Ky.).
Read: Do People Like Obamacare? Majority Of Americans Prefer ACA Over Trumpcare, Poll Indicates
Support of Trump also soured among independents. In early March, 43 percent of independents approved of Trump's job performance. That figure has dropped to 39 percent in the most recent survey. About 53 percent of independent respondents said they disapproved of Trump.
Democrats have never been thrilled with Trump, but support for the president among those on the left has only gotten worse. About 79 percent of Democrats disapproved of Trump's performance, while 18 percent disapproved. In early March, 75 percent disapproved but 20 percent approved.
The poll surveyed 1.991 registered voters online from Friday to Saturday. The margin of error was plus or minus 2 percentage points.
© Copyright IBTimes 2022. All rights reserved.
FOLLOW MORE IBT NEWS ON THE BELOW CHANNELS