Hugo Chavez Confirms Return of Cancer but Vows 'I Will Live'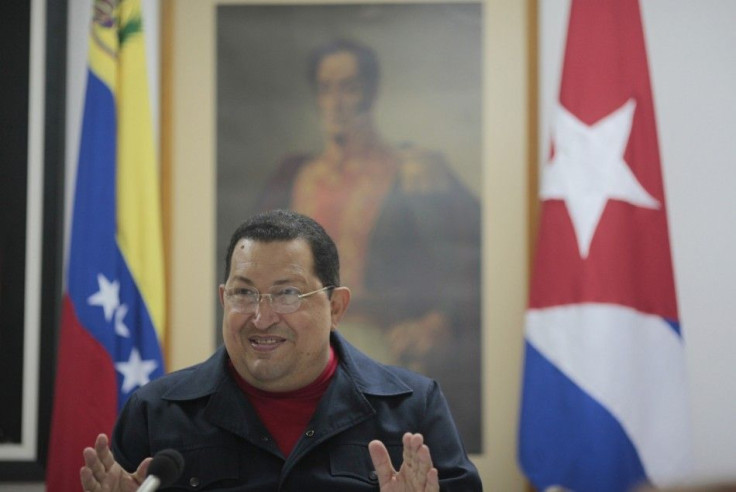 (Reuters) - Venezuela's President Hugo Chavez confirmed this weekend that he had suffered a recurrence of cancer, saying he would need radiotherapy treatment after the removal of another tumor even though there was no evidence of metastasis.
I will live! I will overcome! the 57-year-old socialist leader said in a televised meeting with some cabinet colleagues from Cuba, where he underwent an operation six days ago.
Chavez's comments about his health came at the end of a 90-minute address to Venezuelans, shown on live TV, in which he expressed confidence in his recovery, told jokes, signed state papers and even broke into song.
He is seeking to extend his 13-year rule at a presidential election in October, but his health problems have raised doubts about his capacity to campaign for the presidency or to rule for another six-year term should he win.
In his comments from Havana, which were broadcast on Sunday but recorded on Saturday, Chavez varied between smiling enthusiasm and moments of introspection. We are all human, we are all extinguishable, more so with the life I have had, where one year seems like a hundred, he said.
Chavez gave no word on when he would return to Venezuela.
He scoffed at speculators with nothing better to do, who had suggested his cancer had spread - or metastasized - to other organs, saying that was not true.
A two-centimeter (0.8-inch) tumor had been successfully removed from the same pelvic area where a larger tumor was taken out in 2011, Chavez said. This time the recovery is much quicker, he said.
Radiotherapy would, however, be needed, the president said.
(Reporting by Andrew Cawthorne, Eyanir Chinea and Mario Naranjo; Editing by Paul Simao)
© Copyright Thomson Reuters 2023. All rights reserved.