Hunter Biden Sells Art 'At Obviously Inflated Prices'; Feels 'Grifty,' Obama's Ex-Ethics Chief Says
KEY POINTS
Shaub says Hunter and his art dealer Georges Berges "should disclose the identity of their clients"
Berges' agency says keeping client information confidential is a "standard practice"
Hunter Biden's artworks sell for up to half a million dollars
An ex-ethics chief for former President Barack Obama has slammed Hunter Biden, son of current President Joe Biden, for selling his art pieces at "inflated prices."
Walter Shaub, the former Director of the Office of Government Ethics under the Obama administration, was interviewed by Fox News on Monday where he hit out at the younger Biden for selling his artworks, some priced half a million dollars, to anonymous buyers.
"The notion of a president's son capitalizing on that relationship by selling art at obviously inflated prices and keeping the public in the dark about who's funneling money to him has a shameful and grifty feel to it," Shaub said.
He warned that the anonymity of the art buyers could allow "influence-seekers" to funnel money to the Biden family. Shaub said that he thinks that Biden and his art dealer Georges Berges "should disclose the identity of their clients" so that the public can see if the buyers try to "gain access to [the] government."
"He can't possibly think anyone is paying him based on the quality of the art. This smells like an attempt to cash in on a family connection to the White House," Shaub added.
The Townsend Group, who is representing Berges, said Hunter Biden's decision to keep his art buyers anonymous helps them protect their privacy. The agency also noted that keeping client information confidential is observed in other galleries and auction houses.
"Pricing fine art in his experiences as a Gallerist is based on the demand of the work as well and the intrinsic value of it," a spokesman for the Townsend Group told Fox Business. "His feeling is that within each piece – as with every artist, sales are always confidential to protect the privacy of the collector, this is standard practice for transactions in galleries as well as auction houses."
Hunter Biden came under fire last week after it was revealed that famous art dealer Berges was selling the first son's art pieces for between $75,000 and $500,000, depending on the scale and scope of the artwork.
"It is an honor that I am able to represent Hunter Biden. He is a wonderfully gifted talent and fine artist. He has garnered a following of collectors who appreciate and see the intrinsic value of his work," Berges had told The Business Insider.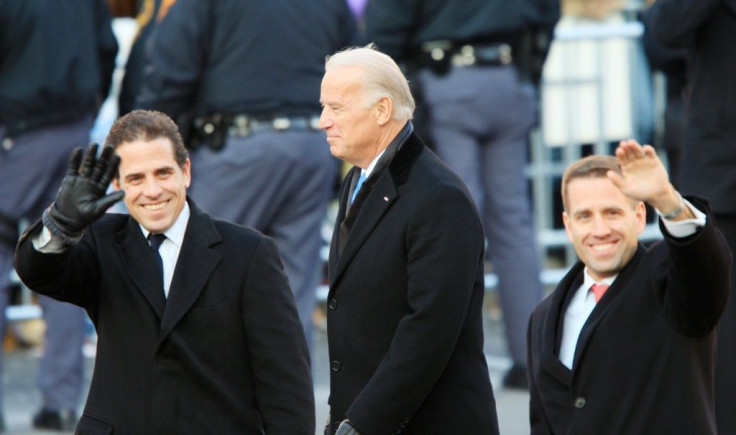 © Copyright IBTimes 2023. All rights reserved.