Hurricane Irene Connecticut: 1 Killed, 500,000 Homes Without Power as Rain, Wind Pummel State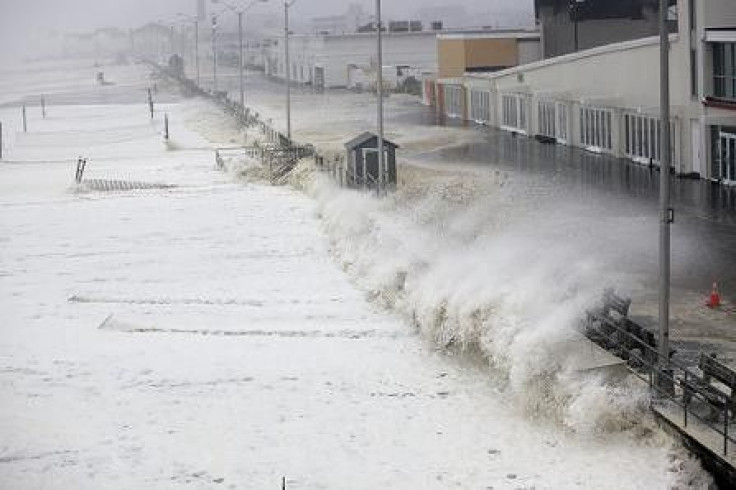 Although Hurricane Irene, which was downgraded to a tropical storm earlier Sunday, caused at least 1 death, massive power outages across Connecticut, flood areas, and hundreds if not thousands of downed trees, the sense among Nutmeggers is that the state could have fared worse.
Tragically, in Prospect, Conn. a woman died in a house fire caused by down wires.
The fire occurred at 111 Clark Hill Road, Prospect, Conn. around 5:20 a.m. Sunday, when a tree in the front yard fell and pulled down the power lines, said Lt. P.J. Conway of the Prospect Volunteer Fire Department, The Harford Courant reported Sunday.
Two elderly people lived in the house, Conway said. The man escaped.
Roughly 500,000 Homes Without Power
State officials and utilities officials are also reporting roughly 500,000 Connecticut homes are without power, but when one considers the damage that could have been visited on Connecticut had Irene remained a Category 1 or even Category 2 hurricane with 90 mile per hour and 100 mile per hour winds, Connecticut, like its neighbor to the south -- New York -- has to feel like it dodged a meteorological and natural disaster bullet.
That's because those 100 mile per hour (mph) winds never appeared: there were gusts to 50 and 58 mph throughout the state, in New Haven, and on other parts of the shore line on Long Island Sound, but many if not most Connecticut residents, a hardy bunch, would confess that, aside from the hardship of losing electric power, they've faced worse weather -- much worse -- in the form of blizzards and ice storms.
Gov. Malloy to Citizens: Please Stay Home Sunday
Gov. Daniel Malloy closed the Merritt and Wilbur Cross parkways and has ordered a tractor-trailer ban on all roads in the state as of Sunday at 7 a.m. EDT. All roads in Woodbury and Seymour are closed, state police said, The Hartford Courant reported Sunday.
Malloy also urged Connecticut's residents to remain in their homes and not travel, unless absolutely necessary. There are dozens if not hundreds of downed power line hazards, flooded roads, and downed tree limbs and if residents venturing out create an emergency situation, straining already overtaxed police, emergency, and utilities repair officials -- that would only complicate the recovery effort.
As winds have picked up and the rainfall has increased, we can't guard every downed tree, nor can we guard every downed wire, nor is it necessarily a smart thing for us to be guarding every downed tree at this point,'' Malloy told reporters Sunday at the state's emergency operations center at the state armory in Hartford. If you're out there, you're on your own.''
No one should be on the road, except if they're required to be so,'' Malloy said. Only crazy people come out here at this hour.''
The number of Connecticut National Guard troops on standby as of early Sunday had been upped to 886, according to Col. John Whitford, with 1,500 scheduled to report for duty on Monday. Whitford said their role mainly kicks in during recovery efforts, The New Haven Register reported Sunday.
Malloy added that Connecticut was experiencing flood stage -- 11 feet -- on the lower Housatonic River as of Sunday at mid-day. The river's flood gates have been opened to release and control the water, Malloy said.
A total of 32 towns have order evacuations, with about 1,600 people sleeping overnight in shelters, state officials said.
Dangerous Winds to Persist Through Sunday
What's more, state officials cautioned that although the heaviest rain had moved out of the state, there would still be strong gusting winds over 40 mph.
The heaviest rain has moved out of the state, according to FoxCT Meteorologist Joe Furey. Showers are possible this afternoon, and a westerly wind could gust up to 40 mph at times, The Courant reported.
It's an improving situation, Furey said. But he cautioned that shifting winds could loosen branches, and additional scattered power outages are still possible. Winds out of the west could gust to 40 mph this afternoon, he said.
At Saybrook Point, where the Connecticut River meets Long Island Sound, the ocean was roaringl. Wind-driven white cap waves slammed into the sea wall, sending huge cloud-like salty sprays into the parking lot.
Flood warnings are in effect for Fairfield and Litchfield counties until 3 p.m. and New Haven and Middlesex counties until 12 p.m.
State and local officials said it was impossible at this stage to predict when highways and roads would be fully passable -- due to pending damage assessments. Much will depend on the number of trees and other debris blocking key arteries and other streets.
Monday: Probable Telecommute Day
In other words, at this juncture, Monday is looking like a telecommute / work-from-home day.
The last major hurricane to cross the state was Hurricane Gloria in September 1985, with the storm crossing Long Island, N.Y. and making landfall in Fairfield County, Conn. Overall, along the East Coast, Gloria killed eight people and caused about $900 million in damages, or about $1.84 billion in 2011 dollars.
Connecticut's ground is already saturated from previous rain storms, therefore any additional rain will mostly runoff, swelling rivers and soaking low-lying areas. That saturated ground plus high winds will likely bring down sensitive and/or weaker trees, officials say, and could also result in extensive power outages.
© Copyright IBTimes 2023. All rights reserved.