Hurricanes Maria And Lee Head East As Caribbean Braces For New Tropical Disturbance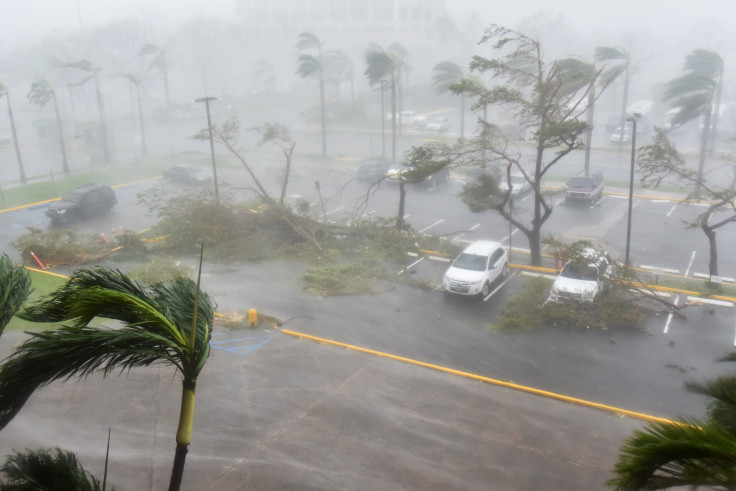 Hurricane season is winding down, but it's not over yet. Hurricanes Maria and Lee have simmered down their respective lashes before heading east and migrating away from land. The possibility of another tropical disruption to come, however, is likely.
Hurricane Maria is currently nearing Cape Hatteras, North Carolina, whereas Hurricane Lee is moving towards Bermuda, according to the National Hurricane Center (NHC). The potential storm to follow is likely aiming to shake things up in Florida. Rainfall could target South Florida residents as early as this weekend, but heavy winds aren't expected. Cuba would also be a potential visit on the disturbance's list. The heavy rainfall would foreseeably proceed into Monday.
"A large area of cloudiness and showers extending from the Cayman Islands northward across Cuba to the Florida Straits is associated with a broad surface trough interacting with an upper-level low," the NHC reported of Nate's formulation Thursday. "This system is likely to produce locally heavy rainfall over portions of central and western Cuba, the Florida Keys, the Florida peninsula, and the northwestern Bahamas during the next several days."
The NHC also tweeted about the potential disturbance Thursday, saying, "A system over the NW Caribbean Sea has a medium chance of formation near the Florida east coast by early next week."
The potential threat that disruption poses has not been confirmed. The tropical disturbance's chances of formation over the next 48 hours is relatively low at a mere 30 percent. The stakes for its possible formation is expected to increase over the next five days, rolling in at 50 percent. If it assembles into a storm, it would likely be named Nate.
Nate is a storm name that has yet to be retired. It first appeared on the lineup in 1981, but was recirculated again in 2005 and 2011. If another hurricane were to form after Nate this season, it would be named Ophelia. Storm names are designated to reduce confusion when tropical storms occur simultaneously.
The Atlantic has seen 13 storms assemble over the past couple of month, with two that have remained active. Hurricane season runs between June 1 and November 30. The heart of hurricane season, however, occurs between August, September and October.
"When it comes to the most impactful tropical cyclones, there's a clear peak to the season," The Weather Channel reported in 2015. "If there is one reason to pay attention during this time of the season, consider 93 percent of major hurricanes (Category 3 or stronger on the Saffir-Simpson hurricane wind scale), those responsible for the most destruction in any hurricane season, occur from August through October."
Storms that have occurred in the U.S. between August and October have proven to be the most costly. Hurricane Katrina struck the month of August in 2005, Hurricane Ike hit in September of 2008 and Hurricane Sandy lashed out in October of 2012. September, however, continues to attract the most stormy weather.
Hurricanes will continue to occur, provided that the water in the Atlantic remains warm and thunderstorms materialize steadily.
© Copyright IBTimes 2023. All rights reserved.
FOLLOW MORE IBT NEWS ON THE BELOW CHANNELS