Ian Somerhalder Turned Down By Mystery Woman; 'TVD' Star Talks About His Dating Life On 'Chelsea Lately'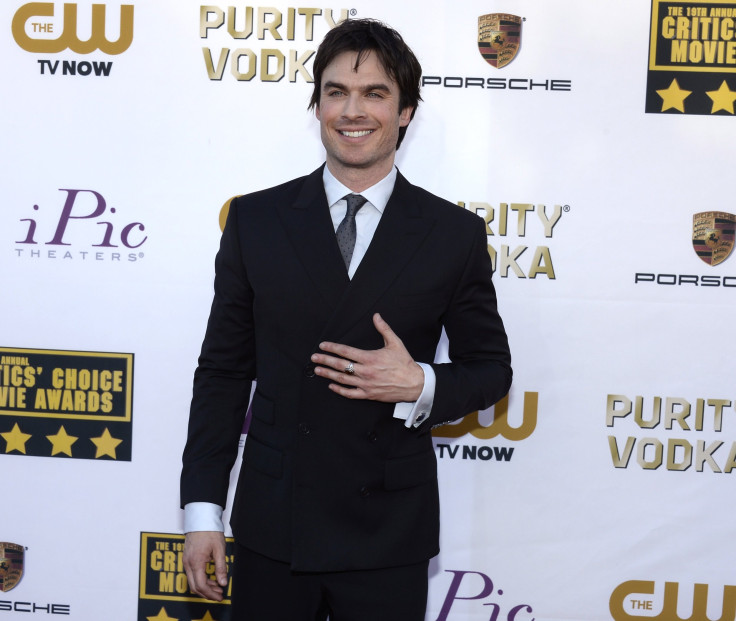 Believe it or not, Smoldy fans, but even Ian Somerhalder has trouble landing a date.
During an appearance on E!'s "Chelsea Lately" Thursday, Somerhalder, 35, dished about his love life, or lack thereof, admitting that he was recently rejected by a mystery woman. When prompted by Chelsea Handler's guest host Mary McCormack if he had ever been turned down by a female, the actor gave a shockingly humble response.
"Have you ever been turned down by a girl, seriously? Has anyone been like, 'It's just not for me,'" McMormack asked.
"You know what? Actually, uh, yeah. It recently happened," Somerhalder said, his response met with sounds of sadness from the talk show audience. "It's cool. No, no, no. It was very appropriate and it was for the better," he added. "It was cool. It's good. You have to experience these things."
While Somerhalder didn't divulge the identity of the woman who rejected him, he was last rumored to be dating former "American Idol" contestant Molly Swenson. Despite one report claiming that Swenson had replaced Somerhalder's ex-girlfriend and current co-star Nina Dobrev, the duo's rumored romance was shortly after deemed a hoax. "I've been off the market for 2 yrs!" Swenson confirmed to Twitter April 17, confirming that her longtime beau was not the "TVD" star.
Somerhalder, who is most famous for playing vampire Damon Salvatore on the CW's series "The Vampire Diaries," appeared on "Lately" to promote his new Showtime series "Years of Living Dangerously." The nine-episode James Cameron docuseries, which uses celebrity figureheads ranging from Arnold Schwarzenegger to Jessica Alba to highlight climate change, is a reportedly a cause near and dear to Somerhalder's heart.
According to the series' official page, Somerhalder, a Louisiana native, became involved in environmental issues after the BP Oil Spill hit the Gulf Coast in 2010. "It wasn't until a disaster hit his home that his voice became a catalyst for change," reads Showtime's biography on the TV star. "Witnessing the unprecedented devastation to the water, wildlife, and individuals of his childhood was pivotal in igniting his unwavering support for a better Earth. For the first time, he realized the powerful platform he had been given to manifest this change."
"Years of Living Dangerously" airs Sundays at 10 p.m. EDT on Showtime. Season 5 of "The Vampire Diaries" airs Thursdays at 8 p.m. EDT on the CW.
© Copyright IBTimes 2023. All rights reserved.