India's 122 Languages A Tongue-Twister For Mobile Startups; How Ola Cabs, Google Cope Where Only 10% Speak English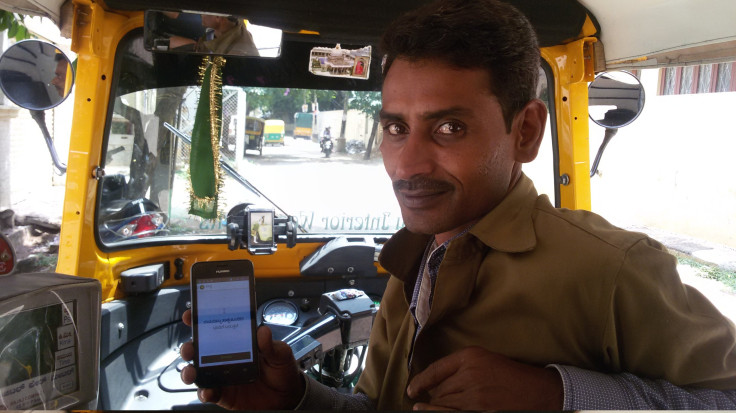 BANGALORE, India -- Babajan is one of thousands of drivers who offer what has become the most popular way for harried urban professionals to get around this tech hub in southern India: on a motorized three-wheeler known as an auto rickshaw. Until recently, one of the biggest problems for the 40-year-old, who's had little formal education, was booking trips in English -- a language he can speak but has trouble writing and reading.
That all changed recently when his employer, Ola Cabs, provided Babajan with a Huawei smartphone loaded with an app that lets him respond to ride-hailing requests in his own language, rather than English. "They had both the English and Kannada version on the phone ... I've never really been to school, and I prefer to use the Kannada app," Babajan said as he took an International Business Times reporter on a jaunt through the packed streets of Bangalore's business district. "It's quite convenient and shows all the details I need," said the driver, who, as is common among some classes in India, uses only one name.
After the cost of the smartphone and data plans, the biggest challenge for most Indians to access the Internet is language. Even the urban poor, semi-employed and large sections of middle- to low-income people such as Babajan -- cab and rickshaw drivers, supermarket clerks, cleaners and the like -- have little use for the smartphone as an Internet device because it's not in their own language. That's now changing as the tech industry recognizes the vast, untapped market that India's non-English speakers represent. Only about 10 percent of the country's 1.25 billion people are comfortable with English, according to estimates.
So startups ranging from NewsHunt, one of India's largest providers of localized content, to Ola Cabs, the country's biggest ride-hailing service, to Snapdeal, one of India's most popular e-commerce destinations, are rolling out new products and services tailored for customers and workers who speak one of the 21 languages other than English, not to mention hundreds of dialects, that are common in India.
They're helping to accelerate the next jump in India's smartphone revolution that will take the user base from about 150 million to over half a billion. "English literacy [in India] is 10 percent, which means 100 million to 120 million people can read and write English or read and write their name in English," said Vikram Vaidyanathan, a managing director in India at Matrix Partners, an early-stage venture capital and private equity firm that has invested in both NewsHunt and Ola Cabs. "The next half a billion people who are going to come on to the smartphone are definitely only local-language," he said.
A Vast, Untapped Market
Venture Capital firm Accel Partners estimates online shoppers in India will double to 40 million in 2016 from 2013, which is probably a realistic proxy for the true number of people comfortable enough with English to make casual purchases online. So even today, by not addressing the local language challenge, Internet-based companies are leaving a big pile of rupees on the table.
"The number of Internet users in the country will very quickly outrun the number of English speakers, and as a result local language is a very important area of focus for us," Rohit Bansal, co-founder of Snapdeal, said last week. "We are already enabling it in three languages, and very soon we will enable three or four more languages" for people to transact on the shopping site.
For now, however, selecting Hindi on Snapdeal, for example, still loads a website that is almost entirely in English, with only a couple of menu options in Hindi.
Google Inc. recently launched an effort to make local language content available to more people in India, in an alliance with several media companies and other partners.
Ola's local language app has numerous functions. It lets the rickshaw driver track trips, log the fare he has earned, and, when needed, pull up a screen with the local Ola technical support number, all by tapping a basic menu with a very simple interface with the different selections labeled in the local language.
When Babajan has a passenger who speaks a language he doesn't understand, "the app captures the address [in Kannada], so that isn't a problem and during the ride it's enough if the passenger indicates a turn coming up, a left or right," he explained.
Babajan will take any edge he can get. He's never been to school, but he is paying for his son's college education with his earnings from rickshaw rides. His son is pursuing a three-year diploma in civil engineering, which he hopes will lead to a job opening. "He's got another year to go; he's finished two," he said.
Besides Kannada, one of four major languages spoken and written in south India -- the others are Malayalam, Telugu and Tamil – it was not immediately clear if Ola plans to support other languages. The company has launched its rickshaw service in New Delhi, and while an Ola spokesman didn't have immediate comment, it stands to reason that support in Hindi, the most widely spoken language across much of northern and central India, will be a priority.
Dozens Of Languages, Dialects
Based on the federal government's census of 2001, India had 122 major languages and 1,599 dialects. In addition to Hindi, other prominent languages are Bengali, Oriya and Assamese in the east and northeast; Gujarati, Rajasthani and Punjabi in the west and northwest; and the four south Indian languages.
Some 81 million smartphones were sold in India in 2014, taking the total installed base to about 140 million, Zinnov, a Bangalore-based consultancy, said in a recent report, projecting that number will go up to 651 million by 2019, growing 36 percent every year until then.
Entrepreneurs in the country want to tap that growth. "One thing that straightaway hit me was that there were very few people building products for the Indian consumer," said Sreekanth Sastry, a Bangalore-based software products developer who built Situational Gita, an iOS and Android app. It was part of an effort to start his own company, Antarjaal Innovations Pvt. Ltd., to exploit the local language mobile software opportunity.
The award-winning app serves up context-based advice -- say you're really angry, you're stuck in traffic or your girlfriend dumped you -- by pulling up apt verses from the Bhagavad Gita, a revered holy book and instructional framework for doing the right thing all rolled into one for India's large Hindu community. The curated verses are available in both English and in the original Sanskrit form, which uses the Devanagari script.
Sastry, who's built several other local language apps, said technical hurdles have limited the availability of non-English apps in India. It turns out that characters for India's multiple written languages are not that easy to render in Android, the country's dominant mobile OS. "What struck me at the time [in 2013] was it was easy for me to build a regional local language app on iOS compared with Android, because font rendering was so much better on the Apple platform."
Technical Challenges
That was odd for an almost entirely an Android country. "Till about Jelly Bean [Android 4.1 OS], there was no in-built support for Indian fonts in Android. That started in a fairly good way only after Jelly Bean," Sastry said. There's plenty of OS fragmentation in India, with Apple only now beginning to make inroads. "I use Siri quite often," said college student Lakshmita Ravindranath, who has an iPhone 6, as she hung out with friends outside a cafe in Bangalore's main business district. "But it doesn't actually accept Kannada -- it's like 'I don't know,' that's what it keeps saying."
Text-based Google search works in local languages in India, but voice recognition on its "OK Google" counterpart mostly fails with Indian languages.
NewsHunt's early success at "cracking the problem of making Indian characters render correctly even in basic phones," which have much smaller screens and far less processing power than smartphones, helped them become the top local language app in the country, Sastry said. This makes a huge impact at a time when most Indians still use feature phones, although smartphones are becoming increasingly affordable and popular.
Getting people like Babajan onto its network is an upfront investment for Ola, which is in a pitched battle for ride-hailing and taxi dominance in India against Uber Technologies Inc., which sees the subcontinent as its largest market outside the U.S. Similarly, Snapdeal is up against local competitor Flipkart and U.S. giant Amazon.com, which currently has an English website in India. Local language support could turn out to be a critical differentiator.
For consumers, it's ease of use, and for Babajan, it could mean more money for his son's education. "I certainly hope so, but it's only been two days, so let me see," he said, tapping his phone to respond to his next passenger, as this correspondent disembarked. "See, if no one else who is closer than me has responded faster, I'll get this fare next."
© Copyright IBTimes 2023. All rights reserved.