India's Ride-Sharing Startups Fight Uber Rape Ban, See Tech As Key To Safety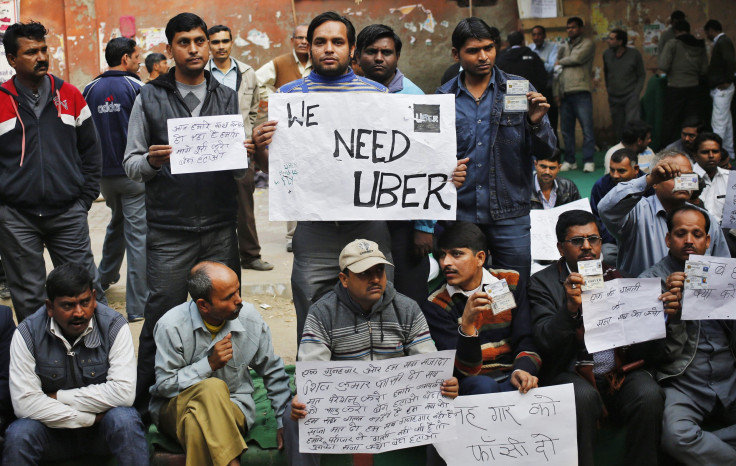 India's nascent ride-sharing industry is fighting back against a ban on its services that some local governments imposed after an Uber driver in Delhi allegedly raped a female passenger. The operators see technology, not regulation, as the best way to ensure safe rides for the country's burgeoning ranks of professional women.
Industry executives said outlawing Uber and similar offerings only exacerbates the shortage of secure, reliable transportation in urban India, where currently these car services are gaining ground. "In my opinion, this doesn't solve the problem," said Gaurav Aggarwal, chief executive of Savaari Car Rentals, a Delhi-based service that counts Intel Capital, the venture arm of computer chip maker Intel Corp., as an investor.
"We have to work together -- the cab services and the government regulators -- to figure out what is the best way to ensure that the customer gets a safe ride," said Aggarwal, who is experimenting with "geofencing," which involves GPS units on the cabs tied to an alarm system that triggers when a cab deviates from its route.
Aggarwal and other executives said a ban would simply put the brakes on an industry that promises to bring convenience, an affordable commute and transparent fares to millions of Indians for whom personal transport is expensive and public options overburdened and unreliable.
The thinking is that if regulators, in partnership with the startups, dragged existing laws -- made for an age when the average Indian hired a taxi only to attend, say, a wedding or a funeral in another city -- into the mobile Internet era, they would get credit for fostering hassle-free, and safe, urban transportation.
"We can influence the operators to become compliant with the regulations, which we are doing very, very actively. From GPS units to getting police verifications and displaying permits ... all of that is being done right away," said Aprameya Radhakrishna, co-founder of Taxi For Sure in Bangalore, India's technology capital.
Taxi For Sure offers an app that lets passengers book rides from the safety of their homes. Routes can be shared with anyone before they even get into the cab, and it provides real-time tracking using GPS. India, which has been described by some as being plagued by a "rape culture," desperately needs safe transportation alternatives for its growing ranks of professional women. The country's IT services industry employs more than 3 million people and amongst the biggest companies, such as Infosys Ltd., Wipro Ltd. and Tata Consultancy Services Ltd., a third of the staff are women. Trips to the airport at 3 a.m. are not uncommon, as the outsourcing industry's multinational clients can be quite demanding.
Apps Key To Safety
Taxi For Sure and its larger rival Ola Cabs typically work with small, local cab operators, who might own as few as two or three vehicles. The companies bring in their technology platform, which includes the mobile app that users download on their Android or iOS phones, as well as backend processing and support, including contact centers for phone bookings.
Aside from hubs like Bangalore, Mumbai and Kolkata, most Indian cities don't have a local taxi network at all for everyday commutes for shopping, school runs and the like. The new cab startups are enabling just such a convenience, and they are gearing up to do it at massive scale in a nation of some 500 million urban and semi-urban dwellers.
Accurate market figures are hard to come by, but the cab startups estimate the current market size at between $6 billion and $8 billion. They expect the market to see significant growth in the coming years. "Technology helps businesses deal with scale, be it better convenience and safety for customers, or revenue for the drivers. The app is a beautiful ecosystem," said Anand Subramanian, director for marketing communication at ANI Technologies Pvt. Ltd., the parent company of Ola Cabs.
At Savaari, an effort is underway to use sophisticated algorithms, built in-house, to match people who need cabs with their most convenient options.
With such technology in place, more drivers are attracted to these brands as they know they will get bookings, and more customers start using the services because they realize they can reliably get affordable cabs for most of their urban commutes. A 4 a.m. trip from Bangalore International Airport to the city's central business district in a traditional taxi would cost about 776 rupees ($12.25) plus an airport toll of 115 rupees. For the same trip, Savaari charges 574 rupees, toll included.
"We are changing the behavior of people," Taxi For Sure's Radhakrishna said. More people are taking taxis more often, increasingly viewing them as a viable option for local urban commutes and airport trips, he said. Even those with personal transport are shifting, as cabs help them avoid the parking nightmares that plague business districts in Indian cities.
All of this "triggers a virtuous loop," said Tarun Davda, a director in Mumbai, India's financial capital, with Matrix Partners, one of Ola's early investors. In its most recent round of funding, Ola raised $210 million from Japan's Softbank Corp. and works with some 50,000 cabs across 26 cities. Davda estimates they make more than a 100,000 bookings a day. The average wait time for an Ola, depending on the city, was between 25 minutes and 30 minutes a year ago, Davda said. Today it is 10 to 12 minutes.
Entrepreneurship On The Subcontinent
Taxi For Sure counts Accel Partners as an investor and works with about 15,000 cabs in 23 cities. It makes "upwards of 30,000 bookings" a day, many of which happen with the customers and cabs separated by distances in the order of a kilometer (about two-thirds of a mile) at the time of booking, Radhakrishna said. This means minimal deadheading, for drivers and customers get cabs quickly.
The startups are also engendering a sense of entrepreneurship among their drivers, with their bring-your-own-car business model. The driver who saw himself as an employee driving someone else's cab for a salary is for the first time getting a chance to become a small business entrepreneur himself.
The cab startups have tied up with banks and car makers to get drivers attractive loans and discounted prices on cars. Uber announced its own Indian partnership recently.
Typically, whichever startup he chooses to work with, a driver who was making between 1,000 rupees to 1,200 rupees day has seen his income double to about 2,500 rupees a day, Radhakrishna said.
"Mobile is disrupting a lot of old-economy industries, and cabs or urban transportation is sort of as legacy as it gets, right?" Matrix's Davda said. "What we are seeing is that very young, smart technology entrepreneurs are able to disrupt traditionally licensed regimes and some of the older industries getting completely reimagined ... with a much stronger focus on user experience," he said.
In the coming years, "these startups will become the urban infrastructure fabric of the country ... that's the most exciting thing about these companies," said Davda. They will be in 30 to 50 cities in India and it will become second nature for people to pull out their mobile phones and hail cabs on a daily basis."
FOR FREE to continue reading
✔️ Unlock the full content of International Business Times UK for free
offer available for a limited time only
✔️ Easily manage your Newsletters subscriptions and save your favourite articles
✔️ No payment method required
Already have an account?
Log in
© Copyright IBTimes 2023. All rights reserved.