Intel's 4Q Earnings Preview: Are Its Best Days Gone Forever?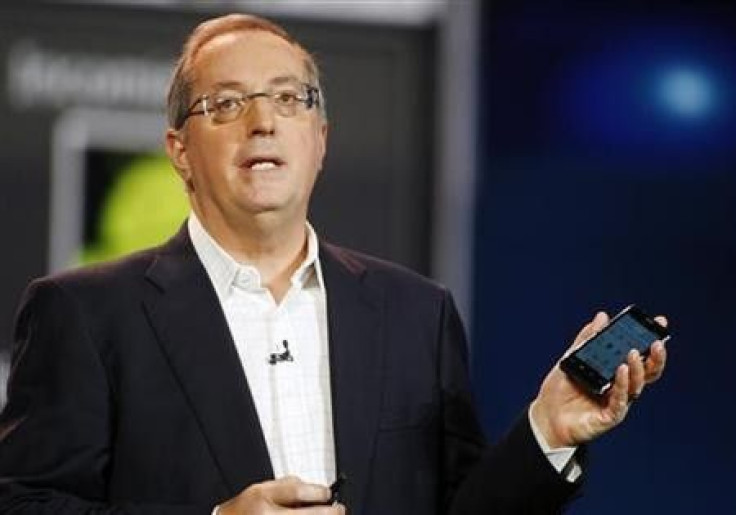 Intel Corp. (NASDAQ:INTC) was always the King of Silicon Valley. It's the biggest semiconductor maker in the world. Its chips powered most of the world's PCs and an increasing number of servers. Its CEOs were lionized. Its shareholders were very happy in years when earnings doubled or tripled.
Harder times have come. When the troubled Santa Clara, Calif., company reports fourth-quarter results on Thursday, rather than more of eveything Intel is expected to report less. Indeed, full-year net income and revenue are also expected to fall.
Morever, the 50 analysts who cover the company don't expect much improvement for the next three years, according to a Thomson Reuters survey.
Still, given its size, history, patent portfolio, history of legendary managers such as Robert N. Noyce, the co-inventor of the integrated circuit; Gordon Moore with his "Moore's Law" and Andrew S. Grove with his "only the paranoid survive" motto, chances are Intel could well recover soon.
CEO Paul Otellini, 62, announced his sudden retirement last quarter, without announcing who'll succeed him later this year. For the first time, there's speculation an outsider might be called in to turbocharge Intel.
Intel is expected to report fourth-quarter net income of $2.34 billion, or 45.3 cents a share on revenue of $13.76 billion, compared with the prior-year's net income of $3.36 billion, or 64 cents a share, on revenue of $13.88 billion a year earlier. That's nearly a 31 percent drop in income.
For all of 2012, analysts expect net income to have dropped to $10.89 billion, or $2.10 a share, on revenue of $53.43 billion from 2011's net income of $12.94 billion, of $2.39 a share, on revenue of $53.99 billion. For the year ahead, net income is expected to fall again, to $9.90 billion, or $1.94 a share, as revenue dips to $54.38 billion.
Not surprisingly, Intel shares have been bad performers. Over the past year, their total return has been a negative 9.47 percent, including dividends. The shares themselves have fallen 13 percent, closing Tuesday at $21.88, down 12 cents. The yearly high was $29.27 and the low $19.23.
On Monday, Gartner (NYSE:IT) announced dismal PC sales for last year: overall shipments dipped 3.5 percent to only 352.7 million units, the first decline in memory, as Intel's top customers, Hewlett-Packard Co. (NYSE: HPQ) and Dell (NASDAQ: DELL), the No. 3 PC maker, reported slower sales.
Aside from economic reasons, Gartner said, another factor was the shift to tablets from PCs, either as replacement items or first-pick laptop replacements.
Previously, the Semiconductor Industry Association estimated full-year 2012 sales would fall slightly below 2011's mark, despite the proliferation of computers, consumer electronics and automobiles stuffed with microprocessors. Intel, along with its big rivals such as Texas Instruments Inc. (NASDAQ:TXN), Freescale Semiconductor Corp. (NYSE:FSL) and Advanced Micro Devices Inc. (NYSE:AMD) isn't the only chipmaker in this earnings slump.
Unlike last year, Intel wasn't a huge presence at last week''s International Consumer Electronics Show in Las Vegas, when Otellini was a star keynoter, along with Steve Ballmer, the CEO of Microsoft Corp. (NASDAQ:MSFT), who discussed the potential of Windows 8.
This year's chip keynoter was Paul E. Jacobs, the CEO of Qualcomm Inc. (NASDAQ: QCOM), the No. 1 developer of mobile phone chips, who discussed his company's newest Snapdragon chip for tablets, smartphones and ultralight PCs, many to be assembled by China's Lenovo Group (PINK:LNVGY), also a major Intel customer. Qualcomm's market capitalization now exceeds that of Intel.
Some semiconductor analysts suggest that Intel, with its enormous network of specialized wafer fabs that produce its chips, might become a foundry for Qualcomm, of San Diego, which has always outsourced production. Intel, with its Core 2 chips, Atom chips, Itaniums and other products, has always prided itself on manufacturing prowess.
Still, analyst Steve Eliscu of UBS said, even the new products like Atom and some new Xeon chips aren't likely to account for much in the near term. He rates Intel "neutral" with a target price of $21.50.
Chip manufacturing knowledge and skill is key, especially if you design a chip. If it can't be made and then tested and assured of accurate performance, it's not worth much to a customer. Intel has long prided itself on the accuracy of its products, aside from the notorious flaw in a Pentium chip released when Grove was CEO.
"Qualcomm and Intel do different things well," said Dan Scovel of Tokeneke Research in Connecticut. "They don't really compete because Intel is in the PC world and Qualcomm is so much in wireless." Scovel suggests maybe Intel could become a major foundry for Qualcomm, with both doing some cross-licensing.
Still, it could be that until Intel gets its game back as well as a new CEO, it may take longer than expcted.
© Copyright IBTimes 2023. All rights reserved.