Iran Sanctions: Who Are Teheran's Top Five Oil Buyers?
ANALYSIS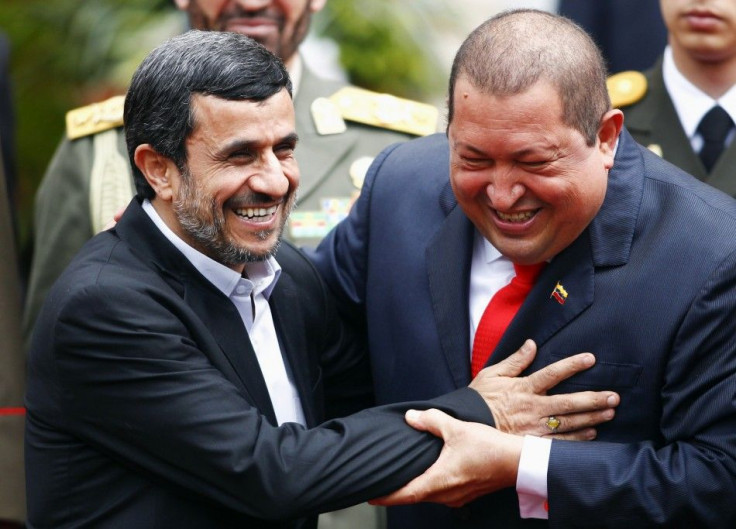 With new sanctions imposed by the European Union on Monday and Iran's repeated threat to close the Strait of Hormuz, Iran's oil fields have become the primary battleground in the fight to get the country to abandon its nuclear program.
Oil is the main industry of Iran, and accounts for 80 percent of all exports. Because it's state-owned, the oil sector provides the majority of government revenues, and statist policies, according to the Central Intelligence Agency, making it the target for international bodies, who hope that economic pressures will prevent any future military action.
Iran is the fifth-biggest oil producer in the world at about 4.2 million barrels a day, and is second in both the region and in OPEC behind only Saudi Arabia. Iran is also the third-largest exporter and has about one-tenth of the all the world's known petroleum reserves, according to the Energy Information Administration.
In what are sure to be a tense next few months, Iran's top five oil purchasers stand to have a significant impact on regional Middle East politics.
CHINA (20 percent*)
Last week, China (finally) condemned Iran's nuclear program, and as prices rise globally -- in part due to Iran's threat to close the Strait of Hormuz -- China has decreased its Iranian imports from 550,000 barrels of oil a day to 285,000 barrels, according to The Telegraph.
Chinese Premier Wen Jiabao visited the Persian Gulf last week to promote regional relationships, but he didn't make it to Iran, leading some to believe that China is looking to substitute part of its Iranian business with Saudi Arabia or the United Arab Emirates.
But the idea that Beijing will abandon Tehran is at this point inconceivable. China is the number one buyer of Iranian oil and the top trading partner with Iran in all sectors.
The two countries' relationship is still strong and goes beyond oil. China, which has been spreading its influence throughout the Middle East and Africa in recent years, has signed investment agreements with Iran on projects in the water, mining, energy and industrial sectors worth $4 billion.
Additionally, the long-time ally of the Islamic Republic recently lambasted the United States' new sanctions on Iran, which will make countries choose to do business with either the U.S. or Iran, and not both.
INDIA (16 percent*)
India is the fourth largest consumer of oil on the planet, and 12 percent of that oil currently comes from Iran. While some nations -- like Greece and Turkey -- are worried about what the sanctions will mean for their future energy issues, India is actually taking advantage of the new embargoes.
Indian delegates traveled to Tehran last week to talk about increasing its petroleum imports, which the Iranian government is making easier by accepting payments in rupees, meaning that India wouldn't need to purchase oil through Turkish banks like it's currently doing.
It will be our endeavor in [the] future to tap the Iran source fully because the terms are fairly favorable, India's oil minister, S. Jaipal Reddy, said on Monday. Iran was very accommodative.
Like China, India has been critical of the United States' and the E.U.'s new sanctions, saying that we don't go by sanctions imposed by regional blocs, by certain nations. India did say that it respected United Nations' sanctions.
JAPAN (10 percent*)
The United States was successful in convincing Japan-- which gets six to ten percent of its oil from Iran -- to wean itself off of Iranian petroleum, and the Asian country is expected to increase its exports from Saudi Arabia.
The country promised to start reducing... as soon as possible in an orderly manner, because nuclear development is something the world cannot shut its eyes to. Japan is also worried about how the market will be affected by the sanctions and is trying to become less reliant on Iran in advance of a potentially tumultuous period.
We're more concerned about the risk of the Iran problem becoming bigger and possibly leading to global economic instability through a possible increase in oil prices, Hiromichi Shirakawa, chief economist for Japan at Credit Suisse in Tokyo, told The Associated Press earlier this month.
But getting Iran's other top business partners to change their attitudes will be difficult for the U.S. and European Union, whose member states combined to buy more petroleum from Iran than anywhere but China.
ITALY (10 percent*)
In the E.U., Italy is the top purchaser of Iranian crude.
In bringing in roughly 200,000 thousand barrels a day -- about 40 percent of total E.U. imports -- Italy accounts for 10 percent of Iran's total exports. The two countries have a strong business relationship; gas company Eni has contracts in Iran, while automaker Fiat began manufacturing cars there in 2008.
Nonetheless, Italy is a proven supporter of E.U. and UN sanctions and has insisted that the prospect of Iran... acquiring nuclear weapons is unacceptable for the international community, according to Iran Tracker.
The past 12 months have been difficult for Italy. The country was heavily invested in Libya's oil industry before the revolution that brought down Moammar Gadhafi, and a debt crisis has limited the nation's ability to look for refined oil elsewhere.
SOUTH KOREA (9 percent*)
South Korea increased its imports of Iranian oil in the first six months of 2011 to about 244,000 barrels of barrels a day. However, the two nations' political relation is far less developed than its economic relationship.
Like Italy, South Korea has been vocal about the seriousness of Iran's nuclear program, saying that Iran needs to prove that its goals are peaceful. As head of the UN, South Korea's Ban Ki-moon has been a staunch believer in sanctions and international monitoring of Iran's nuclear enrichment.
North Korea is still a major factor in Iran-South Korea relations. Because Iran and North Korea are traditionally friendly (both were part of George W. Bush's Axis of Evil), South Korea wants to remain on Iran's good side. But, with the world currently dividing itself into camps, expect South Korea to support its ally, the United States, especially as relations with North Korea and its new leader Kim Jong-un are increasingly uncertain.
*This figure indicates the percentage of Iranian exports sent to each nation, according to the Energy Information Administration.
FOR FREE to continue reading
✔️ Unlock the full content of International Business Times UK for free
offer available for a limited time only
✔️ Easily manage your Newsletters subscriptions and save your favourite articles
✔️ No payment method required
Already have an account? Log in
© Copyright IBTimes 2023. All rights reserved.