Israel's Blockade Of Gaza Puts Palestinian Children's Health At Risk: Report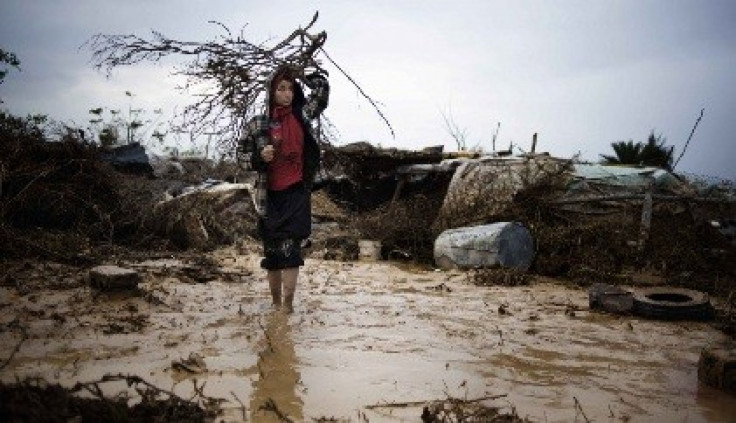 A new report from two international aid organizations says that Israel's five-year blockade of the Gaza Strip has led to severe contamination of the region's drinking water, resulting in numerous health issues that particularly affect Palestinian children.
U.S.-based NGO Save the Children and British aid group Medical Aid for Palestinians jointly published a report Thursday titled, Gaza's Children: Falling Behind, which examines the impact of the blockade on children's health in Gaza.
The blockade is a blight on the lives of Gaza's civilians. It is shocking to see so many children struggling to live a fulfilled and healthy life -- unable to play in safe areas and forced to drink dirty and dangerous water that is making them sick, Aimee Shalan, MAP's Director of Advocacy and Communications, said in a statement.
Since June 2007 (following THE 2006 parliamentary elections which put the Islamic fundamentalist Hamas party into power in the Gaza), citing security concerns, Israel has maintained an economic blockade of the Palestinian territory, preventing the inflow of certain goods by land, air and sea, as well as instituting rigid travel restrictions at the border crossings.
The aid groups say these circumstances have exacerbated health and sanitation issues in Gaza.
MAP described Gaza's sewage system as completely broken, saying much of its infrastructure was destroyed during Israel's three-week military offensive in late December 2008 against Gaza and the Hamas government, known as Operation Cast Lead, during which Israeli armed forces conducted air strikes, artillery shelling and a ground invasion in response to increasing rocket-propelled grenade attacks from Gaza targeting nearby Israeli cities.
As a result, Gaza's drinking water has been contaminated by fertilizers and human waste.
Crucial equipment needed to repair the sewage and water system remains blocked and on the restricted list of goods allowed in, read a MAP statement. Just one-fifth of the equipment needed has been delivered to date, with the remainder sitting unused in warehouses.
Israel announced an easing of the blockade in June 2010, but the aid groups' report says this has only resulted in an increase in consumer goods, not reconstruction materials, entering Gaza from Israel and only a slight increase in the exports allowed out.
These measures have not been nearly enough to resuscitate Gaza's withered economy, respond to the aftermath of Operation Cast Lead or enable adequate provision of basic public services like education, housing and health, it adds.
The Gaza Strip, 360-square-kilometers in area, is one of the most densely populated regions in the world with a population of 1.7 million, over 800,000 of whom are children, according to MAP.
Overpopulation, economic isolation and a nonfunctional sewage system have created a severe health threat for all of Gaza's inhabitants, the aid groups' report says, putting emphasis on the risk to children. In addition to the contamination of Gaza's dwindling remains of fresh drinking water, the reports says that the blockade has prevented families from obtaining and producing nutritious foods, which also has a deep negative impact for children's health.
The report cites a number of ailments suffered by Palestinian children in Gaza. Ten percent of children under 5 have stunted growth due to prolonged exposure to malnutrition. Anemia, caused by an iron-deficiency, affects 58.6 percent of schoolchildren, 68.1 percent of children nine to 12 months old and 36.8 percent of pregnant mothers.
Incidents of water sanitation-related illnesses such as typhoid fever and diarrhea have increased sharply with cases doubling in children under the age of 3, which will carry with it long-term health implications, the report added.
Gaza's medical facilities are underfunded, outdated and lack essential supplies. Travel restrictions make it difficult for Gazans to seek medical treatment elsewhere.
MAP and Save the Children have appealed to the Israeli government to adhere to the U.N.'s Convention on the Rights of the Child, to which Israel is a signatory and which stipulates consideration of children's health in its articles.
Article 6 of the convention says that States Parties recognize that every child has the inherent right to life and shall ensure to the maximum extent possible the survival and development of the child.
Article 24 says that States Parties recognize the right of the child to the enjoyment of the highest attainable standard of health and to facilities for the treatment of illness and rehabilitation of health and shall strive to ensure that no child is deprived of his or her right of access to such health care services.
The aid organizations have called for a complete lifting of the blockade and travel restrictions and to increase assistance to Gaza for health and sanitation infrastructure development. It has also called on the Palestinian Authority, which governs the West Bank but provides humanitarian funding and supplies to Gaza, to facilitate more adequate and timely distribution of medical supplies and services to Gaza.
The Israeli government has said it will uphold the blockade as long as Hamas is in power.
All cargo going into Gaza must be checked because Gaza is controlled by Hamas, an internationally recognized terrorist organization, said Mark Regev, spokesperson for Israeli Prime Minister Benjamin Netanyahu, Ynet News reported.
The aid groups said Israel, nevertheless, must live up to its obligations to the civilians in Gaza.
Israel, as the Occupying Power, has the right to address legitimate security concerns but it must also allow for the free flow of goods, people and services, the groups' report reads.
According to the international laws of war, Israel is responsible for the welfare of Gaza's civilian population.
© Copyright IBTimes 2023. All rights reserved.