Jason Pierre-Paul Misled NY Giants With Finger Injury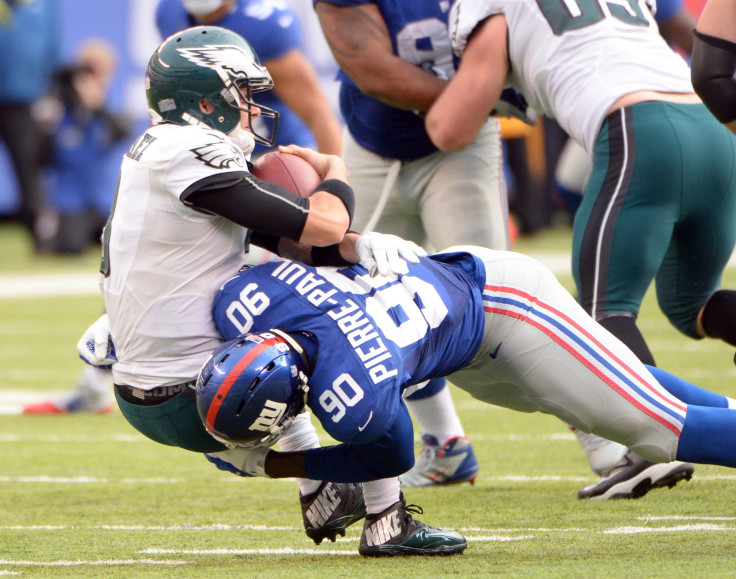 After the New York Giants evaluated Jason Pierre-Paul's finger injury, the team found there was more to the injury than initially reported by their star defensive player.
According to EPSN, the Giants now fear that Pierre-Paul will miss the entire 2015 season. The report stated that in addition to an amputated right index finger and a fractured right thumb, a portion of another finger on the right hand is gone.
The 26-year-old Pierre-Paul was injured in a Fourth of July fireworks accident but didn't meet with the Giants' doctors until Monday. According to NFL.com, Pierre-Paul met with head coach Tom Coughlin, owner John Mara and general manager Jerry Reese.
Pierre-Paul, who is a two-time NFL Pro Bowler, in 2011 and 2012 and a member of the NFL First Team All Pro, in 2011, is one of the key defensive players for the Giants in the past seasons. He helped the team win Super Bowl XLVI against the New England Patriots in 2012.
Before reporting to the team, the Giants reportedly did not want to pay the full $14.8 million under the franchise tag because of the injury while Pierre-Paul did not want to go on the non-football injury list because the team can withhold a part of his salary in the first few weeks of the season.
Before the fireworks incident, Pierre-Paul and the Giants were in the middle of negotiations of a possible long-term contract extension.
Pierre-Paul, who was a first round pick in the 2010 NFL Draft or the 15th overall selection, has missed just five games in the last five regular seasons for the Giants. He is credited 286 tackles, 42 sacks, 8 forced fumbles in 75 regular season games and 18 tackles and 0.5 sacks in four playoff games.
© Copyright IBTimes 2023. All rights reserved.