Jennifer Aniston Tells All, Playful Black Bra and Skirt GQ Magazine [PHOTOS]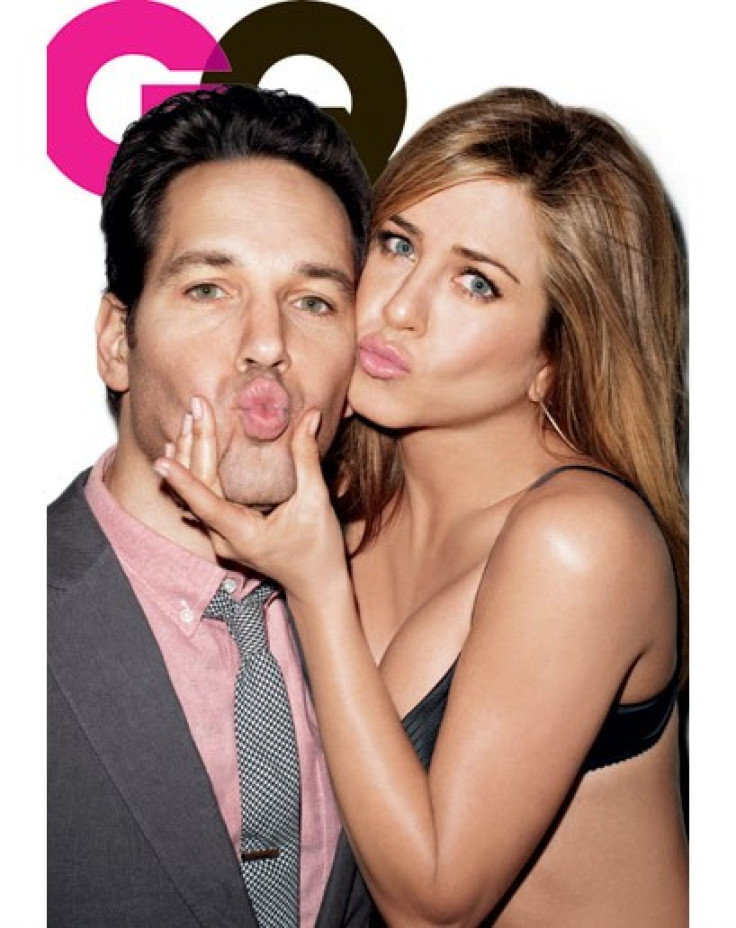 Jennifer Aniston, the dirty blonde bombshell that got her start on the hit TV show Friends, is once again donning the covering of GQ magazine. She's being featured on the cover of the March 2012 issue of the magazine.
The last time Aniston was in GQ, she made headlines for tastefully wearing a red white and blue tie and nothing else. A two-page spread of the actress naked and sprawled out between two buff dudes remains one of the most recognizable images from the magazine in the 2000s.
This time around, Aniston will build on her sexy GQ legacy by posing in a black bra and short miniskirt, next to Wanderlust co-star, Paul Rudd. Another photo has Aniston draped in a bed sheet shoving her feet into Rudd's mouth as he plays the piano.
The accompanying interview is a self-described light, screwball conversation about relationships according to GQ, though Anniston and Rudd tend to stray away from the topic of relationships. In one revealing moment, the two discuss their long friendship and what it was like to kiss each other.
GQ asks how long ago the two stars met, and they say this:
Jennifer Aniston: Nah. I've kissed him for years.
Paul Rudd: We've made out for decades.
Jennifer Aniston: It helps that it's nice. What if you were like, Well...it was really awkward for me, Jen...
Paul Rudd: If we're putting our cards on the table...
Jennifer Aniston: ...I asked for a body double.
In the accompanying interview, Jennifer Aniston also admits that her thirties were less than enjoyable: Forty's great! Oh, my God, my thirties blew! Forties are great, says Anniston.
Other topics discussed included marriage, aging, the paparazzi and more. For the entire slideshow, click here. For the entire interview, visit the GQ website.
© Copyright IBTimes 2023. All rights reserved.
FOLLOW MORE IBT NEWS ON THE BELOW CHANNELS