Jeremy Lin Drives Knicks Ticket Prices, Demand Sky-High in 'Linsanity'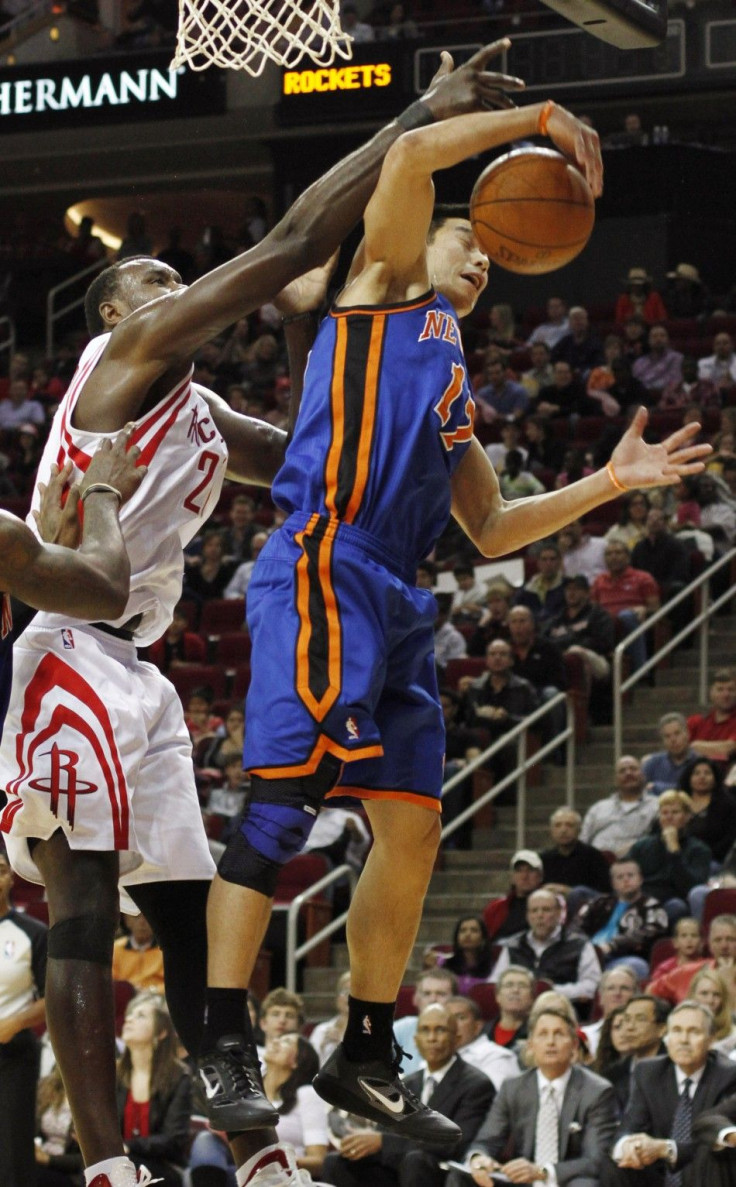 The definition of Linsanity: a 23 percent rise in average ticket price, a 36 percent ratings increase and a furious rush for new merchandise.
That's the effect of blossoming New York Knicks point guard Jeremy Lin, who has burst into the NBA limelight over the past three games and impressed nearly everyone with even a casual interest in the NBA -- Kobe Bryant being, perhaps, the only exception.
It's an incredible story, said Joellen Ferrer, a spokeswoman at the secondary ticket-sale Web site StubHub.
That story has had quite an effect on StubHub and other secondary ticket sites. It revitalized Knicks fans' interest in the franchise and piqued casual NBA fans' interest in the team, boosting ratings and creating high demand for Jeremy Lin-related merchandise.
Lin has captured the public's attention after three straight 20-plus-point games. On Wednesday in Washington, a 107-93 Knicks victory, he scored 23 points and dished out 10 assists. And all this comes despite the Knicks missing their two biggest stars, forwards Carmelo Anthony and Amare Stoudamire.
On Friday night, Lin will get another chance to impress on an even bigger national stage. The Knicks play host to the Los Angeles Lakers at 8 p.m. inside Madison Square Garden, a match-up many former Knicks are set to attend.
Ferrer said in a phone interview that she has never seen a situation quite like this one. Obscure player. Cut by two teams in December. The No. 4 point guard on the Knicks depth chart when he finally latched on to a team in December. Sleeps on his brother's couch.
The player's rise has increased StubHub's page views astronomically. Ferrer said the number of page views on the secondary-market site stood at around 20,000 on Tuesday. Over the past few days, the event page has drawn more than 100,000 page views daily.
Ferrer said there have been similar effects after big trades. For example -- Chris Paul's trade to the Los Angeles Clippers earlier this off-season, or even Anthony's trade from the Denver Nuggets to the Knicks last year. But never has such a relatively unknown's quick rise to unthinkable fame.
It's unlike most situations where we see these kinds of trends, Ferrer said. It's a pretty big outlier as compared to some of the trends we see with higher-profile players.
The effect is similar at other secondary-ticket sites. TiqIQ, which aggregates listings from StubHub, eBay, TicketNetwork and TicketNow, said the average price across those sites jumped just more than 23 percent since Tuesday at 9 a.m. The average ticket price for the Knicks-Lakers matchup was $508.07 as of Friday morning, up from $412.95 three days before, said Chris Matcovich, TiqIQ's director of data and communications.
When the Knicks play the Lakers at Madison Square Garden, it's usually one of the leading sellers on the secondary market. But this game is even more of an anomaly. The average price is up 115.7 percent from an average-priced ticket for Knicks home games this season. The current get-in price for the game is $149, and the priciest front-row, courtside seat stands at $9,400, Matcovich said.
And Linsanity has also driven a ratings boost for Knicks games on the MSG Network in the midst of a dispute between the network and Time Warner. The network said Thursday that ratings are up 36 percent since Lin stepped into the starting point guard role on Feb. 6.
If he keeps up his play, the clamor of Knicks fans in New York to be able to see their favorite team might grow even louder. But MSG Media President Scott Bair said in a conference call with analysts on Wednesday that there have been no meaningful discussions with the cable provider since the start of the year.
The clamoring has already started for more tangible items -- namely, the Jeremy Lin jerseys for $54.95 and Linsanity T-shirts for $19.95 currently up for pre-order on the Knicks official website. Knicks spokeswoman Stacey Escudero said the team started taking pre-orders for the shirts on Monday. She said a limited number of jerseys would be available for sale Friday night inside Madison Square Garden.
People are here, lining up to buy stuff, she said.
Linsane.
© Copyright IBTimes 2023. All rights reserved.