Jeremy Lin News: Lakers Guard Playing Well With Free Agency Looming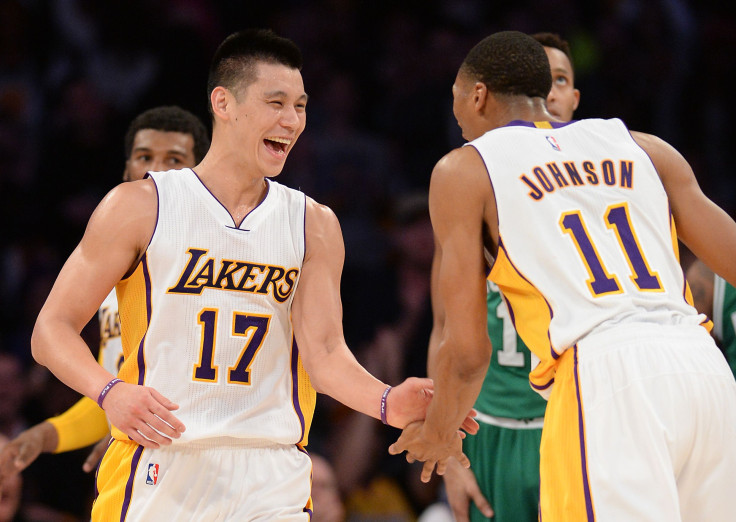 Jeremy Lin is set to become a free agent this summer, playing in the final year of his contract with the Los Angeles Lakers. With just the final quarter of the 2014-2015 season remaining, the point guard is doing his best to earn a new deal in the offseason.
The Lakers don't have a chance to make the playoffs, losing 44 of their first 60 games. It would actually be in the team's best interest to lose the rest of the way, increasing their chances of getting a top draft pick. But Lin has a lot to prove over the final six weeks of the season, having struggled for much of his time in L.A.
When the Harvard grad became a free agent in 2012, following "Linsanity," he had multiple suitors. The New York Knicks had hopes of re-signing him, but they decided not to match the three-year, $25 million contract he was offered by the Houston Rockets. Three years later, Lin isn't in a position to get nearly the same kind of deal.
The point guard saw his numbers decease in his first season with the Rockets, but he still averaged 13.4 points and 6.1 assists per game, starting 82 times for a playoff team. The following season, he was relegated to the bench for most of the year, and since being traded to the Lakers in July, Lin isn't viewed by many as a viable starting option on a contending team.
After shooting 48 percent from the field in November, Lin played poorly, putting up his worst numbers since his rookie season. Lin was replaced in the starting lineup by journeyman Ronnie Price in early December, and he's come off the bench in all but three games since. The 26-year-old averaged just 7.7 points per game in December, and saw his playing time decrease. But recently, Lin has earned more minutes, playing well during one of the most important stretches of his career.
A return to the Lakers isn't likely, and Lin may be running out of time to show that he'll be a valuable asset for 2015-2016 and beyond. He's made the most of his playing time in the last few weeks, playing better than he has all year. Lin is averaging 17.1 points, 3.0 rebounds and 5.7 assists in his last seven games. He's shooting 48.1 percent from the field, committing just seven total turnovers during this current stretch.
Even though he's not close to being a top player at his position, the limited options in free agency could make him attractive to some teams looking for point guard depth. The 2015 class will be led by players like Kevin Love, LaMarcus Aldridge and Marc Gasol, but they are all frontcourt players.
Goran Dragic and Rajon Rondo will be the most coveted point guards. Brandon Knight, Reggie Jackson, and Patrick Beverley are all in the final years of their contract, but they are restricted free agents and less likely to switch teams.
Lin will be competing for a contract with players who are in a similar position. His days as an everyday starter might be over, but he still has a chance to play an important role on a good team, and earn a multi-year contract
Playing in his 11th season for a team that won't make the playoffs, Jameer Nelson is looking to prove that he can be a contributor next year. Even if the Charlotte Hornets make the postseason, they might not win a game, but Mo Williams is looking like he can help a playoff team. After struggling with the Minnesota Timberwolves, Williams has become Charlotte's top scorer, averaging 21.6 points in seven games with the Hornets.
Teams that look at Lin might be interested in Norris Cole, who is also 26 years old and trying to take advantage of increased playing time he's seeing with the New Orleans Pelicans. Cole will be a restricted free agent this summer.
© Copyright IBTimes 2023. All rights reserved.