Jeremy Lin Trade Rumors 2013: Bulls And Lakers Top Destinations For Rockets Point Guard?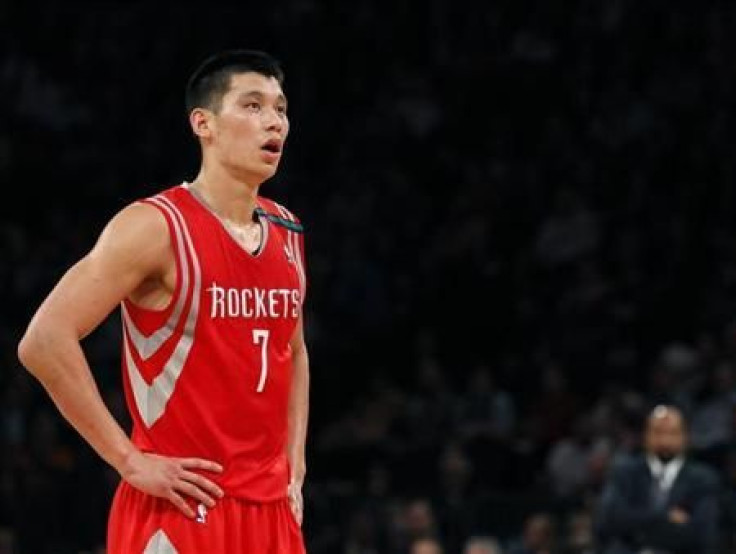 Back spasms have sidelined Houston Rockets point guard Jeremy Lin for eight of the last 10 games, but that hasn't stopped trade rumors from swirling around the NBA.
On Sunday it was reported by ESPN Radio and MSG analyst Alan Hahn that Houston would be open to trading Lin if they could find a team to take on the final $14 million year on his contract.
The Rockets have been one of the most active teams in the trade market in the first half of the season, especially in the last few days with reports surfacing on disgruntled center Omer Asik's impending move out of town.
Since the Rockets signed Dwight Howard over the summer, Asik lost his starting role and playing alongside the three-time Defensive Player of the Year hasn't formed the formidable frontline head coach Kevin McHale had envisioned at the start of the season.
According to a report by Yahoo! Sports on Wednesday, the Boston Celtics and Houston are close on a deal that would send Asik up north in exchange for forward Brandon Bass, guard Courtney Lee and a future first-round pick. The year of the pick remains the lone sticking point in the negotiations.
Asik and Lin have near identical contracts, with both earning upwards of $14 million in the last year, 2014-15, but Lin could prove harder to move considering his injury and inconsistent play since he arrived in Houston last season.
Two teams that have been rumored for a trade and in need of a point guard are the Los Angeles Lakers and Chicago Bulls, with injury riddled L.A. holding as many as 12 expiring contracts, and the Bulls figuring out their future with Derrick Rose likely sidelined for a full season once again.
Earlier this week, the Lakers were reportedly mulling a swap with the New York Knicks involving power forward Pau Gasol, center Tyson Chandler, and guard Iman Shumpert, though the reports stressed the deal wasn't formally offered and the Knicks aren't actively shopping the injured Chandler.
Gasol is in the final year of a three-year, $57 million extension he signed in 2009, and other than his abilities in the post and on the boards he represents a hefty and coveted $19 million expiring contract.
Should talks with Boston reach an impasse, Gasol could instead go to Houston in exchange for Asik. The Rockets originally tried to acquire Gasol in 2011 in the three-team deal that would've shipped All-NBA point guard Chris Paul to L.A but was eventually nixed by league commissioner David Stern. Gasol and Howard partnered to limited success with the Lakers, so a reunion in Houston may not be the best plan for the Rockets.
Like Howard, Gasol was reportedly unhappy with his role in head coach Mike D'Antoni's system. But he's since played better in the last few games, and a report on Wednesday from ESPN LA stated the Lakers have for now taken the Spaniard off the trading block.
The Lakers are in dire need of depth at guard with Kobe Bryant relegated to playmaker rather than scorer as he works his way back from a torn Achilles tendon, and guards Steve Nash, Steve Blake, and Jordan Farmar also out with injuries.
A healthy Lin could step in and contribute for L.A. immediately, and allow Bryant to retake his throne as the club's primary scorer. Lin proved he can play alongside a top-flight two guard last season, helping James Harden reach All-Star status and become one of the league's best scorers in the league.
As for the Bulls, they are deciding on the best course of action to pursue regarding future free agent forward Luol Deng. Though he's repeatedly stated he wants to remain with the only NBA team he's ever known, Deng told the Chicago Sun Times that he isn't worried about all the trade speculation.
"Maybe some guys dwell on that or would be bothered by it, but, honestly, I really don't care,'' Deng said on Wednesday before Chicago's 109-94 loss to Houston. "I know that I want to be here. I've always wanted to be here.
''But I'm mature enough to understand that I can't worry about things I can't control. If I wake up tomorrow, they call me and they tell me otherwise, then that's what it is. I can't control that. That's their job, and they've got to do their job. That's a decision they have to make on what they feel is best for the team.''
A solid, versatile defender with a smooth stroke and presence on the glass, Deng is also earning $14 million in the final year of his deal and rather than worry about losing him for nothing next summer, Chicago could take a more pro-active approach.
Since Rose tore the MCL in his right knee, the Bulls have gone 3-12 in their last 15 games and with his status unknown for the foreseeable future, the team could begin a rebuilding effort by collecting assets in exchange for its leading scorer, Deng.
However, acquiring Lin or re-acquiring Asik, could keep Chicago in contention for the playoffs in the lackluster Eastern Conference. Even in their recent slide, the Bulls are only a half-game removed from the final playoff spot in the East.
FOLLOW MORE IBT NEWS ON THE BELOW CHANNELS