Jeremy Lin Watch: Houston Rockets Vs. Phoenix Suns, Where To Watch Live Online Stream, Preview, Betting Odds, Prediction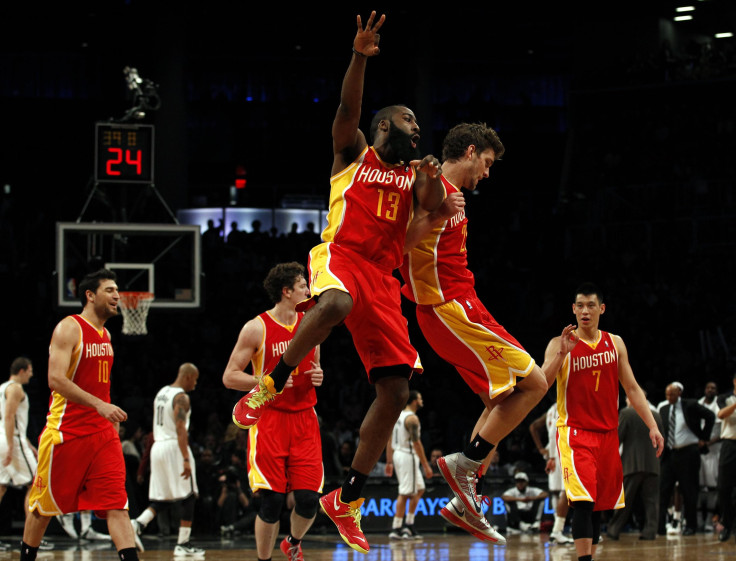 With the Lakers breathing down their necks, the Houston Rockets hope to create some distance Wednesday night against the Phoenix Suns at the Toyota Center.
Houston holds a half-game lead over Los Angeles for the seventh spot in the West, but have dropped two of their last three games, including the first of a home-and-home with Phoenix on Saturday.
James Harden's game-high 38 points and eight assists weren't enough to overcome Phoenix guard Goran Dragic's 13 fourth quarter points, and Houston fell 107-105. Harden and point guard Jeremy Lin combined for 13 turnovers, with Lin fouling out, playing just 31 minutes. Lin would notch 11 points and four assists.
Dragic finished with 18 points, while Jared Dudley came off the bench to score 22 points and dish out seven assists, and Markieff Morris had 14 points to along with five rebounds.
Houston's Chandler Parsons netted 14 points, but came up short from the field, going 5-for-16. That was a far cry from his recent performances. Parsons had been on a tear in March, averaging 23.2 points at an efficient 60 percent clip from the floor.
At this point of their season, the 22-42 Suns can only play the role of spoiler to teams jostling for playoff position.
Phoenix followed up their win against the Rockets with a 108-93 beat down from the streaking Denver Nuggets. Dragic's shooting touch was gone with just eight points, but Dudley was still in rhythm with 12 points and three 3-pointers.
A loss for Houston still puts them just ahead of the Lakers. The Rockets lead the season series 2-1, making the regular season finale on April 17 against L.A. a pivotal match up. That game will be at the Toyota Center, where the Rockets are 20-9, as opposed to a 14-21 road record.
The game begins at 8 p.m. eastern time, and will be broadcast by FAHD and CSN Houston, or you can watch a live online stream by purchasing NBA League Pass Broadband here.
Betting Odds: Houston is favored by 11.5 points
Over/Under: 213 points
Prediction: Parsons and Omer Asik may have to dominate the Morris brothers, while Harden and Lin should maintain control along the perimeter. Look for Houston to start off slow, but rally in the second half for a victory.
Predicted: Houston 105, Phoenix 97
© Copyright IBTimes 2023. All rights reserved.