Jerry Jones Got Locked Out Of His Own Locker Room Last Night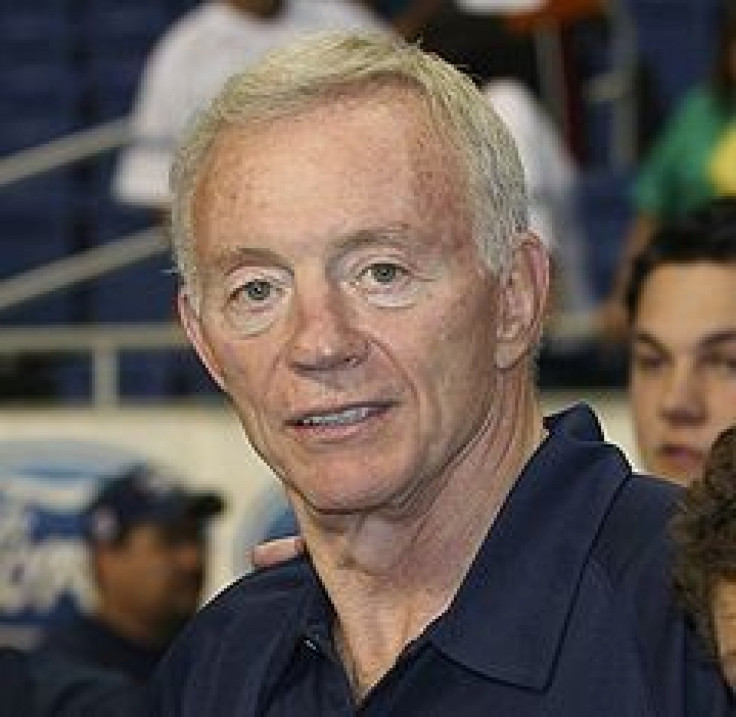 The chickens are really coming home to roost for Dallas Cowboys owner Jerry Jones.
After driving what many used to call "America's team" to mediocrity and disappointment this past decade, the fat-pocketed Jones wasn't even able to get into his own locker room Sunday night following the Cowboys frustrating loss to the Atlanta Falcons at the Georgia Dome, 19-13.
The high-priced team couldn't muster the strength to seize a winnable game in the second half. The blame does not fall on Tony Romo. The veteran quarterback completed 25 of his 35 passes for 321 yards. Instead, the Cowboys defense received the bulk of the criticism for allowing the Falcons' offense to maintain possession for more than five minutes in the final moments of the fourth quarter.
The real fireworks, though, happened outside of Dallas's locker room when the door accidently locked and Jones couldn't get in.
Matt Barrie, of NBC 5 in Dallas tweeted that "Jones just pounded locker room door because no one would let him in. It's the angriest I've seen him all year."
Jones eventually got into the locker room and began taking questions from reporters.
Before the game, he was grilled by NBC's Bob Costas about his shaky record as team GM. Would Jones have fired himself as GM?
You may need a cryptologist to decode his answer.
"Well, I think so, because he was there to dismiss," he said. "I've always worked for myself and you can't do that. You basically have to straighten that guy out in the mirror when you work for yourself. But certainly, if I'd had the discretion, I've done it with coaches and certainly I would have changed a general manager."
While Jones may not have been completely forthcoming with his perceived failings, there apparently is more blame to spread to around. There are already calls for head coach Jason Garrett to be let go.
Garrett has won 11-of-24 games as coach, but this season's 3-5 record is short of expectations. Jones says he likes Garrett's "philosophy," but for how much longer will he tolerate a season without a trip to the playoffs?
The Cowboys appear to be in need of a major overhaul, and it may have to start with Jones admitting that he needs to take a step back and let someone else call the shots.
© Copyright IBTimes 2023. All rights reserved.
FOLLOW MORE IBT NEWS ON THE BELOW CHANNELS