Jessa Seewald Says Baby Spurgeon's Name Is Here To Stay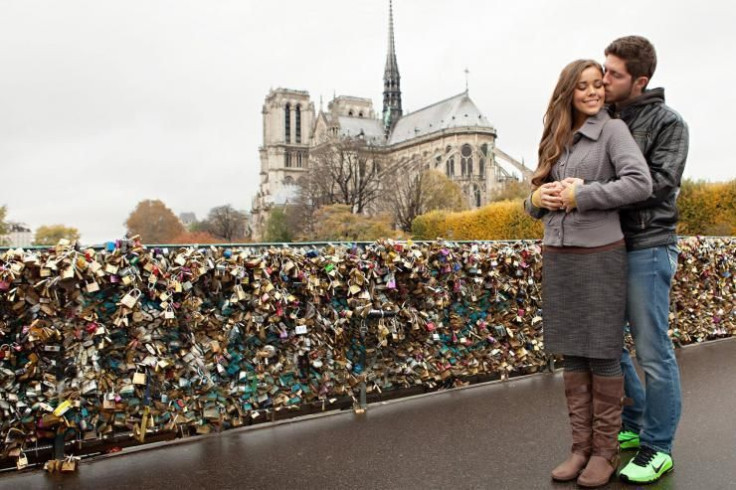 Jessa Seewald is sticking by her decision to give her son a unique first name. The former "19 Kids and Counting" star recently spoke out about her baby boy's moniker -- Spurgeon Elliot Seewald -- revealing she and her family are continuing to refer to him by his birth name.
Jessa, 23, revealed to the Duggar Family Blog that her firstborn is most often referred to by his first name. She did admit, however, to sometimes using the nickname Quincy.
"Proud Mama Jessa shared with us that Baby Seewald most often goes by Spurgeon, although some people still call him Quincy," reported the site, which has connections to the Duggar family.
Jessa and her husband Ben Seewald first started calling their baby Quincy publicly in October. The gender-neutral name was used in an effort to keep their child's a gender a secret from family, friends and fans. "When we first found out that we were expecting a baby, Ben and I were talking about a letter theme for our kids and Ben suggested, 'Why don't we go with the letter 'Q'?" Jessa told the blog. "From that point, Ben started calling our little one 'Quincy' and the nickname just sorta stuck."
While the name Quincy may have a light-hearted meaning for the couple, Spurgeon is anything but. The reality stars revealed in a video last month that they named their child after Charles Spurgeon (much to the upset of some fans) a 19th-century preacher whose sermons and teachings had a "big impact" on their lives. The name Elliot comes from Jim and Elizabeth Elliot, to two late missionaries who also inspired the couple.
Jessa and Ben, 21, welcomed Spurgeon Nov. 5. He arrived just days after they celebrated their one-year wedding anniversary.
The Seewalds will feature their life as newlyweds and their baby journey on the upcoming TLC specials "Jill & Jessa: Counting On." The three-part series, which also stars Jessa's sister Jill Dillard and her young family, premieres Sunday, Dec. 13, at 8 p.m. EST on TLC.
Watch a preview for "Jill & Jessa: Counting On" below:
© Copyright IBTimes 2022. All rights reserved.
FOLLOW MORE IBT NEWS ON THE BELOW CHANNELS